Our Orlando Customers & Partnerships
Whether you're in Orlando for business, fun, or maybe both, Orlando Charter Bus Company is your number-one resource for reliable bus rentals. From minibuses to charter buses, we'll find you a modern, up-to-date coach for your wedding, corporate event, sports team, school trip, and more. We're available 24/7 at 321-206-6444 to help you plan your next trip in Orlando.
Services we offer in Orlando
TOP 10
Things to see & do in Orlando
Orlando is more than just Disney World and Universal Studios-- though we definitely recommend a stop to either of those parks if you're in the area. The city is also filled with museums, gardens, and beautiful outdoor space, sure to provide a memorable experience for all visitors! Below, we've listed a few of our favorite Orlando stops that we think you should add to your itinerary. Once you've figured out where you'd like to go, call Orlando Charter Bus Company to schedule a charter bus rental for your traveling group!
Do you love roller coasters, thrill rides, and adrenaline rushes? If so, you must check out Universal's Islands of Adventure. The 110 acres are filled with themed rides based on your favorite movies, such as Harry Potter and Jurassic Park. Who doesn't want to come face-to-face with a 3D dinosaur? The park's unique attractions and special effects earned it the title of "Best Theme Park in the Country" in 2010. No matter what age group you're traveling with, this is always a perfect stop to add to your itinerary.
Address:
6000 Universal Blvd, Orlando, FL 32819
If your dream has always been to swim with the dolphins, Discovery Cove allows you to do that in a controlled environment. It's one of the best snorkeling spots around that brings you up close and personal with nature. The colorful reefs teeming with thousands of tropical fish are just one thing you can explore. For those who want real deep-sea adventure, the shipwrecks, and other underwater excitement await. If you long to mingle with a family of otters and then walk across the ocean floor; Discovery Cove is the place for you.
Address:
6000 Discovery Cove Way, Orlando, FL 32821
While it isn't a ride that will have you hanging on for dear life, the tranquil paradise found in Harry P. Leu Gardens is something that is enjoyed by many. With over 50 acres of landscape, including many lakes; it's one breathtaking place to be. Tour a historic 19th century home that has been restored to its former glory, all while viewing nature in all it's splendor.
Address:
1920 N Forest Ave, Orlando, FL 32803
This is sure to be a park unlike any you've experienced before. The Holy Land Experience is a Christian-based theme park modeled after the ancient city of Jerusalem in the 1st century. Live performances, interactive museum exhibits, and the world's largest indoor replica of Jerusalem make it a unique learning experience for visitors of all ages.
Address:
4655 Vineland Rd, Orlando, FL 32811
It's not Disney World, but Lake Eola Park is a public center where people can gather and enjoy the great outdoors. The swan boats here are the perfect way to spend a romantic evening together. Escape the hustle and bustle of the city and explore the many hiking trails or fish a bit in the lake.
Address:
512 E Washington St, Orlando, FL 32801
Located on the Rollins College campus, the Cornell Fine Arts Museum allows visitors and local to discover Orlando's history. Founded in 1978, it serves as a great reminder of how the city has grown and changed over the years. They also feature abstract art, numerous exhibitions, and even live demonstrations. It's free of charge to the public. From antiquity to contemporary, they have more than 5,000 pieces.
Address:
1000 Holt Ave, Winter Park, FL 32789
There are a plethora of golf courses to explore in Orlando. However, few have the spectacular views and the setup of the Eagle Creek Golf Club. With 7,198 yards and over 90 bunkers; it's safe to say this is one big course. You can book your golfing trip online, and also make reservations for their posh restaurant too. They have a receptionist available 24/7 to help with your needs. This upscale club welcomes the public and has much to offer.
Address:
10350 Emerson Lake Blvd, Orlando, FL 32832
Opened in 1997, Mad Cow Theatre has earned its place as one of Orlando's most-respected theatres. Putting on 10 shows each season, there's always something playing that's sure to entertain every member of your group. After the show, stick around and explore the surrounding Church Street Marketplace for an evening of shopping and dining!
Address:
54 W Church St, Orlando, FL 32801
Universal Studios Florida
Packed with movie-themed rides, restaurants, shops, shows, and behind-the-scenes access to your favorite movies, Universal Studios Florida is a must-see for all of the cinephiles in your group. Offering an experience for visitors of all ages, no one will feel left out during a trip to Universal. Check in at King's Cross Station, blast through the Hollywood Rip Ride Rocket with your favorite song, and experience a 3-D Transformers ride, all within one park!
Address:
6000 Universal Blvd, Orlando, FL 32819
From Epcot to the Magic Kingdom to all of the spectacular wonders in-between, Disney World is an unforgettable trip experience. Get spooked at The Haunted Mansion or take a trip through history at Spaceship Earth; experience an African safari in Animal Kingdom or fly into space at Epcot. Whatever your itinerary may include, the possibilities are endless at Disney World!
Address:
1180 Seven Seas Dr, Lake Buena Vista, FL 32830
Points of Interest in Orlando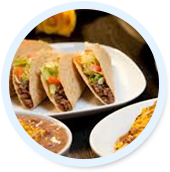 Restaurants in Orlando FL
Citrus
Amura
Crave
Cityflsh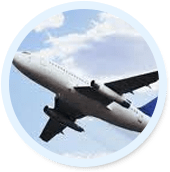 Airports in Orlando
Orlando International Airport (MCO)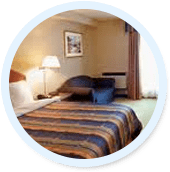 Hotels in Orlando
Four Points
Embassy Suites
Portofino
Waldorf Astoria