A Group Guide to Tampa Airports
Millions of passengers pass through Tampa's airports in an average year, so it helps to know which airport is best for your group before you set out to visit Ybor City or Busch Gardens. The Tampa area is served by two major airports: Tampa International Airport (TPA) and St. Pete-Clearwater International Airport (PIE). Some groups also opt to fly into the smaller Sarasota-Bradenton International Airport (SRQ), which lies about an hour away.
No matter which of the three airports you choose, Florida Charter Bus Company can provide transportation from the terminal to your hotel. Call us at 813-381-5064 and book a climate-controlled bus rental with reclining seats to meet you outside baggage claim, and keep reading to learn more about your airport options.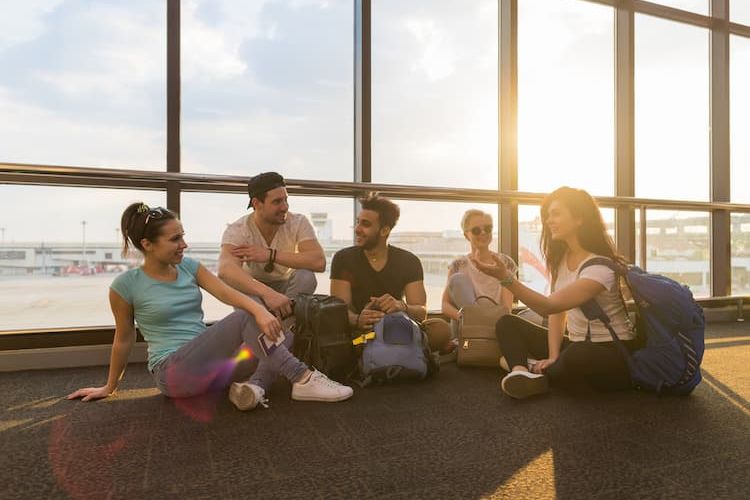 A Note About Safety
If you're traveling during the COVID-19 pandemic, airports will have enhanced cleaning procedures in place, and you'll be required to wear a mask. Make sure you check the airport's website for safety and social distancing regulations if you need to fly during this time.
Tampa International Airport (TPA)
Unlike many other major airports, Tampa International Airport actually lies inside the city it's named for. You can get from TPA to downtown Tampa in about 15 minutes. This airport also boasts a huge range of airlines, from American mainstays like Delta and Southwest to international favorites like British Airways and Lufthansa.
With around 260 flights departing every day, TPA is busy, but it's also known for being flyer-friendly: both the Wall Street Journal and J.D. Power recognized it as an airport with high customer satisfaction. It also recently underwent a renovation to add 70 new restaurants and stores.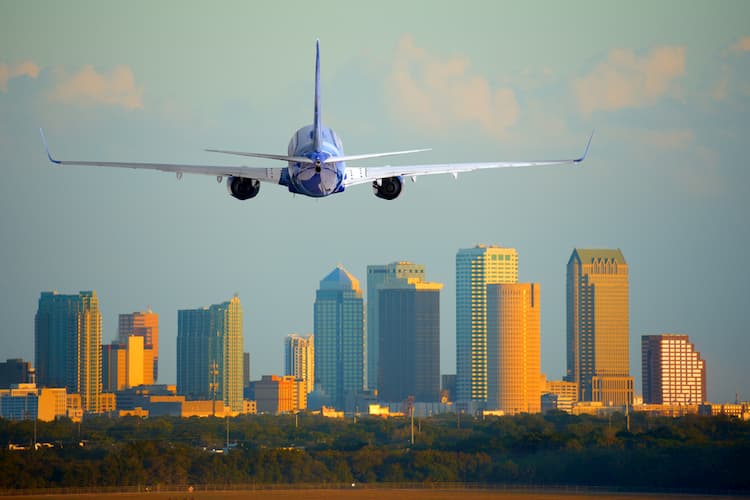 Restaurants
TPA's renovation brought many local Tampa restaurants to the airport. If you're craving classic American comfort food, head to Goody Goody Burger, an ideal spot for kids with its fries, shakes, and, of course, hamburgers. You can also sample chilled raw oysters from RumFish Grill or pizza and burrito bowls from Ducky's Sports Lounge. It's always fun to keep up with your team and sip a cold drink before hopping onto your plane.
Services
If you need a way to kill time at the airport, browse the Shoppes at Bayshore, a 6,300-square foot mini-mall with stores like Tommy Bahama, Quiksilver, and Bourbon and Bowties. You can also find local goods here, like quesitos and guava turnovers from La Segunda.
In addition to stores and cafes, the airport offers practical services, like nursing rooms and water bottle filling stations. TPA also plans to add more relief areas for pets and service animals in the future to make traveling with furry friends a little easier.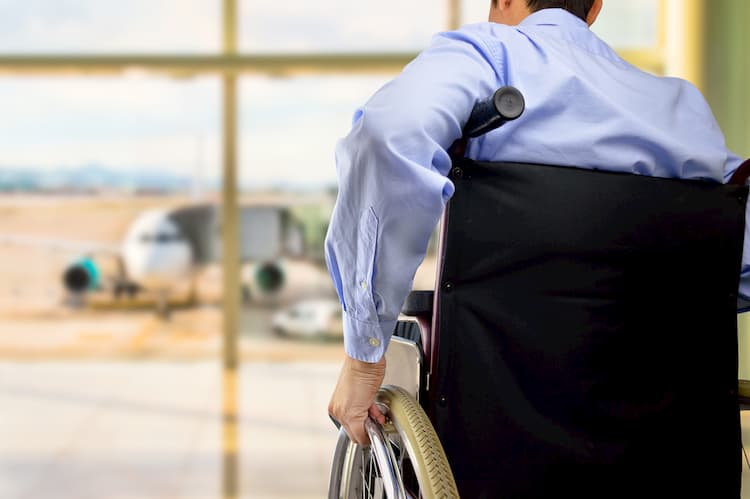 Accessibility
As we mentioned above, service animals are welcome at TPA. The airport also provides other accessible features, like elevators, curb ramps, ADA-compliant public restrooms, and private companion restrooms. If you don't have your own chair but need one to use at the airport, you can request wheelchair assistance through your airline.
Parking
Your charter bus can park in the Cell Phone Waiting Lot, which is south of the Main Terminal and across from Economy Parking. When you're ready to be picked up, just give your bus driver a call and they'll meet you at the Ground Transportation Center outside of the terminal. Stash your luggage in the undercarriage storage space, and you're ready to head into Tampa.
St. Pete-Clearwater International Airport (PIE)
Located on the other side of the bay from Tampa International Airport, the St. Pete-Clearwater airport is only about 25 minutes from downtown Tampa and specializes in discount airlines, like Allegiant, Sunwing, and SunCounty. In addition to lower fares, your corporate or wedding group may find smaller crowds here. PIE's biggest weakness compared to TPA is that fewer flights pass through each day, so St. Pete-Clearwater works best if you have a flexible schedule.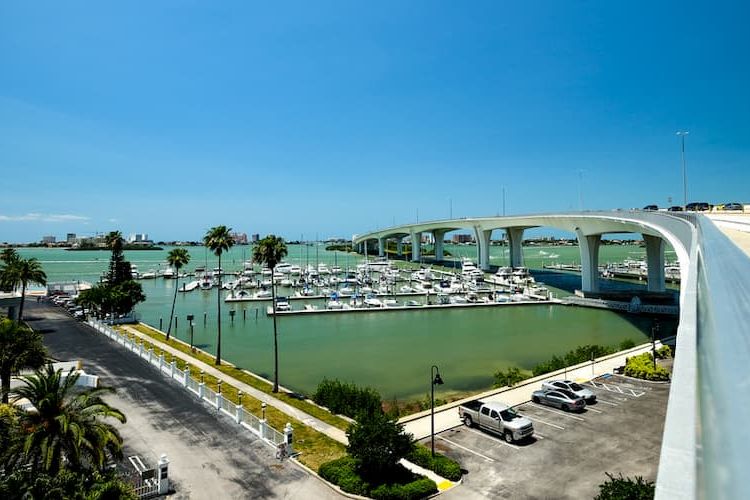 Restaurants
Because it's a smaller airport overall, St. Pete-Clearwater doesn't have the same range of restaurants that Tampa International does. However, PIE does have many exciting local options. Mazzaro's Italian Market, one of the most famous food halls in St. Petersburg, has opened an airport location to serve sandwiches and flatbreads made with local meats, cheeses, and olives. 3 Daughters Brewing, a family-owned craft brewery in St. Petersburg, also plans to open an airport location, and it may be open by the time you fly in.
Services
PIE's cutest service is undoubtedly Pets Uplifting People, the therapy dog program where friendly pups help calm travelers who are waiting to board flights. The airport also has "Bark Park" relief areas if you're bringing your own furry friend along. The Bark Parks provide lawns and watering stations for pets and benches for humans. Humans can also enjoy free WiFi and private nursing rooms throughout the airport.
Accessibility
Like TPA, PIE offers wheelchair-accessible terminals and restrooms and wheelchair services through individual airlines. PIE also partners with Aira, an app designed to help visually impaired passengers navigate the airport, and offers foreign language and American Sign Language translation services through the Airport Reception Office.
Parking
Your charter bus driver can pick you up in the Ground Transportation Lot outside of baggage claim. Ask them to park in the cell phone lot adjacent to the air traffic control tower until your group is ready to go.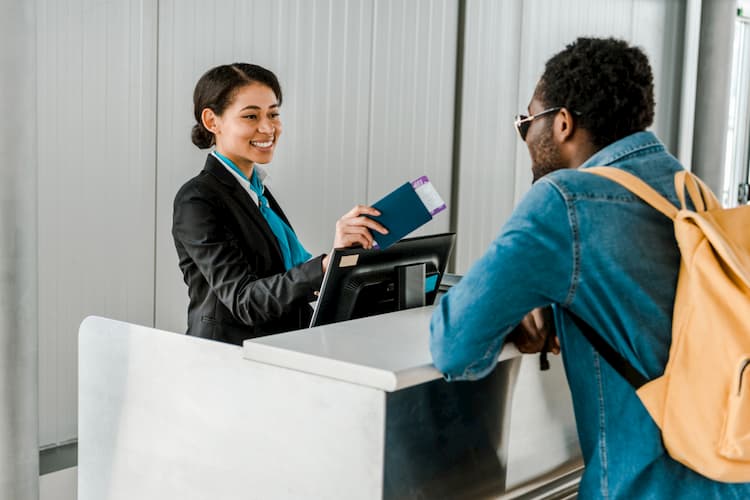 Sarasota-Bradenton International Airport (SRQ)
Most people flying into Tampa opt for either Tampa International or St. Pete-Clearwater, since both airports are so close to the city. But if you're attending a sports tournament or going to the beach in Sarasota and just want to hop up to Tampa later on, you may want to fly into Sarasota-Bradenton International Airport.
SRQ lies about an hour away from Tampa and boasts service from an impressive array of airlines for a smaller airport, including American, United, and JetBlue. Because the airport only has one terminal, it's easy to reach ticketing, security, baggage claim, and the gates with only a short walk, and your group won't have to worry about losing each other in enormous crowds.
Restaurants
Because SRQ is small, it has limited dining options, but you can still find a quick snack or lunch and a cold drink to quench your thirst. Dewar's Clubhouse, a golf-themed bar and grill, serves American bar food and a selection of quality scotches, while Freshens offers smoothies, rice bowls, and frozen yogurt. If you just want a sandwich and a coffee, you can stop by the Gulf Breeze and Beach Market cafes or a national favorite like Dunkin' or Starbucks.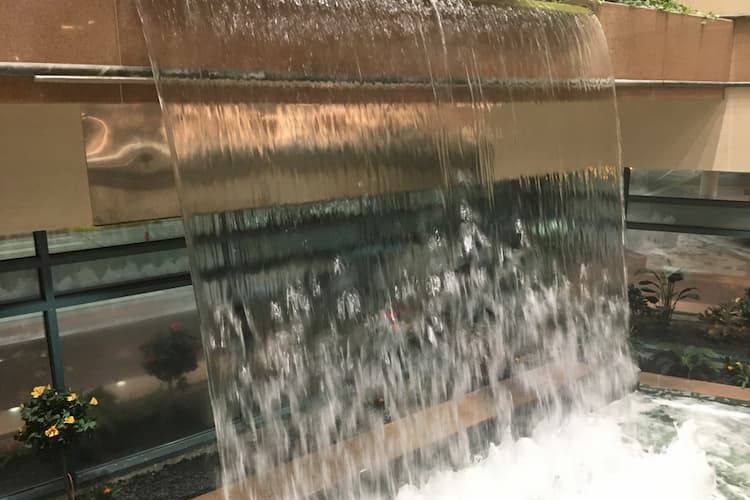 Services
Sarasota-Bradenton strives to create a relaxing atmosphere with features like an indoor waterfall (that's actually part of the air-conditioning system!) and paintings by local artists Frank Hopper and Regan Dunnick. You can also see a Student Art Exhibition with 100 works by local kids and a 6,000-gallon saltwater aquarium. Once you've taken in all of the art and water features, free WiFi will be waiting for you.
Accessibility
Like the Tampa and St. Pete airports, the SRQ airport is wheelchair-accessible, with features like elevators, ramps, curb cuts, and automated doors. Wheelchair users can also take advantage of preferential seating near the gates, accessible drinking fountains, accessible public restrooms, and private companion restrooms. If you only need a chair while you're at the airport, you can request one through your airline. And, of course, service animals are welcome. You'll find pet relief areas scattered throughout SRQ.
Parking
Your charter bus can wait in the cell phone lot on Rental Car Road before heading to the terminal to pick you up. Private buses pick up in the Ground Transportation Area outside of baggage claim.
Plan Your Next Group Flight into Tampa
Whether you're headed to Tampa for a scenic beach wedding or a vacation with your extended family, you can make your flight smoother by doing a little bit of research on the various airports in the Tampa area. And once you pick out which airport you'd like to fly into, give Florida Charter Bus Company a call at 813-381-5064. We'd love to provide a safe, modern charter bus to take your group from the airport to your hotel or vacation home.
Recent Posts
Do you need to rent a charter bus?