A History Buff's Guide to Miami
From the preserved estates of historical Floridian entrepreneurs to unique architectural destinations you'll only find in this city, Miami is a history buff's dream. Whether you're planning a historical bus tour of the city, looking for a great place to host an event, or are just wanting to plan a day trip to explore a popular landmark, you won't find a shortage of iconic and storied places to visit here.
Need some inspiration? Florida Charter Bus Company can help with all of your group travel needs around Miami. Here are some of our favorite historical destinations that you might want to plan a group trip to go see: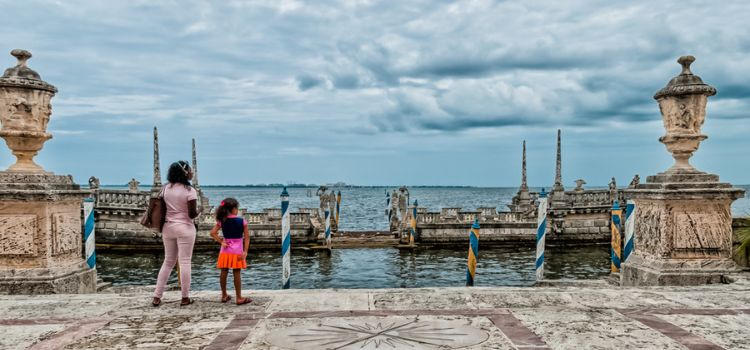 Vizcaya Museum & Gardens
Address: 3251 S Miami Ave, Miami, FL 33129
Phone: (305) 250-9133
Located in the storied Coconut Grove district just south of downtown Miami, the Vizcaya Museum and Gardens was originally built in the early 1900s as a winter villa by James Deering, an American industrialist and avid antiques collector. Today it stands as a history and art museum with a vast collection spanning the 15th through 19th centuries. Most of the original house is intact and showcases vintage furniture and home decor, hand-carved stone sculptures, and landscaped gardens still like they were in 1922.
There's countless ways for a history buff to explore and enjoy the Vizcaya Museum. You and your group can opt for a guided tour of the house or gardens for $5 each, or you can use an audio tour that comes free with your admission. You can also plan your visit around an event like the Vizcaya Village Farmers Market, or an event in the "Vizcaya Late" evening event series. Attend fun, themed events like a "Hurricane Party" to remember the historical devastation of Hurricane Andrew 30 years ago, or the "Seersucker Social" to enjoy a 1920s-themed party on the museum gardens.
Group Travel Tip: When you rent a charter bus, you can ask your driver to drop off and pick up your group at the entrance for convenience. Arrange parking for your Miami charter bus rental by contacting the museum staff at group.tours@vizcaya.org or 305-860-8442.
Art Deco Historic District
Art Deco Welcome Center
Address: 1001 Ocean Dr, Miami Beach, FL 33139
Phone: (305) 672-2014
Head to South Beach to stroll through this famed historic district known for its colorful and eye-catching architecture. When you first visit Miami's Art Deco Historic District, head to the official welcome center, where you can book a 90-minute guided tour or an audio guide that discusses the significance of the neighborhood and its iconic architecture. As a staple in Miami's arts and culture scene, some essential examples of Art Deco you won't want to miss include The Webster Hotel, Cardozo Hotel, Miami Beach U.S. Post Office, Cameo nightclub, and The Breakwater.
Group Travel Tip: If you're only in Miami for a short period of time and don't have too much time to explore this historic highlight, when you rent a private charter bus, you can customize your travel route to include the Art Deco Historic District. This way, your passengers can enjoy the architecture while you stay on schedule.
The Barnacle Historic State Park
Address: 3485 Main Hwy, Miami, FL 33133
Phone: (305) 442-6866
Built in 1891, The Barnacle is one of Miami's parks and historic sites where you can explore frontier life during the "Era of the Bay." It was the home of Ralph Middleton Munroe, an American yacht designer, and much of the property today is the same as it was when he built it. Visit it to see two complete replicas of Munroe's sailboats, enjoy a picnic with your group, go geocaching, participate in a ranger tour, or enjoy a guided tour of the Munroe House Museum.
Bring a classroom of eager students here on a field trip to explore some maritime history in their own backyard, or maybe plan a trip with friends and family to experience one of the Barnacle Historic State Park's events. Rent a bus and go see a Shakespeare in the Park stage performance during the summer months, or attend The Haunted Ballet, a "ghostly" guided tour of the park grounds held in October.
Group Travel Tip: Keep in mind that you can only see the historic Munroe House Museum through a guided tour, and it is limited to five visitors at a time. If you're traveling with a large group you may want to plan your itinerary to accommodate multiple tours. Alternatively, a complimentary outdoor ranger program is available for larger groups.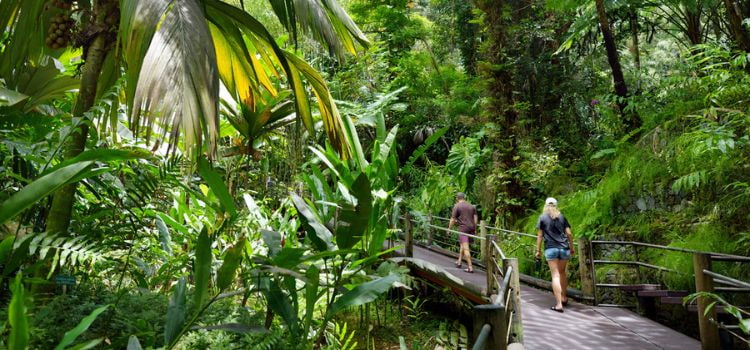 The Kampong, National Tropical Botanical Garden
Address: 4013 Douglas Rd, Miami, FL 33133
Phone: (305) 442-7169
This tropical botanical garden dates back to the 1800s and is part of the former estate of Dr. David Fairchild, a famed horticulturist and botanical explorer known for his travels in Southeast Asia, Central and South America, and the Caribbean. While abroad, his personal mission was to collect a variety of exotic plants to introduce to the United States, and in total, he brought about 30,000 new plants to the country. When you visit, you'll see dozens of species of exotic fruit (including peanut butter fruit, cocoplums, and over 50 varieties of mango), as well as numerous species of palms, cycads, and flowering trees.
Plan a group trip to enjoy unique experiences like a photo-op in front of an 80-year-old baobab tree from Tanzania and an exhibit featuring the historical documents detailing the creation of the Everglades National Park. You can also organize a self-guided tour to explore the parts of the 9-acre property that interest your group the most.
Group Travel Tip: Advanced reservations and payment is required to visit The Kampong, so make sure to plan ahead accordingly! You can also plan to visit the nearby Fairchild Tropical Botanic Garden where you extend your day trip by attending a fun event or participating in a class. Just add it to your travel itinerary when you book a bus with Florida Charter Bus Company!
Ancient Spanish Monastery of St. Bernard de Clairvaux
Address: 16711 West Dixie Highway, North Miami Beach, FL 33160
Phone: (305) 945-1461
Also one of our top wedding venues in Miami, this medieval monastery needs to be on every Miami architecture-lover and history buff's bucket list. Construction of the monastery actually began in the year 1133 AD in Spain, but it was purchased in 1925 by William Randolph Hearst and dismantled—stone by stone—to be reassembled in the United States. Today, you can visit the monastery and surrounding gardens for a self-guided tour to see ancient stone architecture rarely found in the United States, or attend a religious ceremony on a Sunday morning.
Group Travel Tip: If you're planning a trip here to say "I do" in one of the chapels or in the sprawling gardens, Florida Charter Bus Company can help you arrange wedding shuttle transportation for the big day. This way, all of your guests can travel together, on-time and with no need to worry about booking rideshares, running into traffic, or finding parking.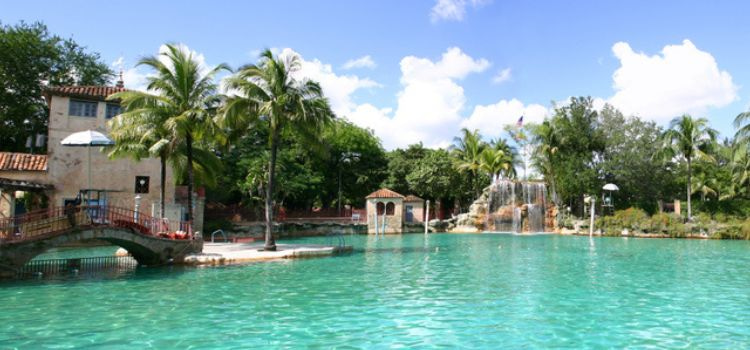 Coral Gables Venetian Pool
Address: 2701 De Soto Boulevard, Coral Gables, FL 33134
Phone: (305) 446-6800
Take a dip into history at this Coral Gables spring water pool built in 1923. The pool was originally a limestone rock quarry and was reimagined as a Mediterranean paradise by real estate developer and community planner, George Merrick. Back in its heyday, it was a destination for people of high society and celebrities, and was occasionally emptied for classical concerts where the orchestra would perform on the pool floor. Today, it's included in the National Register of Historic Places—the only swimming pool to be included—and is open to the public for daily swimming and sunbathing.
Group Travel Tip: If you're planning a trip here with a group of people, you can visit during daytime hours for an event like a birthday party, or rent the facility after hours for a wedding, corporate event, or non-profit fundraiser.
Cauley Square Historic Village
Address: 22400 Old Dixie Hwy, Miami, FL 33170
Phone: (305) 258-3543
Founded in 1903, this charming and historic railroad village features cottages, gardens, shops, and eateries hailing back to that Old South Florida feel. The village's history begins in 1903 with William Cauley, the owner of a large shipping operation along the railroad. He built a two-story warehouse for his operation, which is now known as the main building of Cauley Square, as well as houses, a saloon, and other structures for his workers to live in. However, between the economic struggles of the Great Depression and World War II, the square declined and was condemned until 1949 when Mary Anne Ballard, an interior designer who moved to the area with her husband, restored the village.
Today, you can visit and enjoy Ballard's efforts, from historically preserved pioneer houses to the Tea Room Restaurant, an intimate dining space founded in 1979 and adorned with delicate china, crystal, and lace. Plan a group day trip to explore the many unique shops and eateries you won't find anywhere else. Shop for vintage finds at Jimmy's Bright Ideas, indulge in Caribbean cuisine at The Village Chalet Restaurant, or sit inside a natural salt cave at Esmeralda's Salty Aire Retreat.
Group Travel Tip: With so much to do, see and explore at Cauley Square, you may want to host a private event here to help give your group some structure for the visit. A charter bus rental service can easily drop off and pick up your group at the beginning and end of your day.
Plan Your Own Miami History Bus Tour Today
Ready to start your history tour through Miami? Call Florida Charter Bus Company at 305-359-5975 to start organizing your group travel plans. We specialize in offering various types of charter buses to match the group transportation services you need. Get in touch today to receive a free, no-obligation quote tailored to your trip to see historical sites in Miami!
Recent Posts
Do you need to rent a charter bus?