Group Guide to Visiting Miami Parks
Miami's beautiful natural landscape and year-round warm weather mean it's only natural the city has amazing outdoor spaces. If you're planning a group trip or event in Miami and want to spend some time out in the fresh air, you'll have plenty of locations to choose from. From a scout troop field trip in the Everglades or a waterfront family gathering in Ferre Park, Miami's unique greenspaces have something for everyone.
As you plan a group day out in Miami, consider booking everyone a ride with Florida Charter Bus Company. Renting a Miami charter bus will keep your group traveling comfortably after a long day in the toasty Florida heat. A charter bus rental is also a great option for big groups of out-of-towners who don't want to deal with the hassle of driving in Miami's notorious traffic. With a minibus or charter bus rental from Florida CBC, you'll have a spacious ride with a pro driver anywhere in Miami.
Call the Florida Charter Bus Company team at 305-742-0966 to book a charter bus rental to these picturesque Miami greenspaces: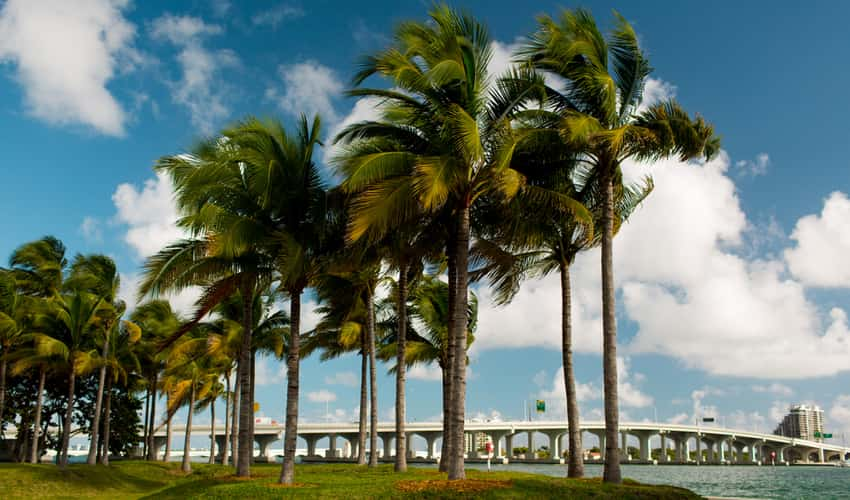 Bayfront Park
Address: 301 Biscayne Blvd, Miami, FL 33132
Phone: 305-358-7550
Bayfront Park is arguably Miami's most visited urban park. It's located next to popular spots like the American Airlines Arena and Bayside Marketplace in the heart of Downtown Miami. Catch a concert or sporting event at AA Arena, be the ultimate tourist at Bayside, and stroll through the nearby famed Bayfront Park to enjoy the views of Biscayne Bay. Depending on when you're visiting, your group may find a free concert or cultural festival being held in the park. Groups interested in history may want to take a few minutes to travel up the road to Freedom Tower, a historic Spanish Renaissance-style tower that exhibits the stories of Cuban immigrants in the 1920s.
Charter bus rental parking: Oversized vehicle parking in Downtown Miami is relatively limited. Your bus can drop your group off between Bayside Marketplace and Bayfront Park. Some street parking may be found on some roads in Downtown.
Maurice A. Ferré Park (Bicentennial Park)
Address: 1075 Biscayne Blvd, Miami, FL 33132
Phone:  305-358-7550
This beautiful urban park is located in Downtown Miami just a few blocks from neighboring greenspace Bayfront Park. The park is home to Miami's Museum Park, which includes the renowned Phillip and Patricia Frost Museum of Science and the Pérez Art Museum Miami. Not only is Ferré Park a great place to walk along the water or have a picnic, but it's also a great spot to explore before or after a museum visit. The park is also located right next to the MacArthur Causeway for groups that want to hop on the road over to Miami Beach after visiting the park.
Charter bus rental parking: If you're planning to visit the Museum Park, drop off can be found in the roundabout on NE 11th Street in front of the art museum or on Museum Drive for the Frost Museum.  The nearby garage cannot accommodate oversized vehicles, so you'll need to organize parking for your bus off-site.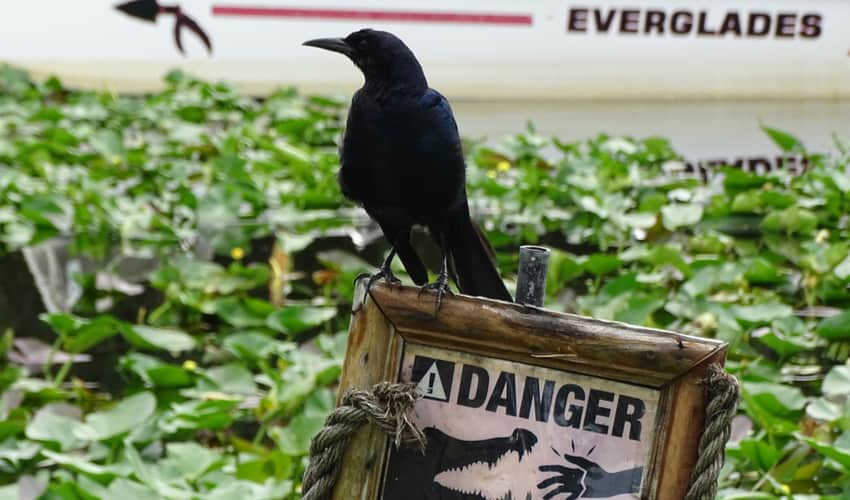 Everglades National Park
Ernest F. Coe Visitor Center Address: 40001 State Road 9336, Homestead, FL 33034
Phone: 305-242-7700
As the only National Park in Florida accessible by ground transportation, the Everglades is a must-see for any and everyone traveling in Miami. The Everglades is so large that 5 entrances and main visitor centers can be found throughout the 1.5 million-acre park. The Ernest F. Coe Visitor Center is one of the most easily accessible visitor centers from Homestead, a city in southern Miami Dade County.
Visiting the Everglades is less for leisurely strolling and more for exploring the natural landscape and learning about Florida's native wildlife. Admire the expansive wetlands, mangroves, and try to spot animals like alligators, manatees, and osprey. The park offers ranger-led programs that are perfect for schools, scout troops, and youth groups.
Charter bus rental parking: Non-commercial groups traveling in charter buses switch a capacity of 16 or more passengers and will be required to pay $15 per person for park entrance. Bus parking can be found at each visitor center.
Oleta River State Park
Address: 3400 NE 163rd St, North Miami Beach, FL 33160
Phone: 305-919-1846
Visiting Oleta River is a great option for active and outdoorsy groups. This popular state park offers a variety of activities like hiking, mountain biking,  kayaking, canoeing, swimming, and paddleboarding. Oleta River is so popular with the outdoorsy locals, that it often reaches visitor capacity on the weekends. The park offers postcard-worthy views of the mangroves, Biscayne Bay, and the North Miami Beach cityscape skyline. The Oleta River Outdoor Center has equipment rentals and hosts concerts, tours, and special events.
Charter bus rental parking: Since Oleta often hits capacity, parking an oversized vehicle may be difficult depending on the day. You may want to inquire ahead of time about requesting parking for large groups.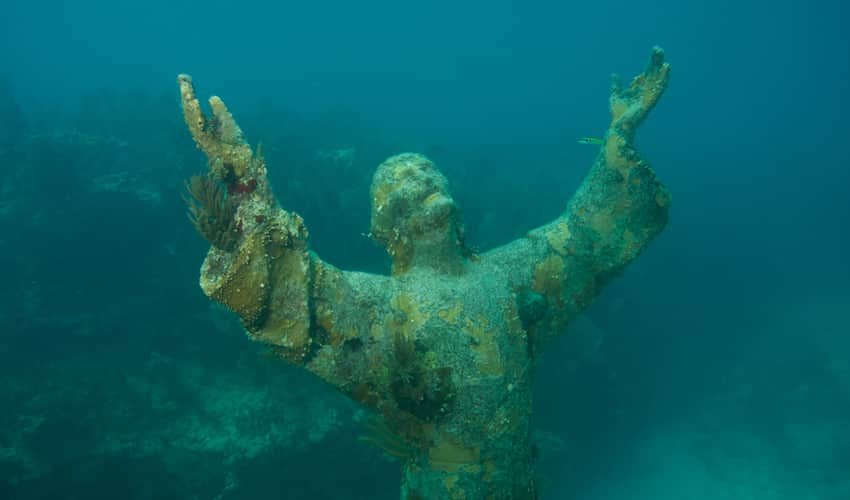 John Pennekamp Coral Reef State Park
Address: 102601 Overseas Hwy, Key Largo, FL 33037
Phone: 305-451-6300
If you're looking for a fun aquatic experience near Miami with the crowds of South Beach, consider heading down to the Keys for a day at John Pennekamp. Named after John D. Pennekamp, a Miami newspaper editor and conservationist, this site is the country's first undersea park. It's one of the best spots for snorkeling and getting up close with vibrant coral reefs in Florida's warm waters. Just keep in mind that John Pennekamp is primarily used for wetland and underwater exploration, not beach days. (The rocky shore is less than ideal for sunbathing.)
Groups can grab tickets for glass-bottom boat tours to see the bustling aquatic life like sea turtles, rays, and sharks. If you opt to go snorkeling, you'll also see one of the park's most popular underwater attractions, Christ of the Abyss. The original casting of this famed bronze statue was created by Italian artist Guido Galletti in 1954 and is located in the Mediterranean Sea. A third casting was created in 1962 and eventually made its way to the bottom of the waters outside Key Largo.
Charter bus rental parking: The park has a spacious parking area but it can quickly get full on the weekends or busy holidays. It's highly recommended that your group plan to arrive early or call ahead about parking lot capacity.  Entrance for oversized vehicles usually costs $8 for up to 8 people plus an additional $2.50 per person.
The Barnacle Historic State Park
Address: 3485 Main Hwy, Miami, FL 33133
Phone: 305-442-6866
The Barnacle is a unique state park tucked away in Miami's upscale bungalow-filled neighborhood of Coconut Grove. This peaceful 5-acre park houses The Barnacle historic home, which was an estate built by early Coconut Grove resident Ralph Middleton Munroe in 1891. At around 130 years old, The Barnacle stands as Miami Dade's County oldest home still standing in its original location.
The Barnacle's grounds flank the bay and visitors can stroll among the Spanish moss-covered trees or sit out on the historic porch to enjoy views of the water. Prescheduled public tours of the home and the Munroe House Museum are open to the public with limited hours. The estate also hosts events like waterfront yoga and concerts.
Charter bus rental parking: Since The Barnacle is a historic home, a commercial parking lot is not available to visitors. The grounds can be easily accessed by pedestrians but vehicles will need to park in Coconut Grove along the street or in public lots.
Enjoy Miami Greenery with Florida Charter Bus Company
Ready to plan your group trip to one of Miami's many beautiful green spaces? Call 305-742-0966 to lock in your Miami charter bus rental today. A Florida Charter Bus Company team member will be available 24/7 to get you a free, no-obligation quote.
Recent Posts
Do you need to rent a charter bus?