A Beginner's Guide to Orlando
People may think Orlando is all theme parks and photo ops with your favorite characters, but there's plenty of other reasons groups may want to visit! Whether you're park-hopping, catching a sports game with your fan group, or just exploring the city with your friends, one thing is certain—navigating a new city with a group of out-of-towners can be a challenge, even for the travel-savvy.
Not to worry! Florida Charter Bus Company has experience transporting all kinds of groups around Orlando, so we know a thing or two about visiting the city for the first time. Keep reading to learn how to get around the city, what neighborhoods are worth adding to your itinerary, and the ins and outs of major destinations in Orlando.
Getting Around Orlando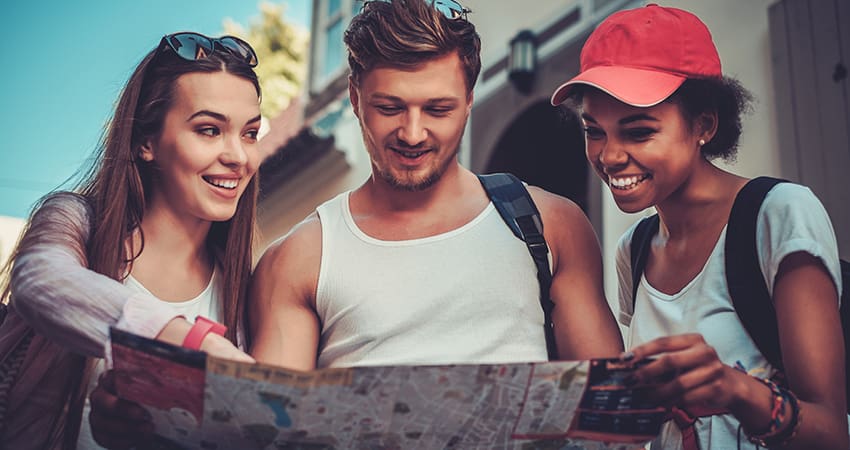 Public Transit
In terms of public transit, Orlando travelers have two options: the SunRail trains and the LYNX bus system. Both offer relatively inexpensive transportation to major city attractions and neighborhoods. So if you're planning to visit the city with a small group or budget-conscious traveler, it may be worth purchasing an all-day pass for everyone to receive unlimited rides.
However, there are reasons you may want to avoid the Orlando public transportation system depending on your situation. Firstly, LYNX routes are focused on serving select, high-traffic areas within the city. So if your travels take you outside city limits to more obscure places in  Osceola, Orange, Seminole, and Lake counties, public transit may not be for you. The SunRail trains offer wider coverage, but it is primarily constructed to get suburban commuters in and out of city business districts—not ideal, depending on where you're going.
Rideshares and Taxis
Over a dozen taxi and rideshare companies operate in Orlando, including national chains like Yellow Cab, Uber, and Lyft. These on-demand ride services are great if your group doesn't have a set itinerary or a personal vehicle. Vehicles used by these companies can generally accommodate up to 7 people at a time and can take you nearly anywhere you want to go (as long as there's a road, of course).
That being said, if you're visiting the city during a major event, a convention, or during peak summer travel times, you may have a hard time hailing a ride for a reasonable price—especially if you're riding with lots of people in tow. Be prepared to budget for, hail, and wait for multiple rideshares or cabs to arrive at your given pick-up location—or consider another transportation option.
Private Bus Rental
Traveling with a large group? Renting a bus through a charter bus company might be your best option! We at Florida Charter Bus Company provide rentals that can seat between 18 and 56 passengers, and we specialize in custom pick-up and drop-off schedules and itineraries. That means your passengers won't be stuck to a predetermined bus map—instead, your Orlando bus rental will arrive and depart from wherever you tell it to, all at your preferred pace.
Also, booking a charter bus rental can ensure each traveler in your group rides in total comfort, thanks to onboard amenities! Hype up for your Disney World adventure by screening everyone's favorite animated movies over the TV monitors, share your favorite group selfies to social media over onboard WiFi, or simply lay back in a reclining seat and rest up after a long day of walking.
If you're interested in learning more about bus rentals in Orlando, give our 24/7 team a call at 305-359-5975. We'll be happy to answer any questions you may have and provide a free, no-obligation quote that's personalized to your Orlando group travel needs!
Popular Neighborhoods
Have some spare time in your itinerary and want to explore local life? Not sure where to stay in Orlando? Here's the run-down on the city's most popular neighborhoods and some highlights worth experiencing during your visit: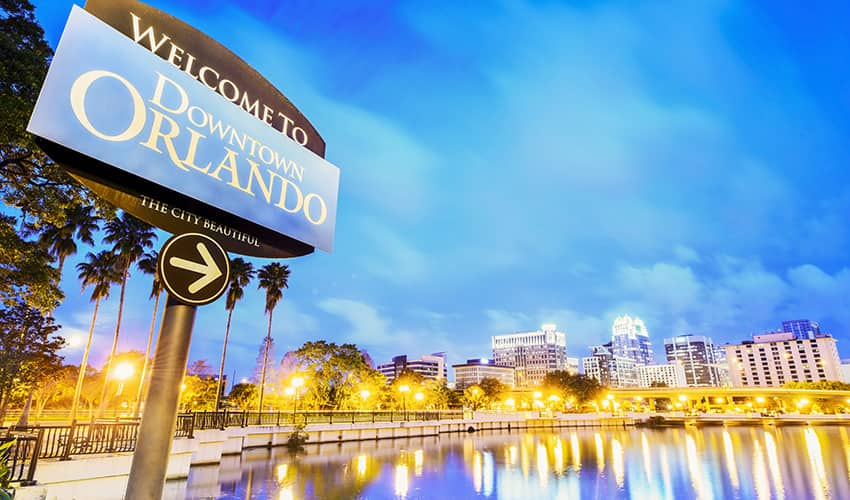 Downtown/Central Business District
The heart of Orlando! Full of skyscrapers and major events throughout the year, this district is home to most of the city's sports venues (more on those later!) and convention centers. In other words, if you're only in town for a big event you'll likely be spending most of your time here. Before or after your conference or sporting event, consider grabbing a drink or two around Wall Street Plaza and checking out the street art within walking distance of Lake Eola Park!
College Park
Seeking an upscale backdrop for your Orlando travels? Hit up College Park! It's centrally located near Downtown, though you wouldn't know it from the lack of hustle and bustle.
Spend an afternoon wandering through sprawling green spaces, brunching in hip eateries, and unwinding in a laid-back bar or two. And if you're visiting with your tee-time buddies, you're in luck—the historic Dubsdread Golf Course is open to the public and offers gorgeous greens and challenging terrains for all skill levels.
Milk District
A recent recipient of Orlando's Main Street program revitalization efforts, this neighborhood is now one of Orlando's up-and-coming hubs for culture and arts. While in the 1920s this district's main draw was the historic T.G. Lee dairy plant, nowadays folks come here to dine at chic eateries, check out locally-based craft breweries, and catch concerts and art exhibitions at the many venues, lounges, and bars the Milk District has to offer.
Mills 50 District/Park Lake/Highland
Yes, these are three separate neighborhoods. But if you're looking to support local businesses and test out local-favorite cuisine, this area is the place to be! Mills 50 District is home to the city's most popular stretches of group-friendly restaurants. From pan-Asian fare to classic BBQ, casual cajun eats to upscale dining, your foodies definitely won't leave hungry! After lunch or dinner, swing by Park Lake or Highland to explore only-in-Orlando bookstores and boutiques!
Lake Formosa
Located just north of Mills 50 District, this neighborhood is a major hub for the fine arts and stage performances. Many major venues and museums are located here, including Harriett's Orlando Ballet Centre, The Mennello Museum of American Art, and the Orlando Museum of Art. (Interested in making an itinerary that hits all the major art destinations in Orlando? Check out our arts and culture guide for more!)
Popular Attractions
Disney World
Address: 1180 Seven Seas Dr, Lake Buena Vista, FL 32830
Let's be honest, if you're visiting Orlando for the first time, there is a high probability Disney World is your top destination. And for good reason! As one of the most popular theme parks in the world, the collection of four parks sprawling across 40 acres draws in over 20 million visitors to see the sights, ride the rides, and experience the magic.
There is so much fun packed into the Disney World parks, which is why we recommend planning to visit them all over multiple days to truly make the most of each. And if you are meeting Mickey one day and exploring Epcot the next, keep in mind that you'll need to book lodging for your charter bus driver if you book a bus. Consider booking a block of rooms at a hotel that offers bus parking, so your driver, your passengers, and your private bus rental can all be in one place—making it easy to load up and hit the parks every morning!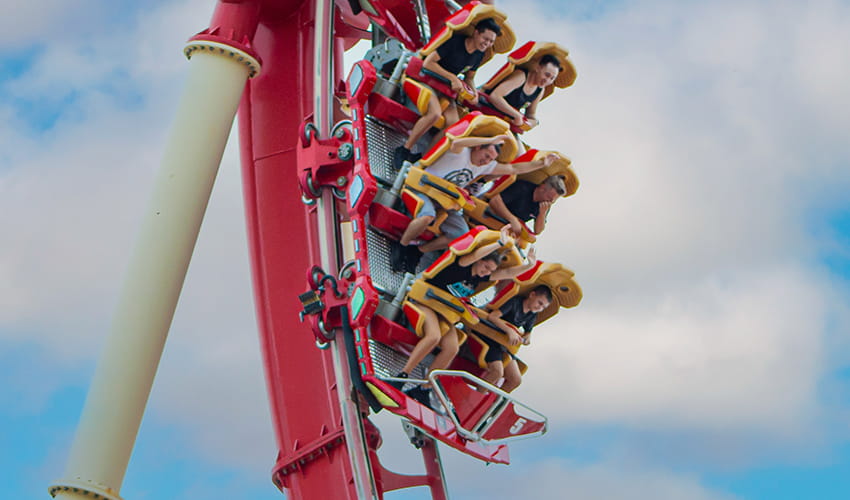 Universal Studios Orlando
Address: 6000 Universal Blvd, Orlando, FL 32819
Hitting the road with movie buffs? Then a day at this popular theme park is definitely in order! You can spend multiple hours exploring film-themed rides, shows, eateries, and behind-the-scenes tours—from drinking butterbeer at The Wizarding World of Harry Potter to seeing Spiderman and the Transformers in action.
If you're coordinating a family reunion, grad bash, or post-conference team-building outing here, you're in luck. Universal Studios Orlando offers a wide variety of group rates and discounted meal and merch packages for all kinds of visiting groups. Just be sure to call ahead to secure your tickets in advance, and have your charter bus driver drop everyone off near the designated group admissions gate to streamline the entry process.
Amway Center
Address: 400 W Church St Suite 200, Orlando, FL 32801
This indoor arena space is centrally located in downtown Orlando and can seat nearly 20,000 spectators—making it a popular spot for sports fans and concert-goers alike. Whether you're here to cheer on the Orlando Magic on their home turf or catch top musical acts from Billie Eilish to Jimmy Buffet, you'll be able to enjoy the facility's top-notch amenities. A variety of VIP suite options offer private and comfortable viewing locations, state-of-the-art sound systems provide crystal clear audio feedback, and 1,100 high-def display monitors mean you won't miss a moment of the action!
Orange County Convention Center
Address: 9800 International Dr, Orlando, FL 32819
Given the city's fun and exciting surroundings, it's a no-brainer why Orlando is a popular destination for large-scale events that draw folks in from around the country. If you're in town for a big conference, convention, or industry event, you most likely will find yourself at this high-tech center! For the benefit of first-time visitors, the OCCC is located within a district dedicated to serving attendees and vendors, giving everyone easy access to quality restaurants, shopping, and hotels.
Gear Up for Your First Orlando Group Trip
Now you're ready to take on Orlando! No matter what fills your itinerary in this fun-loving city, Florida Charter Bus Company is here to make your travels as easy as possible. Whether it's a quick pickup service from an Orlando airport or a road trip from Tampa or Miami, our team will go the extra mile to ensure everyone arrives comfortably and all together in the minibus or charter bus for your needs!
Call 305-359-5975 today for a free and personalized bus rental quote, so you can spend less time stressing over transportation and more time enjoying your first trip to Orlando.
Recent Posts
Do you need to rent a charter bus?