The Group Travel Guide to Orlando-Area Airports
Air travel is looking a bit different these days because of the COVID-19 pandemic. So it's more important now than ever to thoroughly plan essential travel, especially in a city as busy as Orlando. Whether you're flying into Orlando for a family reunion at Disney next year or you're a group of locals heading out of town for an important business trip, you'll need to think about which airport to utilize. The Orlando metro area has 4 major airports, and choosing the right one for your trip can make a world of difference when you're traveling with a group.
At Florida Charter Bus Company, we not only want you to choose the right airport for your trip—we want to make sure your ride to and from the airport is smooth too! A private airport shuttle is one of the best ways to start your trip into or out of Orlando on a safe and stress-free note. Florida CBC can provide a comfortable and spacious minibus or charter bus operated by a pro driver for your airport transfer. Sit back and relax before your flight or catch up on some z's after a long red-eye as a pro handles any dreaded traffic on I-4 for you. Call 305-359-5975 at any time to get a personalized quote for your Orlando airport transfer!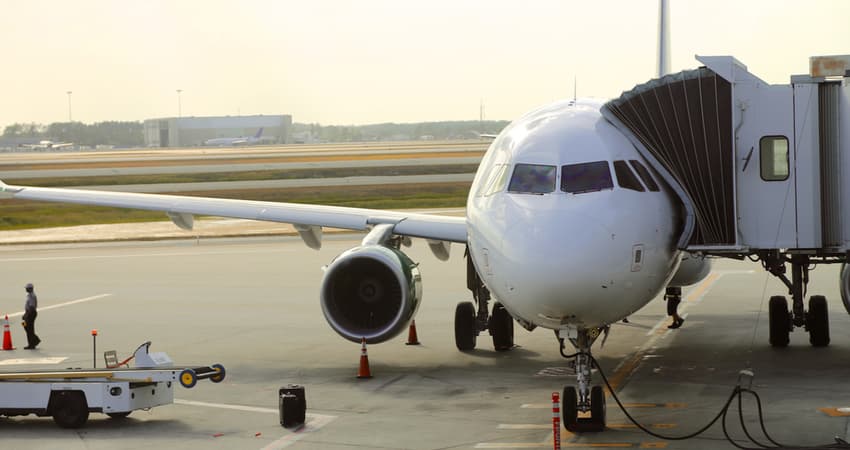 Orlando International Airport (MCO)
Address: 1 Jeff Fuqua Blvd, Orlando, FL 32827
MCO is Orlando's main airport and is the tenth-busiest airport in the United States. Several airline carriers service MCO, with most air traffic being handled by Southwest, Jetblue, Delta, American Airlines, and Spirit. As the state's largest airport, MCO offers the biggest selection of flights at different price points for groups traveling in and out of Orlando. If you're looking for an airport close to Downtown Orlando that has a variety of flight options, choose MCO. If you're planning a beach trip to Central Florida and you'll be staying in neighboring coastal towns, you may want to try another airport.
Where to load/unload your charter bus
The main terminal has two sides, A-Side and B-Side. Oversized vehicles like charter buses and commercial tour buses can pick up passengers in commercial spaces on the Ground Transportation Level of the airport. These spaces are A14-A15 on A-Side and B14-B15 on B-Side. Traffic around the airport often gets gridlocked during busy travel seasons, so be sure to communicate with your driver about which side your group will need to be dropped off or picked up on.
What to eat and drink
The airport is split into the main terminal with four sections. Each has a variety of restaurants to chow down at before your flight. If you're looking for comfort food in MCO's main terminal, check out Macaroni Grill for a relatively affordable meal or McCoy's Bar and Grill for something a bit more upscale.
Zaza's Cuban Cafe has locations in Airside 1 and 2 and has some of the tastiest food in the airport. Unfortunately, the counter-service eatery isn't ideal for groups. Grab your food to go and relax at your gate with empanadas and Cuban coffee. Sit down for Caribbean-influenced bites at Bahama Breeze if you're flying out of Airside 3. Cask & Larder in Airside 4 offers delectable Southern food and has a full bar for adults who may want a pre-flight drink.
What to do
Like at most other major airports, you'll find a variety of shops across the four Airsides. A few unique shops that you may want to stop in if you have spare time include tourism stores for the Kennedy Space Center, Universal Orlando, Seaworld, and the Magic of Disney. You'll also find trendy clothing boutiques like Desigual and Mango.
If your group isn't looking to shop, you can get a quick massage or facial at Terminal Gateway Spa or XPress Spa. Groups who have plenty of time before needing to be at the airport can ask their bus driver to stop at nearby attractions like the Harry P. Leu Gardens or Crayola Experience Orlando.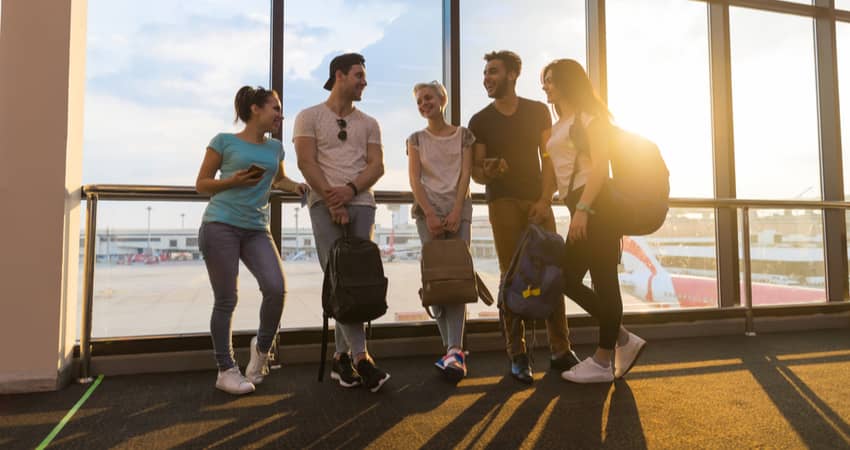 Orlando Sanford International Airport (SFB)
Distance from Orlando: ~26 miles or 30 minutes
Address: 1200 Red Cleveland Blvd, Sanford, FL 32773
Other than MCO, SFB is the closest airport to the city. Although SFB is an international airport, it's much smaller and quieter than its bigger counterpart. SFB primarily handles domestic air traffic, with Allegiant Air being the main carrier. This airport's flight options are relatively limited and most serviced destinations are smaller cities like Asheville and Knoxville. You can occasionally find flights to and from bigger locations like San Antonio and Indianapolis, but tickets can get pricey. Flying into SFB is only recommended if you find an affordable seasonal flight to or from a smaller city.
Where to load/unload your charter bus
Have your charter bus driver drop off or pick up your group in the designated area right across from Terminal B Baggage Claim. Groups traveling into Orlando can hop onboard their private bus and relax in reclining seats for the 30-minute drive.
What to eat and drink
SFB has two terminals that have a small selection of dining options. Stop at Ritazza for coffee and small bites or grab a quick latte and pastry at Starbucks. If you're looking for a full-on meal, have a bite at Cheeburger Cheeburger or Port Paradise.
What to do
Since this airport is pretty small, your options to kill time are limited. Do some quick gift shopping at Gallerie, or grab a book for your flight at Hudson News. Frequent travelers who have Priority Pass and Dragon Pass can relax and grab libations at Royal Palm Lounge.
There are a few attractions a short distance from the airport that you can stop at to pass the time before departure. Grab a bite to eat in Historic Downtown Sanford, check out local boutiques, and take a stroll along the St. Johns River.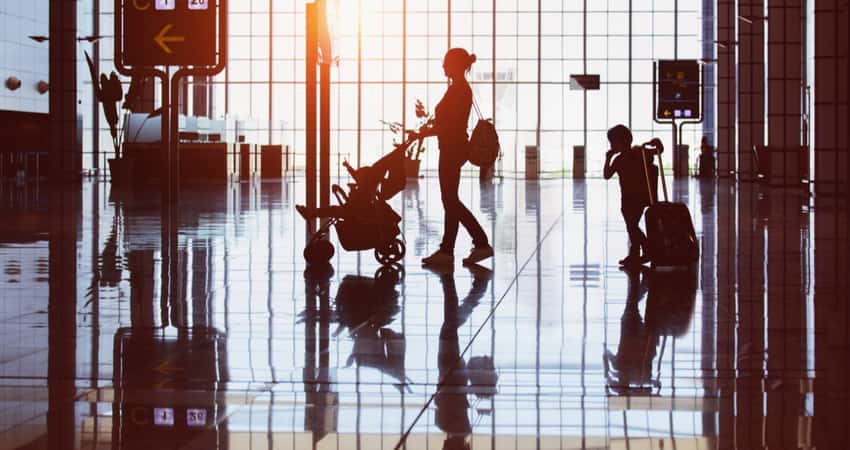 Daytona Beach International Airport (DAB)
Distance from Orlando: ~56 miles or one hour
Address: 700 Catalina Dr, Daytona Beach, FL 32114
Daytona Beach may be a bit of a hike from Orlando, but when you have a private bus rental and pro driver, you don't have to worry about the roads! Flying into DAB is ideal for groups who are planning to spend some time on the beaches just west of Orlando. Keep in mind, DAB has very limited flights offered by American Airlines and Delta. If you're flying to or from Atlanta and Charlotte, DAB may be a good option.
Where to load/unload your charter bus
Groups hopping on a private charter bus, shuttle, or tour bus can be picked up at the east end of the terminal on Catalina Drive. DAB is a small airport, so your bus driver shouldn't have an issue finding your group. Idling at the terminal for an extended time may not be allowed though, so advise your driver to wait in the short-term parking lot just north of the terminal.
What to eat and drink
Like in SFB, sit-down dining options are limited in DAB. Before you enter the airport, your group can stop at Outback Steakhouse right off West International Speedway Boulevard. Once you're inside, Java Moon Café and Sugar Mill Café are located in the concourse before you reach the boarding areas. Grab pastries, sandwiches, salads, and a much-needed coffee before your flight! If you're looking to have a cocktail or glass of wine, check out Junction Daytona Beach, the only full-service bar in the airport.
What to do
You won't find any fancy shops or boutiques like in bigger airports. DAB has small gift shops between Gates 2 & 4 and a business center near Gate 6 that has services for any groups traveling for corporate events.
DAB is just a short drive from the area's beaches if you want a waterfront photo op before flying out of the city. You can also do some last-minute shopping at popular malls like the Tanger Outlets Daytona Beach, ONE DAYTONA, and Volusia Mall a few blocks from the airport.
Orlando Melbourne International Airport (MLB)
Distance from Orlando: ~70 miles or one hour and 10 minutes
Address: 71 Air Terminal Pkwy, Melbourne, FL 32901
MLB is the farthest airport from Orlando but can still be a reasonable option depending on your group's itinerary. Generally, if you're planning to spend a lot of time in Cocoa Beach or in other areas along the east coast, MLB could be the airport for you. Flights are offered through American Airlines, American Eagle, and Delta. Destination cities are usually limited to Charlotte, DC, Philadelphia, and Atlanta, but other seasonal destinations may pop up throughout the year.
Where to load/unload your charter bus
A designated taxi and bus lane runs parallel to Air Terminal Parkway. Your group can use this lane without the stress of holding up traffic for smaller vehicles as you load and unload an entire charter bus. If your driver has to wait more than a few minutes for your group to land, advise them to wait in a designated bus parking area at the end of the Domestic Terminal area on Air Terminal Parkway.
What to eat and drink
MLB has a few places to grab quick bites and drinks. Get your coffee fix at Dunkin Donuts near Gate 3, have tacos and sliders at Lucky's Craft Food and Drink before security, or sip a cocktail at Lucky's Bar right past the security checkpoint. If you're flying into MLB and need a bite to eat after getting off your flight, there are plenty of restaurants within a few blocks. Grab Japanese fare at nearby Makoto, or have tasty Tex-Mex at Tijuana Flats.
What to do
Need to kill some time before your flight? Visit the Airport Museum across from Lucky's Craft Food & Drink. The museum is small but offers interesting exhibits into MLB's history as a part of Naval Air Station Melbourne during World War II. You'll also find exhibits about native aquatic life from Harbor Branch Oceanographic Institute and about NASA's programs out of the nearby Kennedy Space Center.
Ready to Take to the Skies?
Don't worry about how you'll get to and from Orlando's airports. Florida Charter Bus Company will handle all of your group transportation needs with ease. When you call 305-359-5975, a rental expert will help you find the best type of charter bus for your group and provide you with a quick, accurate bus quote.
Recent Posts
Do you need to rent a charter bus?