A Group Guide to Visiting the Miami Art Deco Historic District
When you think of what makes Miami unique, the city's architecture may be the first thing that comes to mind. And one of the best examples of the town's iconic skyline lies in the Art Deco Historic District—a must-see time capsule of the city's favorite aesthetic!
Whether you're here to explore local art, history, and art history with a school group or simply soaking in the sun and surf with your friends and family, Florida Charter Bus Company is here to make your travels throughout this gorgeous district easy. Rather than splitting into multiple rideshares, putting miles on your personal vehicles, or navigating an unfamiliar public transit system, you can contact our 24-hour team, who will connect you with a comfortable and reliable bus rental that runs on a schedule you create!
Call 305-742-0966 to let a professional driver from our network handle all the transportation logistics, so your tour group can make the most of your visit to Miami's Art Deco Historic District.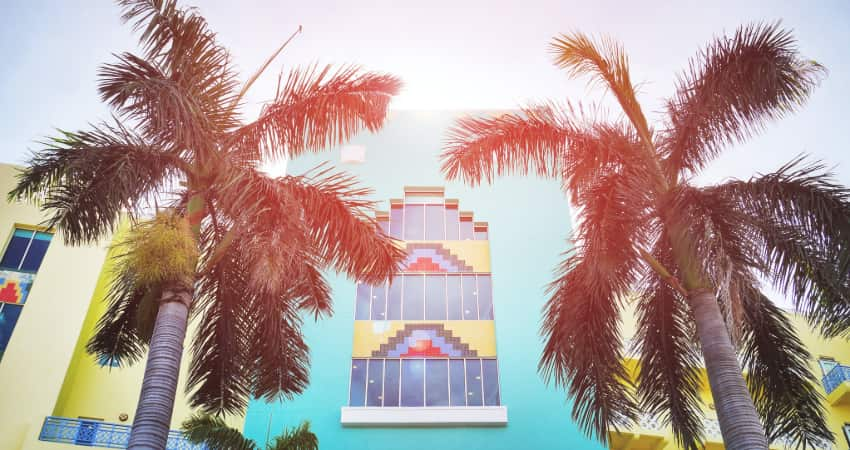 What is Art Deco?
Art Deco refers to a neoclassical aesthetic and form of design made popular before World War II. The style can trace its roots back to Paris around 1925, but it didn't work its way into the United States' long-standing structures until the early 1930s. Motifs include a mix of geometric shapes (horizontal lines, structural gems, etc.) and tropical plants and animals—all in pastel blues and pinks with vibrant oranges, yellows, and greens sprinkled throughout.
In short, Art Deco is a celebration of vibrant colors and manmade innovations—a perfect aesthetic for a beachy and relatively young city like Miami.
What is the Miami Art Deco Historic District?
Officially, the Art Deco Historic District is located on Miami Beach between 5th Street and 23rd Street, along Ocean Drive, Collins Avenue, and Washington Avenue. The district is composed of nearly 800 buildings constructed between 1923 and 1943—almost all of which have been restored to the way they would have looked when they first opened. And while Art Deco influences can be seen throughout the city, this corner of town is reserved to preserve the modern style that made Miami a popular resort destination in the 1930s and today.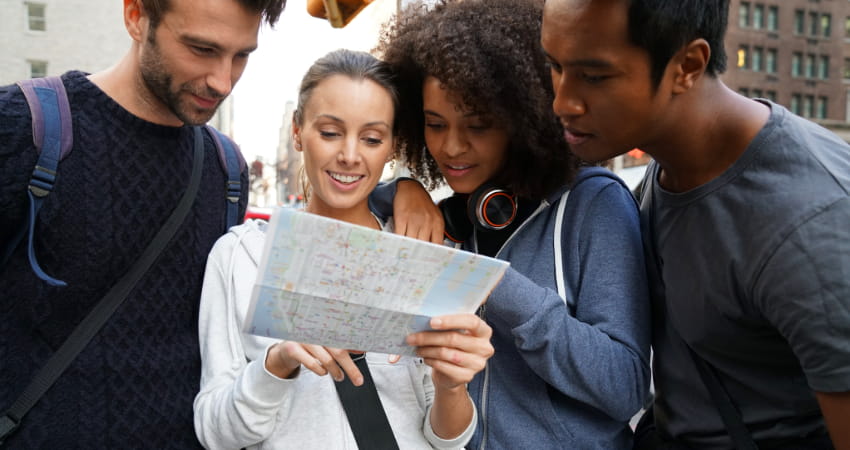 Touring the Art Deco Historic District
All told, the district covers about one square mile of beachfront, so it should only take your group about an hour and a half to see it all—not including the times you stop to eat, shop, or take a breather.
Most visitors make the Art Deco Welcome Center their first destination. From there, everyone can pick up brochures and maps and even arrange guided walking tours of the district. Due to the COVID-19 pandemic, guided tours are only available Friday through Sunday. But when regular tours resume, tours will depart from the welcome center every day at 10:30 a.m. and twice on Thursdays—at both 10:30 a.m. and 6:30 p.m. These tours are usually free for kids 12 and younger, $20 for seniors and military personnel, and $25 for all other adults. The center also offers self-guided audio tour programs for $15 per person if your group would rather take in the district at your own pace.
Of course, nothing's stopping you from poking around the district without a guide! Walking and biking around the Art Deco Historic District is free to the public, which can make it an ideal itinerary addition for Miami tour groups on a budget.
Getting Around the District
Exploring the district can be free, but parking here is not. In fact, parking spots in South Beach are few, far-between, and very expensive.
We definitely recommend leaving personal vehicles and carpool caravans out of the equation and letting a Florida Charter Bus Company rental handle your ride plan to and from Miami Beach. Once you get here, your group has a few options when it comes to traversing the district:
Miami Beach Trolley: The city offers a quaint (and free!) trolley that services not only the Art Deco District but all of Miami Beach. However, the loop that runs near the district only operates on Washington Avenue, running from north to south before heading to other neighborhoods. In short, the trolley is great for getting from one end of the district to the other but not for getting to individual destinations throughout it. Also, large groups may have trouble fitting onto one trolley and should expect to split up if you opt for this route.
FreeBee: This open-cabin, electric car service provides shuttles throughout Miami—free of charge. The catch? Each vehicle can only hold up to 5 passengers at a time, which is not ideal for medium- to large-sized tour groups.
Walking and Biking: As stated, walking around or taking a bike throughout the Art Deco Historic District is free to the public. Rental bikes are available for daily and hourly rates along the beachfront. Just be sure to bring some sturdy walking shoes and plenty of water. Most of the Art Deco Historic District sights are outdoors, so your group should pencil in plenty of water breaks if you plan to visit in the hot summer months.
Private Bus Rental: If walking or biking isn't a great option for your group and you want to keep everyone together and comfortable, Florida Charter Bus Company can help. Our team can set you up with a bus rental personalized to your group's size and needs—whether that's an ADA-compliant minibus shuttle or a full-size charter bus to bring your larger group over from the mainland. That way, everyone can enjoy the sights from the comfort of a climate-controlled cabin (a must-have in sweltering Miami).
Art Deco Historic District Tour Highlights
As many veteran visitors will tell you, the main draw of this neighborhood is not one individual building, structure, or monument within it. Rather, the beauty of this place is the cohesive style of it all and how the buildings look standing side by side as seen from the street.
That being said, here are some waypoints you can keep an eye out for while your group makes their way through the district: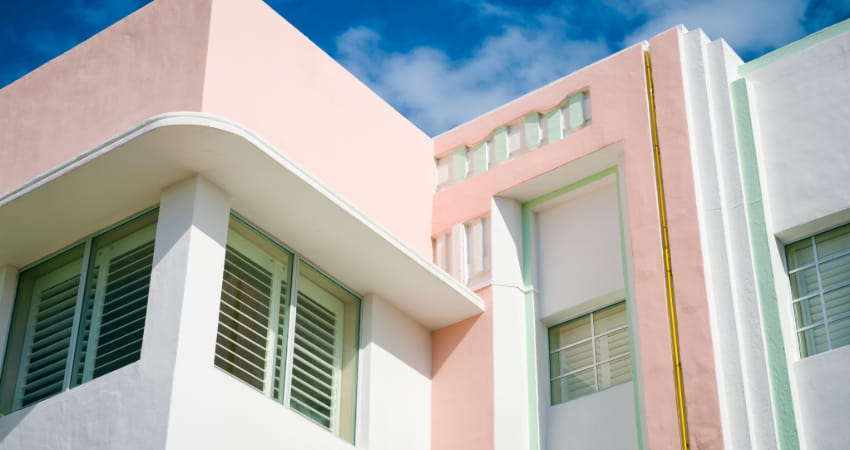 Hotels
Resort and vacation culture is a key piece of Miami's history—in fact, the most recognizable Art Deco constructions in the city are hotels! And while many who tour the Art Deco Historic District choose to find lodging elsewhere in the city (the easy beach access comes at a premium, after all), it doesn't cost a dime to stroll along Ocean Drive and admire the architecture of these iconic buildings:
The Breakwater
Address: 940 Ocean Dr, Miami Beach, FL 33139
Between the neon, the striking geometric embellishments, and the near-perfect symmetry, this building is hard to miss. It first opened its doors in 1936, and its electric blue signage has been a mainstay of the district's main drag ever since.
The Carlyle Hotel
Address: 1250 Ocean Dr, Miami Beach, FL 33139
Although its soft seafoam green and white exterior might not catch your eye quite like the vivid colors elsewhere in the district, odds are you've seen this 1941 hotel before. It's been a backdrop for films like Scarface, Bad Boys 2, and The Birdcage—making it a great selfie spot for a group of movie buffs.
The Sagamore
Address: 1671 Collins Ave, Miami Beach, FL 33139
An excellent example of the late Art Deco scene, this 1948 hotel embraces a sense of postmodernism you won't see in some of its older neighbors. It's considered an "art hotel," so consider popping in to view the contemporary art collection and sculpture garden.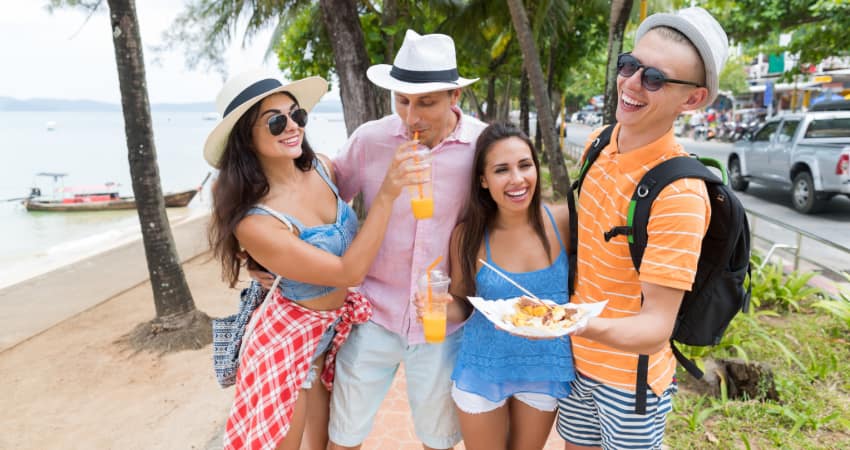 Shopping
Want to pick up some souvenirs? Or is your group just in the mood to window-shop? Here are some great places to do so within the district:
Lincoln Road Mall
Address: Promenade Lincoln Rd, Miami Beach, FL 33139
While the buildings here are relatively new construction, they do feature Art Deco-inspired designs. Besides, your shoppers would be remiss to pass up this pedestrian-only promenade while you're in the neighborhood. Shop high-end brands (from Armani to Zara) and be sure to stop by the CFood Shack for a blackened shrimp BLT.
The Webster
Address: 1220 Collins Ave, Miami Beach, FL 33139
Believe it or not, before it became the three-story boutique you see today, this building began life as a hotel designed by Henry Hohauser in 1939. The store owners kept a lot of the original touches and floorplans, giving this luxury brand retailer an intimate, almost residential vibe.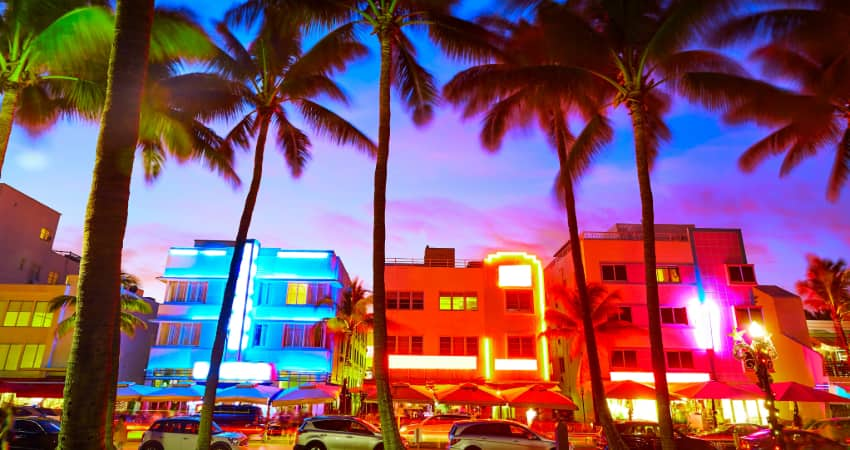 Other Buildings
Of course, there's more to the Art Deco Historic District than hotels and boutiques. Here are some of the few odds and ends you'll also want to see on your tour:
Miami Beach U.S. Post Office
Address: 1300 Washington Ave, Miami Beach, FL 33119
I know what you're thinking: "a scenic tour of a post office?" Designed in 1937 by Howard Lovewell Cheney, this government building combines function with style with its iconic central rotunda and minimalist facade. Inside, you'll find eclectic features like shiny brass detailing, a starry night sky ceiling motif, and a big mural depicting various points in Miami's colonial history. If you do decide to pop inside, just be mindful of how obstructive your group is to other visitors—this is a still-functioning post office, after all!
Miami Beach Community Church
Address: 1620 Drexel Ave, Miami Beach, FL 33139
Okay, so this building is not art-deco-era construction—it's older! The Miami Beach Community Church is the neighborhood's oldest place of worship and one of its oldest surviving buildings, first constructed in 1921. Before the Art Deco movement took the city by storm, many structures in Miami resembled this stark-white Spanish Revival church. Nowadays, the church is home to a visitor- and LGBTQ-friendly congregation that meets every Sunday (though sermons are virtual until further notice due to the pandemic).
Cameo Nightclub
Address: 1445 Washington Ave, Miami Beach, FL 33139
If you're here to explore Miami's nightlife scene as well as the art deco architecture, consider this place a two-in-one attraction. Although this site once held the Cameo Theater, a movie theatre constructed in 1938, don't be surprised when its neon-emblazoned marquee displays the names of local DJs rather than upcoming flicks—it's a nightclub now! Reserve the VIP lounge for your next Miami private event, or simply dance the night away after a long day of history tours.
Explore Miami's Art Deco Historic District Today
Whenever you're ready to start planning your travels to the Art Deco Historic District, in or out of Miami, or throughout Florida, Florida Charter Bus Company will be here for you. You can trust our 24/7 team to connect your passengers with a comfortable and reliable ride that ticks every box—from custom routes to premium amenities like free WiFi, TVs with a DVD player, and plush, reclining seats.
Give us a call at 305-742-0966, and we'll offer you a free, no-hassle quote that's personalized to your Miami bus rental needs!
Recent Posts
Do you need to rent a charter bus?