Your LGBTQ+ Group Guide to Miami
Miami has a long history of serving as a refuge for LGBTQ+ people, a sunshine-filled vacation spot where queer people could be themselves without fear of reprisal. Although many other destinations throughout Florida and the U.S. have gradually become more accepting, Miami continues to draw in huge groups of LGBTQ+ visitors for its festivals, fundraisers, and Pride celebrations.
If you're bringing a huge group of people to celebrate Gay8, the Winter Party, or Sizzle Miami, Florida Charter Bus Company would love to help you get around. An air-conditioned charter bus offers a great way to explore Miami without worrying about appointing DDs or waiting for rideshares in the heat. Just give us a call at 305-742-0966, and we'll find the right bus for your LGBTQ+ student or community group.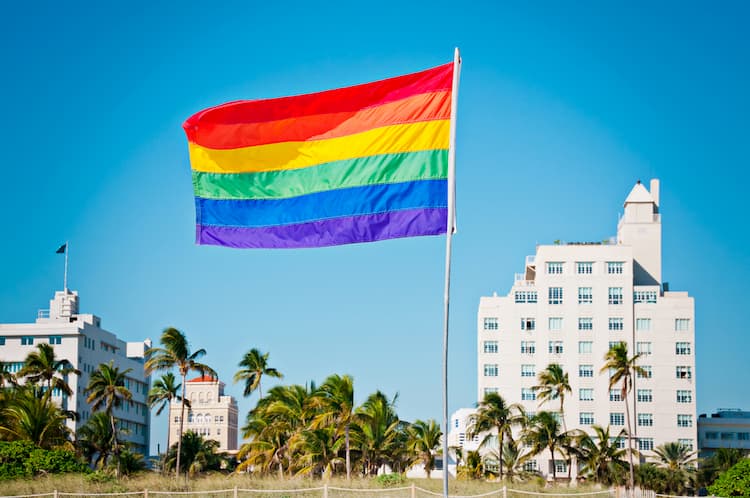 Major Events in Miami
Plenty of cities have Pride, but Miami has a lot more than a single Pride event. Here are some of the LGBTQ+ events you can attend with your large group year-round:
January-April
Wigwood
3-day convention celebrating quirky and ground-breaking drag performers
Gay8 Festival
Festival on Calle Ocho in Little Havana that features queer Latino art, music, dancing, and food
Winter Party Festival
Fundraiser hosted by the National LGBTQ Task Force with music and dancing
Miami Beach Pride
Miami and Miami Beach's official Pride celebration. Held in April, with a full week of festivals, parades, concerts, and drag performances by legends like Latrice Royale
OUTShine LGBTQ Film Festival
Screenings of films by up-and-coming queer filmmakers at a variety of venues throughout April
May-August
Sizzle Miami
Memorial Day weekend celebration with pool parties and DJ performances dedicated to celebrating Black LGBTQ+ men
Out in the Tropics Festival
Innovative performing arts festival showcasing LGBTQ+ artists throughout June
September-December
Aqua Girl
Fundraising event for LGBTQ+ women that features 5 days of DJs, dancing, and pool parties
Celebrate Orgullo
Miami's Hispanic and Indigenous Pride Festival showcasing the work of queer performers and artists
Circuit Festival Miami
Music festival over Thanksgiving weekend featuring dance music by queer performers from around the world
The White Party Week
Week-long fundraiser for Care Resource Community Health Centers, with an all-white-clothing party taking place at Vizcaya Museum and Gardens
Art Gaysel
Art festival at the Hotel Gaythering in early December that showcases the work of LGBTQ+ artists
If you're planning to attend one (or more!) of these events, Florida Charter Bus Company can help your group get safely from your hometown to all of the parties, art galleries, parades, or concerts you want to visit. At the end of each day, your professional driver will take your group back to your hotel while you lounge in a reclining seat and use the optional WiFi to scroll through all of the photos you've posted to Instagram.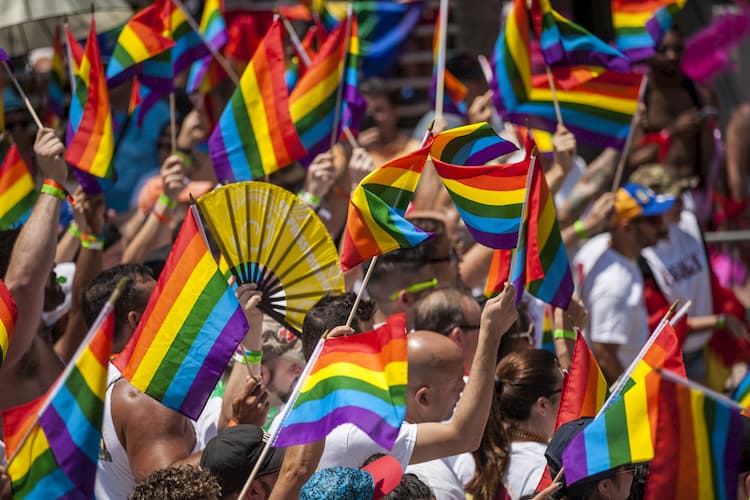 Year-Round LGBTQ+ Hotspots
Even if you visit Miami when there isn't an event going on, there's still plenty for your LGBTQ+ group to do in the city. Here are just a few of the attractions your charter bus can take you to:
Daytime Destinations
Miami Gay Beach
The beaches in Miami are generally welcoming, but Miami's official gay beach lies at 12th Street and Ocean Drive. It's easy to spot—just look for the rainbow flags scattered along the sand. Although this beach is especially popular with queer men who want to show off their beach bodies, it welcomes people of all genders who want a welcoming place to swim and sunbathe.
Address: 1301 Collins Ave, Miami Beach, FL 33139
Parking for your charter bus: This beach has very limited street parking. There are nearby parking garages, but they may not be able to fit a charter bus. You'll probably want to ask your driver to drop you off nearby and then head back to your hotel until you're ready to be picked up.
The Wilzig Museum Building
The Wilzig Museum Building is home to multiple museums, including the Naomi Wilzig Erotic Art Museum and the Kinsey Institute museum. The Erotic Art Museum features fascinating sculptures, paintings, and photographs from 3000 B.C. to the present, while the Kinsey Institute mainly focuses on historical documents and recordings about sexuality and gender. If you want to add a little education to your getaway, this museum is a great place for your group to learn about how people have understood sexuality in different cultures and across different time periods.
Address: 1205 Washington Ave, Miami Beach, FL 33139
Parking for your charter bus: The Wilzig Museum lies near several public parking garages, but if you're in a full-size charter bus, you'll probably need to ask your bus to drop you off and come back to pick you up. The good news is the museum is walking distance from the beach, so you'll only need to get picked up and dropped off once to have a full day in South Beach!
Miami Beach LGBT Visitor Center
Miami was one of the first cities to establish an LGBT Visitor Center. Located in the beautiful Old City Hall Building and open 7 days a week, the Center has dual purposes—it provides information on LGBTQ+ destinations and events in Miami, and it hosts some of its own events on a weekly basis. It's also close to both the Wilzig Museum and the gay beach, so you can visit all three destinations in a single stop.
Address: 1130 Washington Ave, Miami Beach, FL 33139
Parking for your charter bus: You'll want to use the same parking here as you would for the Wilzig Museum or the gay beach. So if you're in a full-size charter bus, getting dropped off and walking between the three locations is your best option.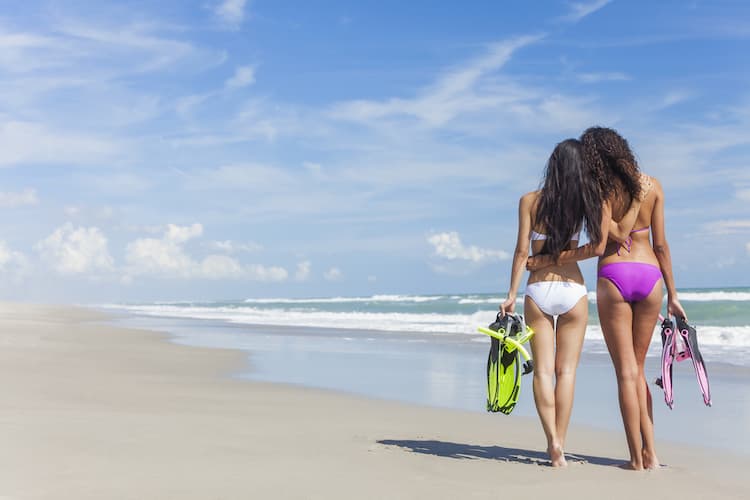 Restaurants
These restaurants in Miami and Miami Beach are far more than just places to eat. They serve as gathering spots for the LGBTQ+ community. If you want to sit down with your group and have a cold drink after a day of sunbathing, check out these locations:
R House Wynwood
Helmed by Chef Rocco Carulli, this restaurant specializes in a mix of Southern Italian and modern American cuisine. It's also won awards for its commitment to slow food and sourcing local Miami ingredients.
You can get lunch or dinner here, but the real standout is drag brunch, held twice a day every Saturday and Sunday. Your group can enjoy French toast, ratatouille, and fried chicken and biscuits, and if everyone is 21+, you can pair your food with mimosas, white wine sangria, or mojitos. (After all, you have a guaranteed DD when you rent a bus!)
Address: 2727 NW 2nd Ave, Miami, FL 33127
Parking for your charter bus: There are several parking lots across the street from R House, but your charter bus can also drop you off and pick you up later if the lots become too crowded.
Rosie's Bar & Grill
This queer-owned business in the suburb of Wilton Manors draws in crowds with its casual American food and extensive drinks menu. Make a reservation in advance for your large group, and chow down on burgers, fresh fish, and salads while sampling the restaurant's extensive wine, beer and cocktails menu. This is also a great place to hang out if your group is looking for a casual, laid-back night.
Address: 2449 Wilton Dr, Wilton Manors, FL 33305
Parking for your charter bus: The restaurant only offers valet parking, so your driver will need to drop you off and then park the bus in one of the public lots nearby until it's time to take you home.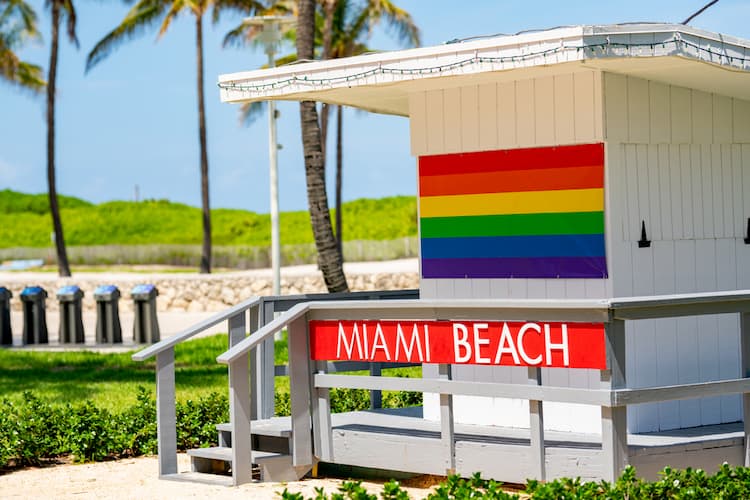 Bars
When you just want to let loose and dance without fear of judgement, there's no better place to do it than one of Miami's gay bars. Ask your charter bus driver to drop you off at the start of the night and pick you up at the end of it, or hire a minibus for a night of bar-hopping. Florida Charter Bus Company would love to help you visit these prime destinations:
Twist
Probably the most popular gay bar in Miami, Twist features 7 dance floors, 3 bars, DJs, drag performances, and go-go dancers. There's also no cover charge here, making it an ideal stop for large groups who can't afford to pay for everyone to get in.
Address: 1057 Washington Ave, Miami Beach, FL 33139
Parking for your charter bus: Twist lies in the same area as the gay beach, LGBT Visitor Center, and Wilzig Museum, so you know the drill. Ask your driver to drop you off and go have a great night.
Azucar
Azucar caters to a queer Latino crowd with DJs playing Latin music, tons of dancing, and drag competitions starring Latina queens. If you're with a community group that's entirely Latino or has many Latino members, you won't want to miss this amazing stop.
Address: 2301 SW 32nd Ave, Miami, FL 33145
Parking for your charter bus: Azucar lies near several public parking lots, but your bus can drop you off at the entrance before heading to a lot so you can get straight to dancing.
Gramps
Gramps toes the line between "super gay-friendly straight bar" and "super straight-friendly gay bar," which means pretty much everyone is welcome here. Located in the hipster neighborhood of Wynwood, Gramps serves craft beers and cocktails and hosts drag bingo and RuPaul's Drag Race watch parties. There's nearly always an activity that your group can jump into.
Address: 176 NW 24th St, Miami, FL 33127
Parking for your charter bus: Parking is limited, so your charter bus can drop you off and then park in one of the nearby public lots or back at the hotel.
Palace
Located within walking distance of Twist and the beach, Palace specializes in happy hour drinks and all-day breakfast options. Split into smaller groups and sit outside on the sidewalk to eat, or head inside to watch an upbeat drag show. The queens here are legendary.
Address: 1052 Ocean Dr, Miami Beach, FL 33139
Parking for your charter bus: See Twist above—this is another South Beach location where you'll need to get dropped off and then picked up at the end of the night.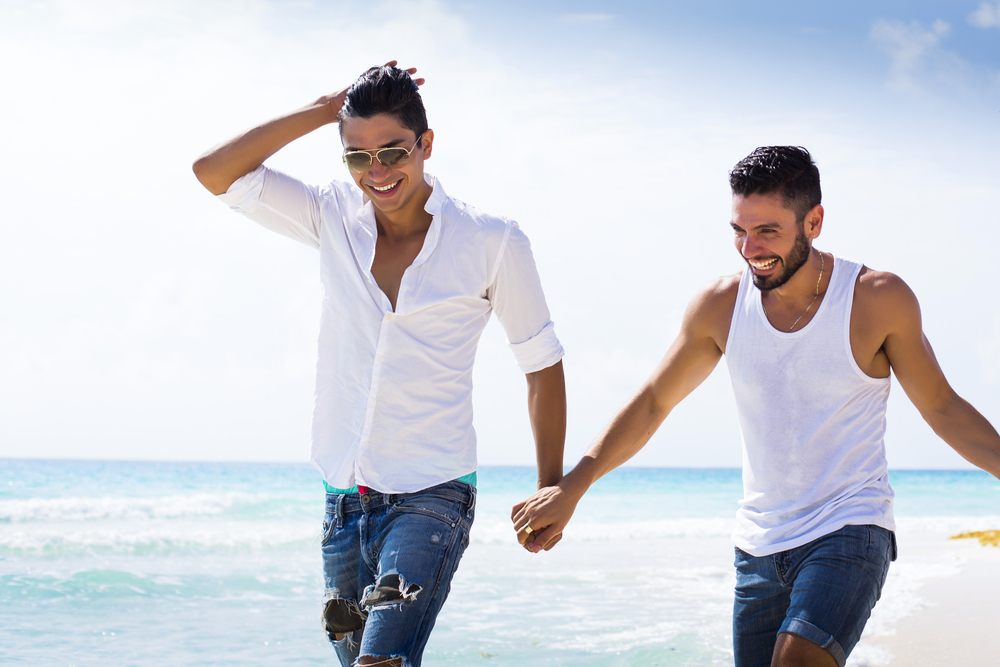 Plan Your Next LGBTQ+ Group Trip to Miami
Whether you want to attend a festival like Wigwood or Celebrate Orgullo or you just want to escape to the beach, Florida Charter Bus Company can help. We'd love to escort your LGBTQ+ student or community group safely around Miami in an air-conditioned bus with plush seats. Just give us a call at 305-742-0966, and we'll find the perfect bus for your next group trip.
Recent Posts
Do you need to rent a charter bus?