The Ultimate Florida Road Trip: Part 2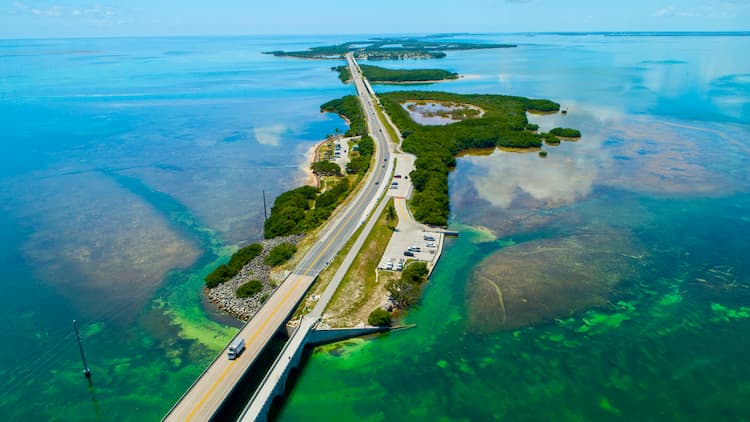 Welcome to the second half of your ULTIMATE Florida road trip! In The Ultimate Florida Road Trip: Part 1, you started off in Jacksonville and explored all the way to sunny Orlando, seeing amazing cities and attractions like St. Augustine and Daytona Beach. For the second half of your trip, you'll explore all that southern Florida has to offer the adventurous road tripper.
To make the most of your trip, rent a charter bus. A charter bus rental is comfortable, convenient, and large enough to fit everyone on your invite list along with their luggage and road trip essentials. All you need to do is sit back and relax with your professional driver at the helm.
With your charter bus rental in tow, are you ready to hit the road? Next stop? Tampa Bay!
1.   Tampa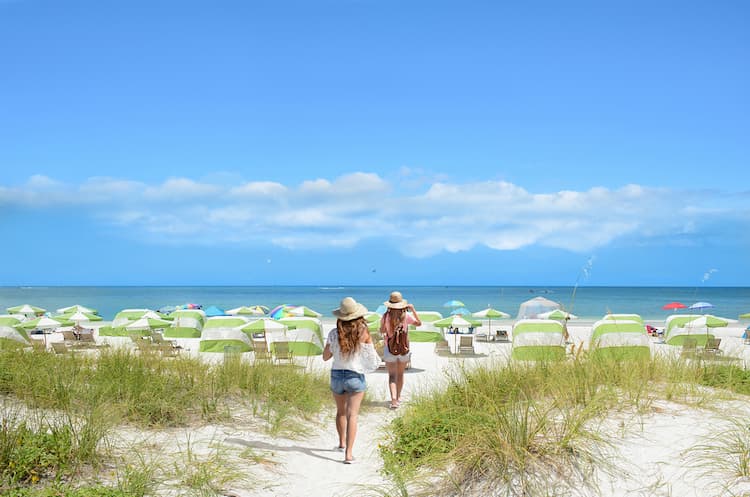 Your next stop is Tampa along Florida's Gulf Coast, home to beautiful beaches, Cuban and Spanish history, and a vibrant downtown district. It's a great city for all ages and tastes with something for every budget, from leisurely river walks to theme parks to art museums and historic sites. You can plan a multi-day itinerary seeing all that this coastal city has to offer.
A charter bus will be perfect for traveling quickly through the hotspots and prime destinations in Tampa. You can easily go from riding roller coasters at Busch Gardens to a margarita festival downtown without worrying about navigating traffic or deciding who has to drive. And with a charter bus rental, you'll always have a DD to rely on.
Top 3 Tampa Destinations:
Busch Gardens Tampa Bay. Didn't get your fill of theme parks in Orlando? Busch Gardens will fix that. Go here for up-close and personal encounters with cheetahs, rhinos, and giraffes, and enjoy safari-themed roller coasters and thrill rides to your heart's content.
The Florida Aquarium. You'd be hard-pressed to visit Tampa and not explore The Florida Aquarium, home to more than 3,000 aquatic animals like octopuses, sand tiger sharks, and river otters. If you want to plan a group trip or event here, check out our ultimate group travel guide to The Florida Aquarium for tips and tricks.
Downtown Tampa. Go downtown to get a real feel for the flair and flavor of Tampa. The Tampa Riverwalk is lined with dozens of dining, shopping and entertainment destinations like Hyde Park Village and Brew Bus Brewing. Definitely stop by Sparkman Wharf to try food from the city's best chefs, sample brews at the biergarten, and enjoy a game of lawn bowling or billiards.
Next stop? Miami! But not without visiting some beachfront hotspots:
Bus Stop: Clearwater/St. Petersburg
Looking to hit up some of the famous beaches in Clearwater and St. Petersburg? Check out our group guide to the best beaches near Tampa. You can also catch a baseball game at Tropicana Field in St. Petersburg, see the amazing glass sculptures at the Chihuly Collection, or visit the shops, restaurants and bars at John's Pass Village and Boardwalk.
Bus Stop: West Palm Beach
About 3 hours from Tampa, West Palm Beach is a beautiful coastal city to stop in on your way to Miami. If you're only here for a day, make time to see Singer Island—a peninsula known for its white sandy beaches—and John D. MacArthur Beach State Park, a more secluded beach best for nature walks and kayaking.
2.   Miami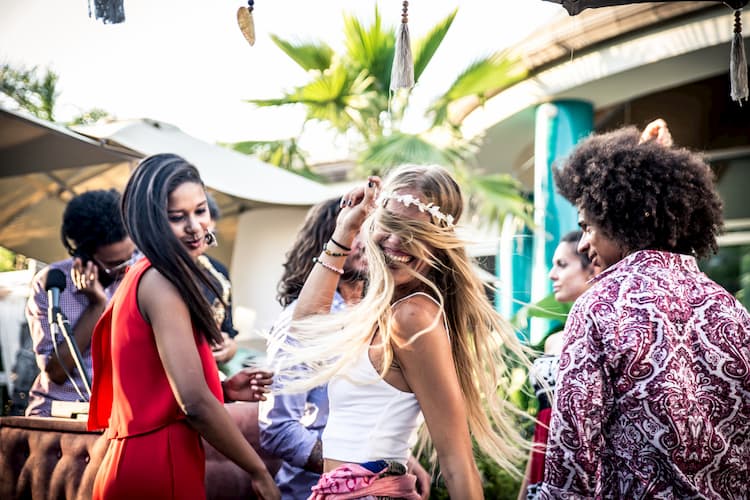 Finally, you've made it to Miami—Florida's liveliest and most popular city for beach vacations, trendy nightlife, art galleries and world-class hotels. If you're looking for a spot where the bustle of city life meets the leisure of beach life, then you'll love it here.
A charter bus is the perfect transportation for transitioning from a relaxed day on the beach to the busy Miami nightlife. Load up the undercarriage of your bus rental with beach towels, cabanas, a volleyball net and boogie boards, and then fill the overhead bins on board with everything you need for the day and night out. You can bring a cooler filled with water bottles and fresh fruit, your favorite party snacks, and even a few bottles of champagne or wine. Make your road trip in Miami the party you deserve!
Top 3 Neighborhoods in Miami:
Downtown. Miami's downtown waterfront is rife with lively marinas and high-rise towers among historical sites and culturally rich theaters, museums and galleries. Take a boat cruise to sail out over Biscayne Bay or live it up on a four-hour party boat with drinks and DJs. Check out Bayside Marketplace for scenic shopping and dining, or visit the Philip & Patricia Frost Museum of Science to learn about everything from the prehistoric era to modern space missions.
South Beach. Go here if you want to liven up your nightlife. From top dance clubs to cocktail lounges and dive bars, you'll be glad you have a private charter bus and professional DD to take you around town! Hit up hotspots like LIV, Bâoli Miami, and BASEMENT at the EDITION.
Little Havana. This cultural mecca in Miami is where you'll find your most authentic experiences. Visit Versailles, the world-famous Cuban restaurant dishing out the best cuisine you can eat outside of the motherland. Ball & Chain concert hall showcases everything from jazz to salsa, and Maximo Gomez Domino Park is where you can try your hand at a hardcore game of dominoes with the locals. Turn any corner, and you won't be bored.
Your final stop? The beautiful Florida Keys. But catch some wildlife along the way:
Bus Stop: Everglades National Park
On your way from Miami to the Florida Keys, stop and explore the Florida Everglades at Everglades National Park. Enjoy a hike to see wildlife like turtles, herons and alligators in their natural habitat, or climb to the top of Shark Valley's 65-foot observation tower overlooking the vast, glossy subtropical wetland.
3.   Florida Keys
Last but not least, the magnificent Florida Keys—a tropical paradise and string of islands along the southernmost tip of this southern state. Let's be real, you're here for the beaches. Pack your charter bus with beach-day essentials like blankets and umbrellas or cabanas, boogie boards and surfboards, and coolers filled with cold drinks and a few brews or hard seltzers. All that's left to do is lay out your blanket and soak up the sun!
Top 3 Beaches in the Florida Keys:
Coco Plum Beach, Marathon, Vaca Key. Some beaches on the Keys are man-made, but not Coco Plum. From the sand to the seaweed, this is the prime spot for an authentic south Florida feel. Enjoy clear water, small crowds, and the chance to see sea turtle nesting beaches.
Calusa Beach, Bahia Honda State Park, Big Pine Key. This is another all-natural Key beach, but with all the flavor and comforts of man-made amenities. Enjoy swimming and snorkeling in clear blue waters, and then explore the small marina and nature center or shop at the concession stand and souvenir store.
Dry Tortugas National Park, Key West. This beautiful beach and national park is known for its great marine life and Fort Jefferson, a historic 19th-century beachfront bastion. Go here for clear blue water, amazing coral reefs, and epic birdwatching.
Rent a Charter Bus for Your Florida Road Trip!
From Miami all the way through to the Keys, you'll have a blast exploring all that Florida has to offer. If you're ready to hit the road, Florida Charter Bus Company can offer you a selection of buses to make your road trip unforgettable. Call us anytime at 305-359-5975 to get a free quote for your Florida road trip!
Recent Posts
Do you need to rent a charter bus?