The Ultimate Group Travel Guide to The Florida Aquarium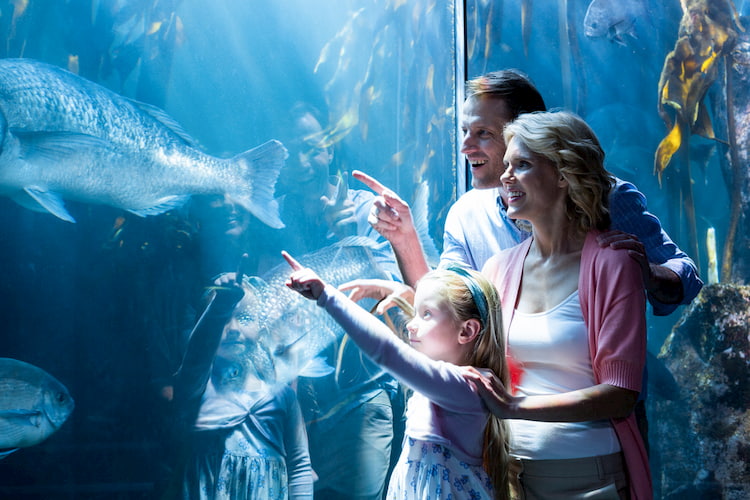 The Florida Aquarium in Tampa is an enlightening experience for groups of all types and sizes. Field trips and student groups will enjoy the many educational programs designed specifically for them, while corporate outings and company picnics can rent private spaces for a serene, seaside conference, gala or gathering. You can even host a wedding reception on the rooftop overlooking the bay!
No matter your interest in group travel to The Florida Aquarium, let us help you plan your trip from beginning to end, starting with your group transportation.
How to Get There
The Florida Aquarium in Tampa is found channelside, along the water and nestled between the Port Tampa Bay cruise ship terminals. It's also steps away from the American Victory Ship & Museum.
Via Charter Bus
For the easiest group travel in and out of this busy part of the city, we recommend renting a charter bus for your group. Your personal driver can drop your entire group off at the entrance and pick you up at the end of your visit. With a charter bus from Florida Charter Bus Company, there's no need to find parking or split up your group between personal vehicles, rideshares, or public transit.
Via Streetcar
If you're staying overnight in the more popular parts of Tampa, you may want to take a free ride on the TECO Line Streetcar. This vintage streetcar replica line can take you between downtown Tampa, Channelside and historic Ybor City.
The closest TECO stop to The Florida Aquarium is the Cumberland Ave Station, which puts you off about one block away from the entrance. You can also hop off at the Amalie Arena Station, which is a few blocks down, closer to Sparkman Wharf.
Bus Tip: Keep in mind, depending on the size of your group, you may need to separate into smaller groups to fit on the streetcar. Opt for a charter bus if you have a group larger than 15 and want to keep them all together and arrive at the same time.
Via Ferry
Depending on the season, you can hitch a ride on the Cross-Bay Ferry! This initiative is new to the Tampa Bay area, so check the Cross Bay Ferry website for seasonal operation, routes, and the schedule.
Bus Tip: When the ferry is in operation, have your charter bus drop you and your group off at the closest dock to you. You can enjoy the sights across the water as you make your way across the bay to The Florida Aquarium. When your event is over, have your charter bus pick you and your group up at the entrance, rather than endure the hassle of loading up on the ferry again.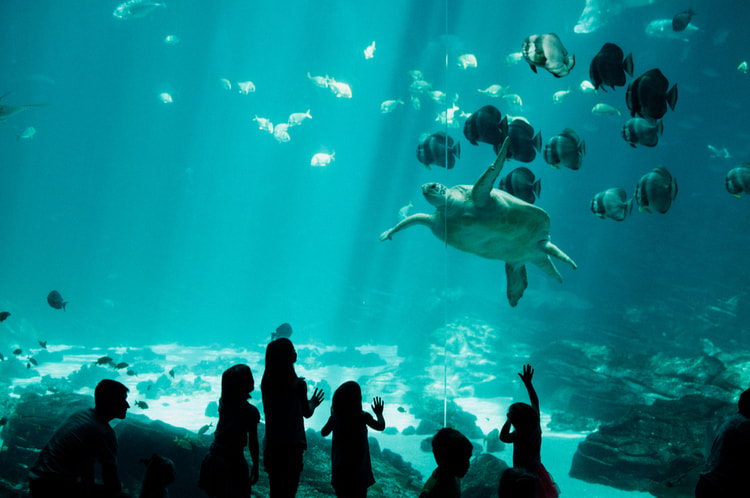 Reservations & Tickets
Discounted group admission is available for groups of 15 or more only. (Groups of less than 15 will need to purchase their tickets individually.) And you can receive one complimentary ticket for every group of 30 guests.
Group admission includes access to The Florida Aquarium's habitats, public programs, and 4-D Theater. You will need to book in advance and pay an additional fee to reserve space on a Wild Dolphin Cruise or other additional programs. You can also add Meal Vouchers to your reservation for an additional cost.
Make your reservation at least 5 business days in advance, and be prepared to put down a $100 deposit at the time. For more information about group reservations and for contact information for Group Sales, visit flaquarium.org/groups.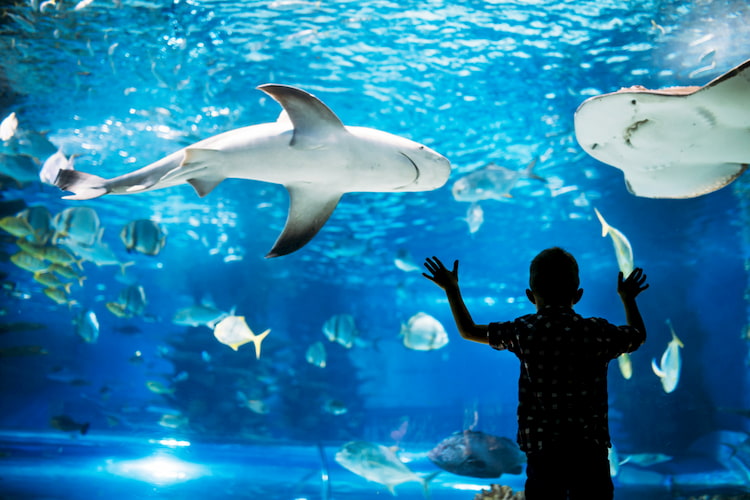 Planning Your Trip
Fast Facts
Plan to spend at least two hours at the Aquarium, but you may need to factor in more for additional programming.
The Florida Aquarium is open daily from 9:30 am to 5:00 pm.
Discount rates are available for groups of 15 or more.
There are seven animal habitats spanning Florida's natural water environments from simulated wetlands to the open waters of the Florida Keys.
The 4-D theater features showings from 10 am to 4:30 pm.
Food & Dining
Outside food and drinks are not allowed in the aquarium, but you can add a meal voucher to Cafe Ray when you call to make your group reservation.
Cafe Ray offers basic breakfast and lunch options, like egg and cheese bagels, beef and veggie burgers, buffalo chicken tenders, cheese pizza, cold sandwiches, and a soup and salad bar. The Florida Aquarium also offers catering services, which you can read more about under "Private Events."
If you don't plan on eating at The Florida Aquarium and are looking for nearby dinner options with group accommodation, you're in luck. Sparkman Wharf is within a 10-minute walk from The Florida Aquarium entrance, and houses some great places to refuel and rest your feet.
Good for the group that's not done with fun for the day: late-night food and outdoor seating; loaded fries, fried green tomatoes, fig & pig flatbread, Tampa hot chicken. Guests can enjoy bowling, ping-pong, billiards, foosball, darts, and shuffleboard. $$. 615 Channelside Dr Suite 120, Tampa, FL 33602. (813) 514-2695. Splitsvillelanes.com.
Good for a group that can't decide on what to eat. Choose from a variety of food stands from ten of Tampa's favorite restaurateurs: Boat Run Oyster Company, Gallito Taqueria, BT in a Box. Outdoor seating and nearby lounging lawn for picnics and field games. $$. 615 Channelside Dr, Tampa, FL 33602. (813) 345-5881. Sparkmanwharf.com/dining-garden.
Special Group Programs
The Florida Aquarium offers a few more unique experiences for groups that you can add on to your reservation. You can go on a Behind the Scenes Tour to meet experts in the field and learn about animals that aren't always available to view by the general public.
You can also opt for a 60-minute Guided-Gallery Tour with Audio Headsets lead by an Aquarium ambassador, offering new insight to the aquarium's habitats and exhibits.
Florida Aquarium Trivia is a fun, additional event for a rowdy bunch, and a private, small-group Squid Dissection exercise is an enlightening educational experience on top of a fun day. However, these events are subject to availability of private event space.
If you're looking to bring your classroom or student group here on a field trip, visit flaquarium.org/fieldtrips for information about pricing, admission, and reservations.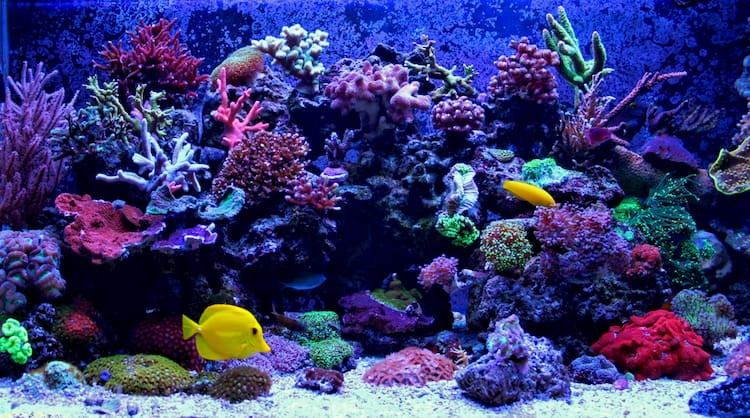 Private Events
Hosting a group private event at The Florida Aquarium will no doubt be an incredible, unique experience. It's not every day you get to dance and dine with the fishes!
Venue Spaces
The Coral Reef Gallery is what you think of when you envision a special event held at an aquarium. With seating capacity for up to 100 (and cocktail reception for 200), the Coral Reef room boasts bright blue, floor-to-ceiling undersea views of marine wildlife.
The Mosaic Center & Rooftop can hold up to 650 people, and is best for a corporate conference or large gala. It includes panoramic views of the waterfront and open-air, rooftop space.
The Sea Star Pavilion has capacity for 50 to 150 folks. It's good for casual events like a company picnic or family reunion, and can be reserved with a picnic package, which includes daytime admission to the Aquarium's exhibits.
Visit flaquarium.org/venuespaces to see every event space The Florida Aquarium has to offer, including a total aquarium buy-out.
Picnic Packages
The Florida Aquarium offers abundant, all-inclusive picnic packages good for large company outings and family reunions. It includes admission to the aquarium, lunch buffet options, and private indoor or outdoor space for your lunch service. You can also choose to add on a private Wild Dolphin Cruise or animal encounter.
Catering & Event Menus
The private event dinner menus at The Florida Aquarium are provided by Aramark, and include everything from butler passed hors d'oeuvres to dinner entrees to themed buffets. Consider the "Coral Reef Buffet" for delights like tri-colored tortellini, roasted prime rib, and mahi-mahi piccata.
You can also reserve open and cash bars with Aquarium signature drinks like the Blue Shark, a mix of Captain Morgan, Bacardi, Blue Curacao, Sweet and Sour, and Grenadine, topped with a blue gummy shark.
The daytime menu includes both breakfast and lunch buffets, and tasty "meeting and break" packages for snacks between sessions or seminars. Stay on-theme and opt for the Fish Food snack buffet: Swedish Fish trail mix, Gold Fish crackers, sesame sticks, and sliced fresh fruit served with strawberry-basil infused water.
Private Boat Charters
For a truly extra special event in Tampa Bay, reserve a cruise with the Aquarium's Bay Spirit II catamaran. The Florida Aquarium offers a 2-hour private charter for up to 120 people in the morning, afternoon or evening, and you can reserve a dockside party for about half the cost.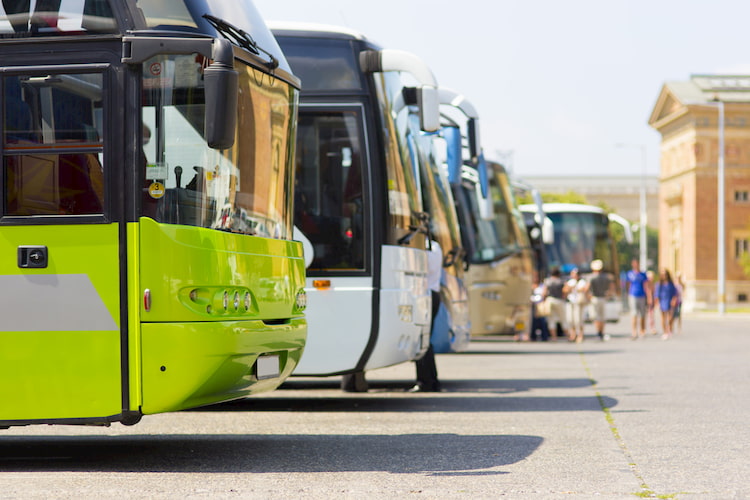 Group Travel with Florida Charter Bus Company
If you're traveling with a group to The Florida Aquarium, you'll want reliable and safe transportation. You can count on a charter bus from Florida Charter Bus Company to bring you to this Tampa Channelside staple on time and all together. When you call us at 813-381-5064, we'll work with you to create your ideal itinerary, from pick up and drop off to travel between multiple destinations. Leave the logistics to us while you enjoy the day exploring the magical underwater world of The Florida Aquarium.
Recent Posts
Do you need to rent a charter bus?