Your Group Guide to the Best Beaches near Tampa
So your group is headed to Tampa for a business convention, basketball tournament or student council trip. You're not there to go to the beach, but with the white sand and clear water of the Gulf Coast so close, how can you resist?
Luckily, you don't have to. Tampa has a few beaches of its own and lies less than an hour from the famous beaches of St. Petersburg and Clearwater. If you have private transportation for your group, such as a charter bus, you can easily go on a day trip to the beach before or after the activities you've planned in Tampa. 
Florida Charter Bus Company would love to help you explore the beaches along Florida's Gulf Coast. Give us a call at 305-359-5975, and we'll find a charter bus with reclining seats and abundant legroom to take your group to these awesome Tampa-area beaches.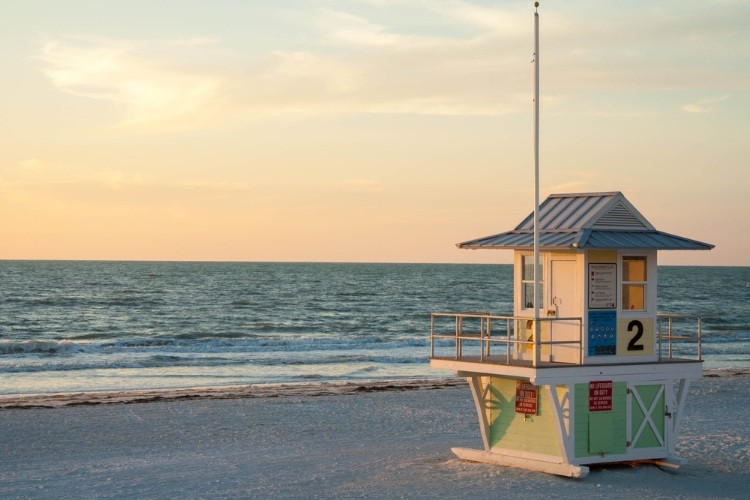 Clearwater Beach near Tampa
Ben T. Davis Beach
Ben T. Davis Beach wins points with many visitors because it's actually located within the city of Tampa—in fact, it's not far from Tampa International Airport. This attractive but narrow public beach lies just off the Courtney Campbell Causeway that connects Tampa to nearby Clearwater.
Because it's relatively small and so close to the city, this beach is a great place for a quick break. If you're looking for a full beach day, though, you may want to ask your charter bus driver to take you a bit farther to a larger beach.  
Address: 7740 W Courtney Campbell Causeway, Tampa, FL 33607
Distance from downtown Tampa: 20 min.
Where to park your charter bus: The beach features several parking lots with hourly paid parking. If your bus won't fit, you can ask your driver to drop you off and park back at your Tampa hotel.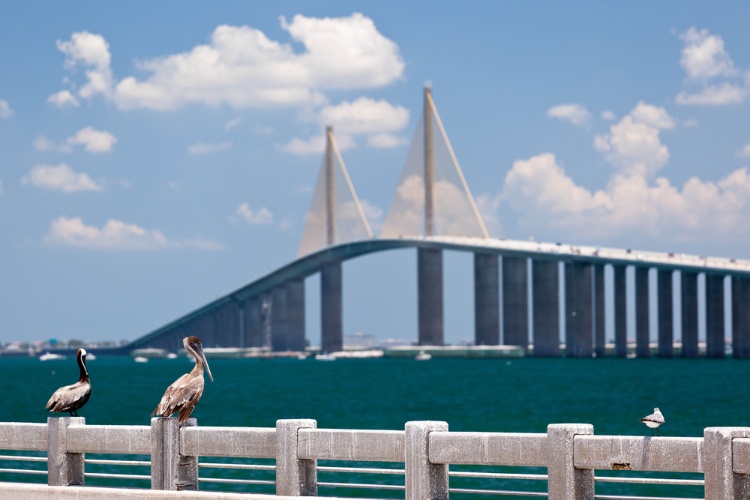 Causeway between Tampa and Clearwater
Clearwater Beach
You can't go on a family vacation or attend a destination wedding in Tampa without visiting Clearwater, one of the most popular beaches in America. Known for its bright white, soft sand and the pristine water that gives the beach its name, Clearwater is filled with families and groups of friends exploring Pier 60 and its beach playground. 
Pier 60 offers the chance to fish for Spanish mackerel, snook and redfish, and it even has lighting so anglers can fish at night. The adjoining kids' park features playground equipment and hosts "Sunsets at Pier 60," a nightly festival with crafts and live entertainment. You can also stop by the Clearwater Marine Aquarium to see Winter, the dolphin with a prosthetic fin made famous by the "Dolphin Tale" movies.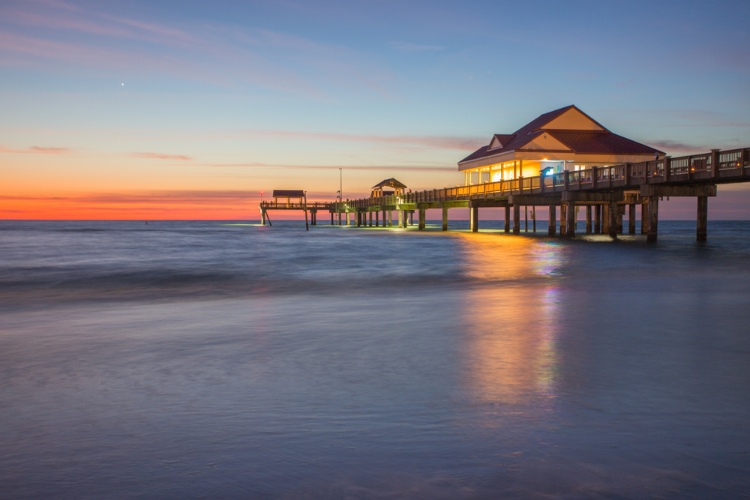 Clearwater Beach pier
Address: Clearwater Beach, Clearwater, FL 33767
Distance from Tampa: 40 min.
Where to park your charter bus: Many metered and daily parking lots lie north of the Clearwater Beach roundabout at the end of Memorial Causeway. There are public lots south of the roundabout too, but they fill up more quickly, so they may not have space for a bus. 
Honeymoon Island State Park
If you're looking for peaceful, undeveloped beaches, you'll want to visit Honeymoon Island. This scenic spot is a great location for group swims, hikes, or bicycle tours. And since the island also functions as a nature preserve, you might see eagles, horned owls, armadillos, or racoons while you're coasting by on your bikes. Running a field trip? Visit the Rotary Centennial Nature Center to learn more about the wildlife and plants that call this beach home.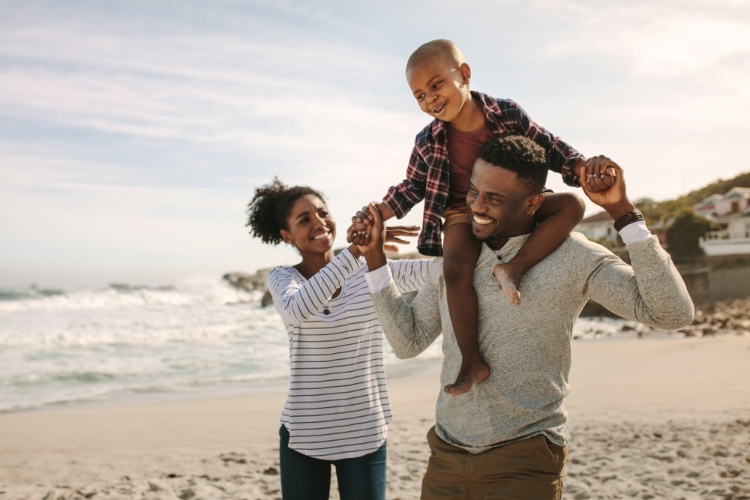 A little boy rides on his father's shoulders while his mother holds his hand on the beach
Address: 1 Causeway Blvd, Dunedin, FL 34698
Distance from downtown Tampa: 45 min.
Where to park your charter bus: Admission to this state park costs $8 per vehicle for up to 8 people. If you have more than 8 people, you will pay $2 per additional person, so you can save some money if your group can split into a few minibuses.  
Caladesi Island State Park
Locals head to Caladesi Island when they can't deal with the crowds at Clearwater Beach. This beautiful, serene state park prides itself on having no hotels or restaurants, but it's not completely bereft of comfortable amenities: you'll find a marina and concession stands as well as nature and kayak trails to guide you around the island. Sunbathe, swim, look for seashells, or just seek out a quiet beach where you can relax.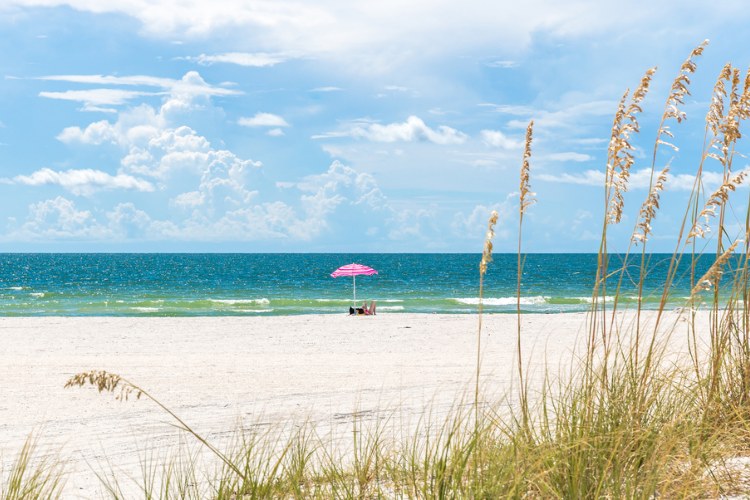 Woman lounges under pink umbrella on beach
Address: 1 Causeway Blvd, Dunedin, FL 34698
Distance from downtown Tampa: 45 min.
Where to park your charter bus: Caladesi Island can only be reached by boat, so you should leave your charter bus at Honeymoon Island and then board the ferry to Caladesi. Take this opportunity to visit both beaches in a single day! 
Sand Key Park
Less crowded than Clearwater's most popular beaches but still packed with convenient amenities, Sand Key Park is a great choice for groups who need space but don't want to sacrifice comfort. Stroll down the long, wide beach dotted with beach cabanas and concession stands until you reach the jetties where you can see surfers catching waves. 
Sand Key is also a highly inclusive beach–beach wheelchairs that move easily across the sand and float in the water are available for free, and lifeguards are on duty to keep all members of your group safe. If you've brought along a furry friend, they can play on the areas of the beach designated as dog parks.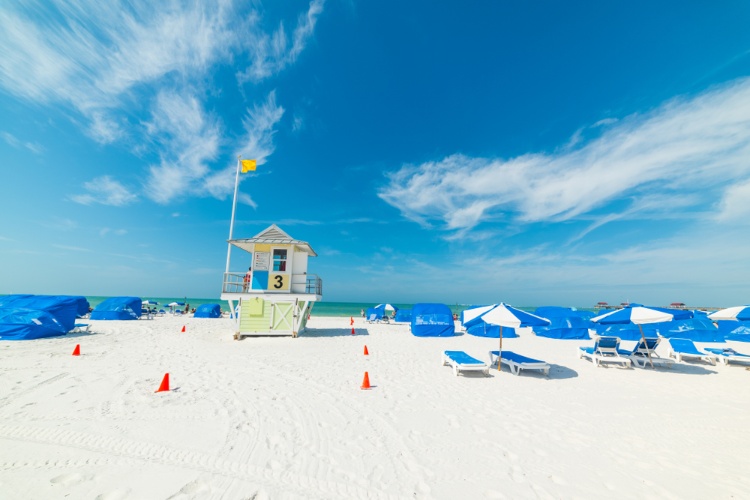 Lifeguard stand next to beach chairs at a beach in Clearwater
Address: 950 County Rd 183, Clearwater, FL 33767
Distance from downtown Tampa: 45 min.
Where to park your charter bus: Sand Key has plenty of paid parking nearby and typically isn't as crowded as Clearwater Beach, so you have a good chance of finding a spot for your bus. 
Indian Rocks Beach
Like Sand Key, Indian Rocks Beach, affectionately known as IRB, is a quieter, more laid-back beach in the Clearwater area. It's dotted by vacation homes and has many boutique stores and locally owned restaurants that create an inviting, small-town vibe. If you want a break from the chaos of Tampa, you could even rent a house or several hotel rooms so your group can stay overnight. 
Ready to get to the beach? IRB boasts 3 miles of relatively quiet beach with 27 entrance points. Most of these entrances are wheelchair-accessible, and many include showers and parking lots.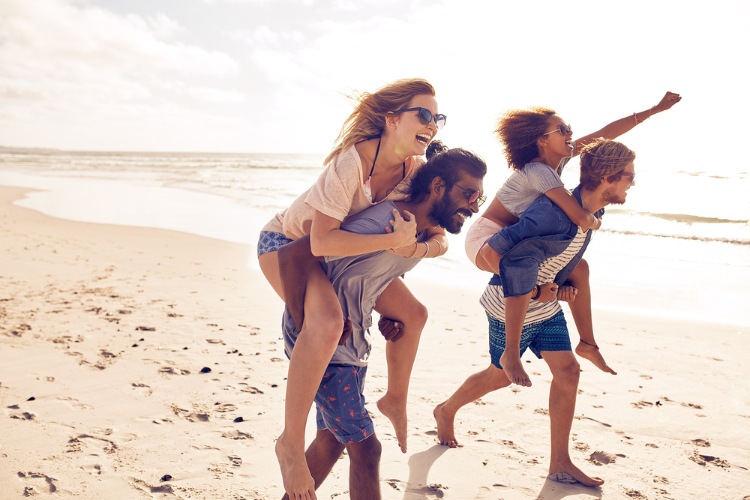 Two couples competing in a piggyback race on the beach
Address: 1700 Gulf Blvd, Indian Rocks Beach, FL 33785
Distance from downtown Tampa: 45 min.
Where to park your charter bus: Most of the beach entrances offer parking lots. If your bus won't fit, you can walk to the beach from many of the hotels and homes in the area or have your bus drop you off and go find parking farther away. 
Madeira Beach
Nestled in between Clearwater and St. Petersburg, Madeira Beach is perhaps best known as the home of John's Pass, a turn-of-the-century fishing village that still houses many historic buildings. Although John's Pass and its boardwalk have now become popular with beachgoers, the town still takes pride in its fishing legacy. 
Local fishermen catch more grouper here than anywhere else in Florida, and you can join in the fun by fishing off one of the piers or going on a fishing charter boat. St. John's also hosts a massive Seafood Festival every October where as many as 100,000 people gather to listen to music and sample fresh fish and shrimp from the Gulf Coast.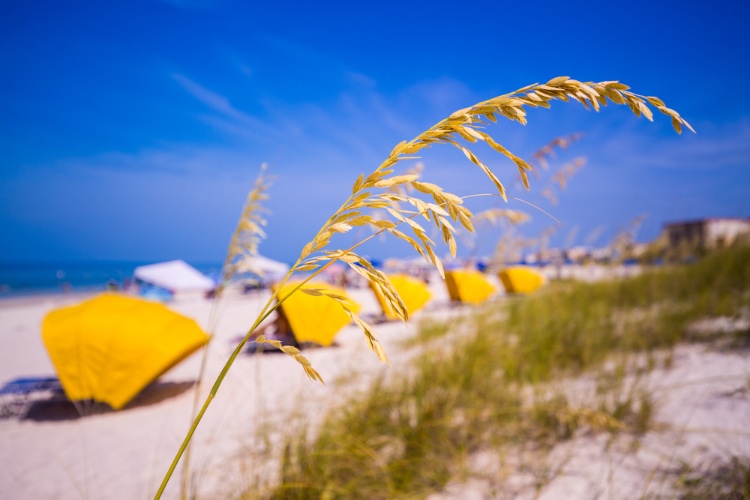 Sea oats and covered seating on Madeira Beach
Distance from Tampa: 45 min.
Address: Madeira Beach, FL 33708
Where to park: Madeira Beach and John's Pass have metered spots near the beaches that you can pay for using your credit card or a phone app. 
St. Pete Beach
Once you move south of Madeira Beach, you hit the famously beautiful St. Petersburg, which has long stretches of tranquil beaches known for their clear water and white sand. St. Petersburg also boasts a rich history, with several of its buildings dating back to WWI. Although the area contains several beaches, the most famous is St. Pete Beach, at the north end of the barrier island. 
If your group gets tired of swimming or building sandcastles on St. Pete Beach (though that's hard to do!), you can ask your charter bus to take you a little bit farther south to The Don CeSar, a bright pink luxury hotel built in 1928. South of that, you'll find Pass-a-Grille, another stunning beach in the city of St. Petersburg.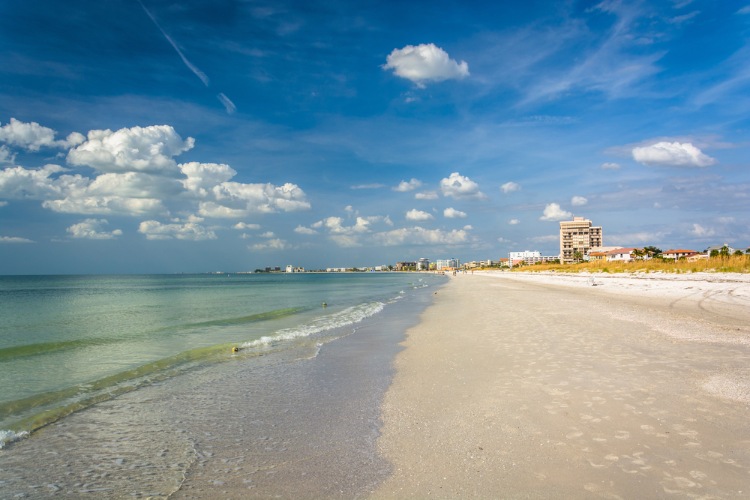 St. Pete Beach
Distance from Tampa: 45 min.
Address: St. Pete Beach, FL 33706
Where to park: St. Pete Beach has two large parking lots, the Upham Beach Park lot and the St. Pete Municipal Beach Access lot. Both have a good chance of having empty space for your bus. 
Archibald Beach Park
Nicknamed "The Hammocks," Archibald Beach Park has developed a reputation as one of the  most family-friendly beaches on Florida's Gulf Coast. The beach's shaded picnic areas and sand volleyball courts make it easy to keep a large group entertained, especially if you have kids or teenagers with you. You'll also find convenient amenities like cafes, showers, and restrooms here, so you won't have to interrupt your beach day to search for a restaurant. 
Address: 15100 Gulf Blvd, St. Petersburg, FL 33708
Distance from downtown Tampa: 45 min.
Where to park your charter bus: The beach park is known for its abundant parking and offers several lots with metered spots. 
Pass-a-Grille Beach
Located within the larger city of St. Petersburg, Pass-a-Grille is a small, charming town packed with local stores and restaurants. If your group wants to explore local history, stop by the Gulf Beaches Historical Museum, which lies inside a church built in 1917. And, of course, Pass-a-Grille has its own beach. Rent a speedboat or a paddleboard, or head to the dog beach to watch puppies play in the sand.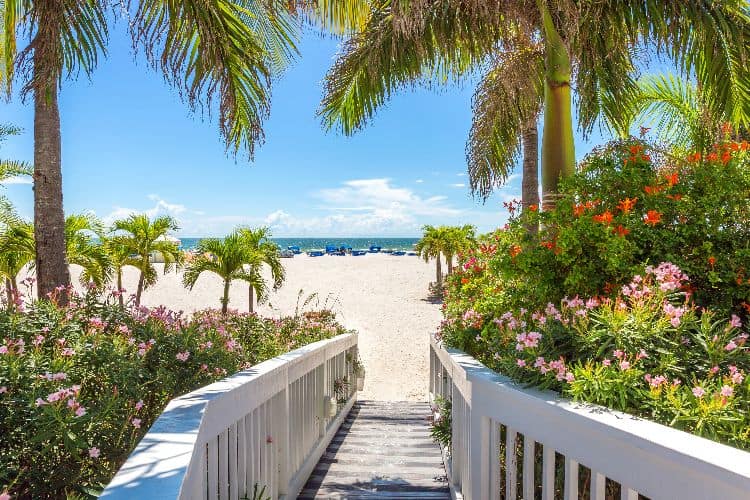 Walkway to beach in St. Petersburg
Address: Gulf Way, St Pete Beach, FL 33706
Distance from downtown Tampa: 45 min.
Where to park your charter bus: Pass-a-Grille has metered parking throughout the entire town. The far north and far south ends of the beach tend to be less crowded, so they're your best bet if you're on a full-size charter bus. 
Explore the Best Beaches near Tampa
Although Tampa itself is best known for its rich culture and bustling convention centers, the area around Tampa is better known for its beautiful Gulf Coast beaches. Visit Clearwater and St. Petersburg to treat your group to soft, white sand, crystalline water, and calm waves they can easily swim through. 
A charter bus from Florida Charter Bus Company makes it easy to travel from Tampa to nearby beaches after your meetings or sports tournaments are done. Just lean back in a reclining seat and watch an episode of a sitcom while your professional driver takes you to the barrier islands. Call us at 813-381-5064 to start planning your visit to Tampa and the beaches in the Tampa area today.
Recent Posts
Do you need to rent a charter bus?