Top 5 Tampa Restaurants for Group Dining and Private Events
Tampa has some of the East Coast's most pristine beaches, making it a popular destination for groups. It's an amazing location to organize a family reunion, a vacation with friends, a company retreat, or even a beautiful beachfront wedding.
If you're organizing a group occasion, let's be real—food is one of the biggest parts of planning! You'll need a place to chow down with your family and friends that can easily accommodate your group size. Don't worry, there are plenty of places in Tampa that can cater to groups. But what local restaurants have the tastiest food and private group dining options? Keep reading to find out the best group dining options in Tampa and how to travel there.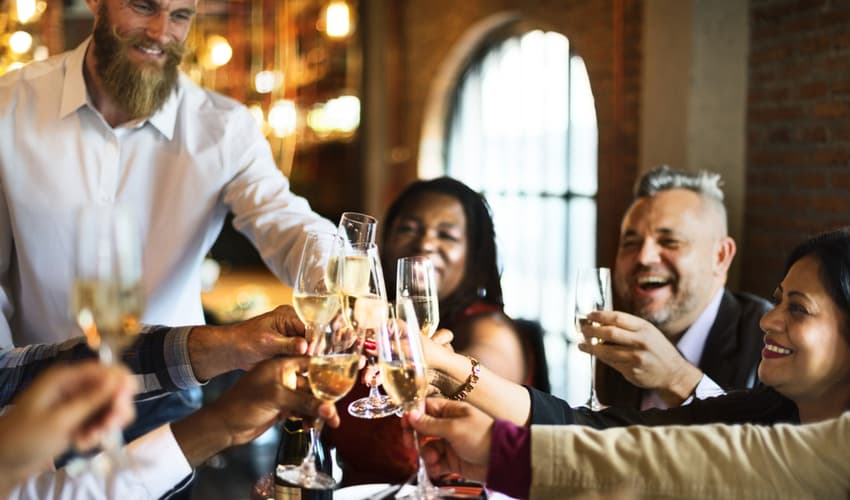 Get Group Transportation for Your Tampa Dining Event
Setting up a special dining event can be difficult, especially if it's for something as important as a wedding or birthday party. You'll have to think about the seating arrangements, menus, budget, and so much more. Take guest transportation and arrival off your plate by booking a charter bus or minibus with Florida Charter Bus Company.
A private ride and professional driver will simplify your entire Tampa group trip, as well as ensure everyone can enjoy food and drinks (possibly of the alcoholic variety) to the fullest. You can rely on Florida Charter Bus Company to provide you with a smooth ride while you chow down on seafood and tasty cocktails with your group. To make your group trip even better, ask your reservation expert about additional amenities you can request on your bus, such as WiFi, power outlets, entertainment systems with TVs, and reclining seats, for the best possible group travel experience.
Now, let's get into the food!
If you're looking for a quintessential Florida experience, visit…
Ulele
A local favorite, Ulele serves Southern American favorites like charbroiled oysters, okra, pork shanks, and a variety of other seafood dishes, in a scenic location overlooking the Hillsborough River. The restaurant boasts a spacious dining room, as well as outdoor seating to enjoy the sunny Tampa weather. Along with delectable food, Ulele also has its own brewery and beer garden that's a popular spot in the spring.
Ulele's setup offers 7 semi-private dining and event venues for parties of 20 or more. Group arrangements are available for up to 600 people (a great space for a big wedding reception or large company party) and should be requested online in advance. If your group is smaller than 20 guests, you won't need to make an online request. Give the restaurant a call at (813) 999-4952 to make your reservation.
Standard parking at Ulele is complementary valeted for lunch and dinner guests. If you're traveling by charter bus, your driver can drop your group off at the main entrance before parking in their private lot at North Highland Avenue or along the street.
Address: 1810 N Highland Ave, Tampa, FL 33602
Phone: (813) 999-4952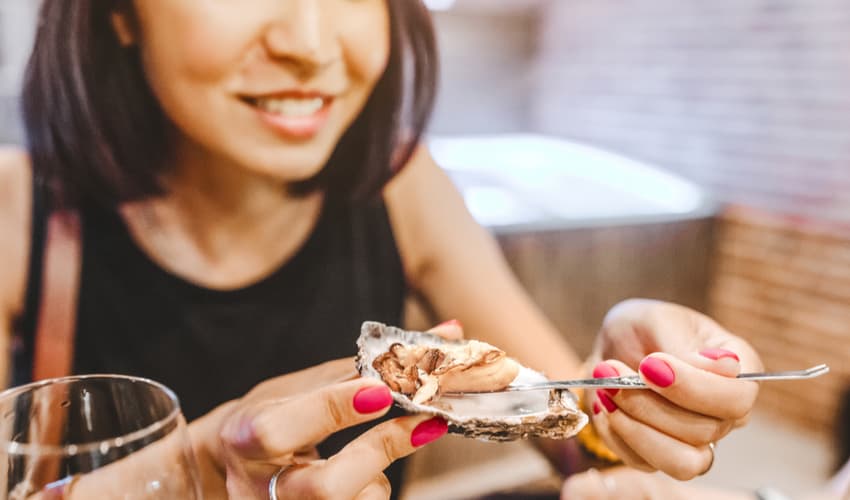 If you're looking for upscale dining, visit…
Oystercatchers
Oystercatchers is located in the waterfront Grand Hyatt Tampa Bay and should be at the top of your dining list if your group wants fresh seafood. The upscale eatery serves (you guessed it!) oysters in a variety of ways and a long list of other seafood favorites like blackened grouper, crispy snapper, and lobster mac and cheese. To take your dining experience up a notch, Oystercatchers also has tasty signature cocktails and outdoor patios with sweeping views of the bay. If you want a seafood-based brunch, be sure to check out their Sunday buffet with bottomless mimosas.
Private and semi-private group dining options are available for up to 48 guests and reservations should be made in advance online or by calling (813) 207-6815. Groups wanting fully private dining options can choose from their 2 indoor private rooms or the outdoor patio's lower deck. Keep in mind, some private dining options require a spending minimum along with a space rental fee.
Since Oystercatchers is located in a busy hotel, parking could get tricky for large groups driving separately. Instead, rent a minibus (or a fleet of minibuses) to shuttle your group to the waterfront eatery.
Address: 2900 Bayport Dr, Tampa, FL 33607
Phone: (813) 207-6815
If you want a taste of history, visit…
Columbia Restaurant
Opened in Tampa's Ybor City neighborhood in 1905, Columbia Restaurant is the oldest continuously operating eatery in the state. The traditional Spanish and Cuban restaurant has been family-owned and operated by the Hernandez/Gonzmart family for over a century. Its long history is just a small piece of what makes Columbia Restaurant a great dining spot for your group. The eatery is hailed as being the largest Spanish restaurant in the world, with more than 1,700 seats across 15 dining rooms. Chow down on seafood paella, ropa vieja, Cuban sandwiches, and a variety of other Hispanic tapas in their elegantly-decorated dining rooms.
With such a large guest capacity, groups of all sizes can be accommodated at Columbia Restaurant. Reservations are not required for public dining tables (though, they are highly recommended if you have a big group). Groups of up to 7 can make standard reservations online, while larger groups will need to contact the restaurant. Private dining options are available for anywhere from 10 to 400 people and can include additional features like a traditional flamenco show. Contact the restaurant at (813) 248-4961 or  colybor@ColumbiaRestaurant.com to inquire about their private options.
Columbia has three large parking lots available for guests. Parking is free and (usually) plentiful, but it can become difficult to find a spot on weekends and holidays. Instead of waiting for everyone to park separate cars, travel in one charter bus instead. Your group can be dropped off at the restaurant before your driver parks your bus.
Address: 2117 E 7th Ave, Tampa, FL 33605
Phone: (813) 248-4961
If you want to wine and dine, visit…
Cooper's Hawk Winery & Restaurant
So this restaurant isn't a local exclusive, but an Illinois-based chain. Hear me out though! Cooper Hawk's location in Northwest Tampa is a popular spot for a day of wining and dining. The restaurant serves up a fusion of creative American food like pistachio-crusted grouper, pork belly tostadas, and red wine-braised short rib. Their food menu includes recommendations of wine pairings from their wide selection of handmade wines. Grab a flight of wines curated by a Master Sommelier or have one of their refreshing signature cocktails.
Looking for a good happy hour spot? Plan your next company social hour at Cooper's Hawk for any weekday from 3:00p.m. to 6:00p.m.
There are three private party rooms sized for up to 40, 60, and 100 guests respectively. A variety of dining packages are available including wine, appetizers, lunch, dinner, and premium Chef's Signature dinners. Private events in the party rooms can be organized by emailing eventstampa@chwinery.com and do require a deposit and room spending minimum. If you're a smaller group not looking to book a full-on private event, make a standard reservation online or via telephone.
Parking is known to be a hassle at this Cooper Hawk's location. That's the last thing anyone should have to deal with before or after a lovely event. With a Florida Charter Bus Company rental, you won't need to worry about designating a DD or stressing about the parking situation. You'll have a professional charter bus driver handling everything for you. Just be sure to call the restaurant to secure a parking location and pay for parking for your charter bus.
Address: 4110 W Boy Scout Blvd, Tampa, FL 33607
Phone: (813) 873-9463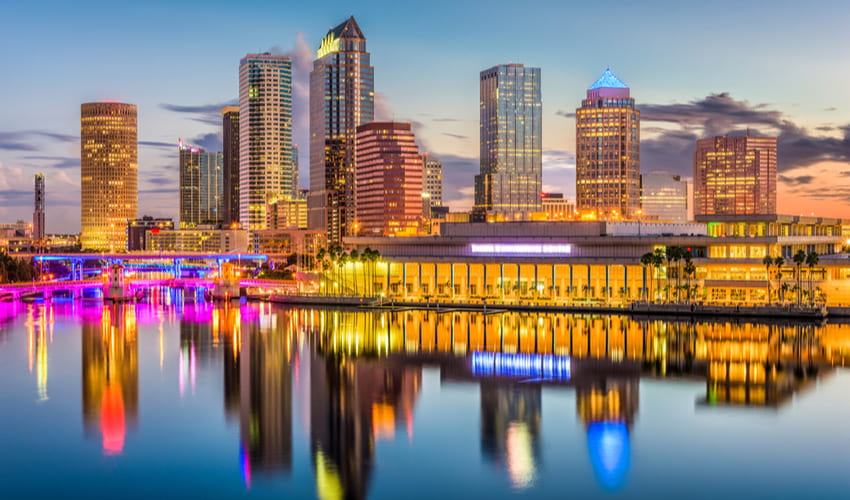 If you want a unique dining experience, try…
Yacht StarShip Cruises & Events Tampa
There's no better way to see Tampa than taking to the water. Yacht StarShip offers fine dining cruises around Florida's largest seaport and coasts past some of the city's most beautiful waterfront locations. The yacht serves up a variety of wines and cocktails alongside an American food menu with bites like shrimp scampi and pork tenderloin.
Yacht StarShip's lunch and dinner cruises are wonderful options for company events, birthday parties, tourist trips, and really any other group occasion. Group reservations can be made for events with 25 or more people. Relatively small groups can join a public dining cruise while bigger events (up to 600 guests) can reserve a private cruise.
Having all of your guests drive to the port can get messy, especially when you have a strict departure time. Reserving a charter bus to the port will keep your dinner cruise running according to schedule. Your charter bus driver can drop off everyone at the port before parking at the nearby Garrison Street Parking Lot. Once your cruise is over, your group can be swiftly picked up and shuttled home.
Address: 603 Channelside Drive, Tampa, FL 33602
Phone: (813) 223-7999
Chow Down in Tampa with Florida Charter Bus Company
Wherever your group dining travels take you, Florida Charter Bus Company wants to help get you there. Even if your group travels take you elsewhere in Florida, we've got you covered. From enjoying Cuban food and mojitos on Miami Beach to throwing a magical dinner extravaganza in Orlando's theme parks, we'll pair you with the right motorcoach and driver for your needs. Call us at  813-381-5064 to reserve a charter bus or minibus perfectly suited to your occasion.
Recent Posts
Do you need to rent a charter bus?