The Best Group-Friendly Beaches near Orlando
When you think of Orlando, you're probably more likely to think "theme park" than "beach." Because it lies in the center of the state, Orlando can't claim any coastline of its own. But the city's central location has an upside. You can reach many beaches along the Atlantic Ocean in less than 2 hours and several Gulf Coast beaches in less than 3.
No matter which beach you decide to take your wedding party, cheerleading squad, or student council to, Florida Charter Bus Company can help you get there. Florida has very limited public transportation, so your best options for taking a large group to the beach will be a caravan of rental cars or a charter bus.
Both are viable options, but my favorite part of taking a charter bus is that you won't have to worry about whether you have enough people in your group who are able and willing to drive. You can just lean back in the air-conditioning and let your driver navigate Orlando traffic while you flip through Instagram with optional free WiFi. If you do decide to try out a charter bus, give Florida Charter Bus Company a call at 305-359-5975. We'd love to help you plan your group beach trip.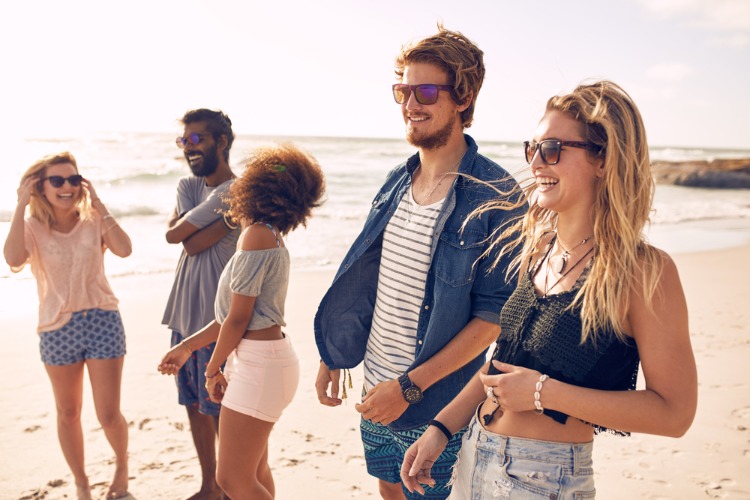 Atlantic Coast Beaches
Once you know you're taking a day trip from Orlando to the beach, you need to decide which coast you're going to. Many Atlantic Coast beaches lie closer to Orlando than Gulf Coast beaches do, so your trip will be a little shorter. Atlantic beaches also tend to have bigger waves and to be a little less crammed with tourists. If your group consists of surfers, young adults who don't want to be surrounded by children, or locals who aren't interested in crowds, an Atlantic beach may be the perfect choice for you. Here are a few of the most popular:
Canaveral National Seashore
Since Canaveral is protected by the National Park Service, the seashore features pristine, undeveloped beaches and endangered species like sea turtles. Head to Apollo Beach to walk your dog or have a picnic, or swim and sunbathe at the picturesque Playalinda Beach. If you time your visit correctly, you can even sit on the sand and watch a rocket launch from the nearby Kennedy Space Center.
Distance from Orlando: About 1 hr.
Address: Canaveral National Seashore, S Washington Ave, Titusville, FL 32796
Where to park: You can find entrances to the national seashore at Playalinda Beach and Apollo Beach. Both have designated parking lots for oversize vehicles.
Cocoa Beach
Like many Atlantic Coast beaches, Cocoa Beach is known for its surfing. Unlike many Atlantic Coast beaches, Cocoa Beach has steady but manageable waves that are ideal for beginners. It's also home to Ron Jon Surf Shop, the largest surf shop in the entire world, and Cocoa Beach Pier, where you can shop or have a group meal when you're done riding the waves.
Distance from Orlando: About 1 hr. 15 min.
Address: Cocoa Beach, FL 32931
Where to park: Cocoa Beach has more than 1,600 metered spaces, many of them very close to the beach. Many hotels also lie within walking distance, so if you decide to stay overnight, you can leave the bus there and walk.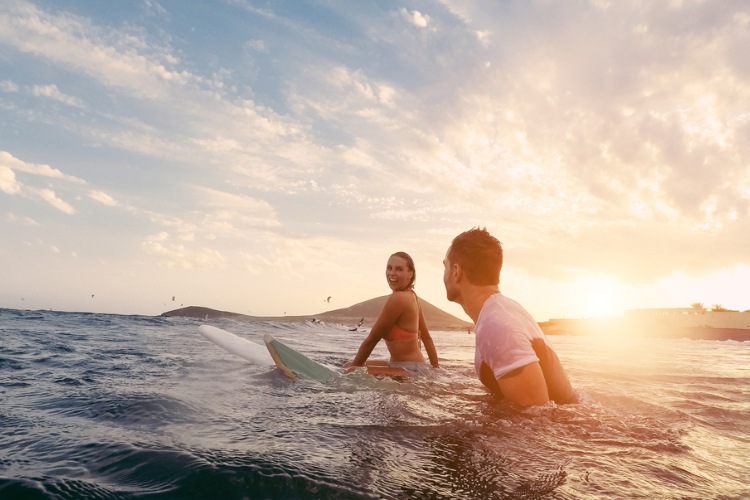 New Smyrna Beach
Because it has many miles of coastline, New Smyrna Beach is popular with Orlando residents who want to swim or surf without contending with hordes of tourists. At the beach's south end, you'll find Mary McLeod Bethune Beach Park, which welcomes families with swimming spots, a playground, a boardwalk on the Atlantic Ocean, and a fishing pier on the Indian River.
Want to add some history to your beach getaway? Head north to the Ponce de Leon Inlet Lighthouse & Museum. Built in the 1880s, the lighthouse offers beautiful views of the ocean and lies close to Ponce Inlet Dog Beach, the perfect place for your furry friends to stretch their legs. (Don't worry–dogs are allowed on most charter buses as long as they are traveling in a crate, and service animals don't even have to be in a crate.)
Distance from Orlando: About 1 hr. 30 min.
Address: New Smyrna Beach, FL 32169
Where to park: Mary McLeod Bethune Beach Park and Ponce de Leon Inlet Lighthouse both offer parking, including parking for oversize vehicles.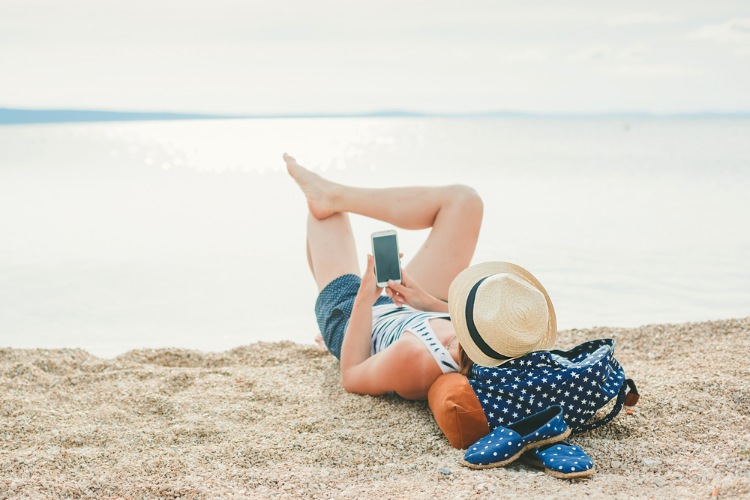 Daytona Beach Shores
You probably already know that Daytona Beach is a popular tourist attraction, thanks to Daytona International Speedway and the boardwalk. But there's more to Daytona than fast cars and fast rides (as fun as those are)! If you want to experience 23 miles of white sand, venture out to Daytona Beach Shores, a strip of coastline which directly borders the Atlantic Ocean. You'll find plenty of space for your group to swim, surf, and sunbathe away from the bustle of the boardwalk.
Distance from Orlando: About 1 hr. 40 min.
Address: Daytona Beach Shores, FL 32118
Where to park: The Frank Rendon, Van Avenue and Larry Fornari parks all offer public parking for your charter bus or minibus.
Ormond Beach
Located just north of Daytona Beach, Ormond Beach provides a quieter, more laid-back experience than its neighbor (and is one of my personal favorites). Take advantage of less-crowded beaches where you can spread out your blankets or splash in the waves with your family. If you want to add some variety to your beach trip, head to Tomoka State Park, where you can canoe, fish, bird-watch, and even catch a glimpse of West Indian manatees.
Distance from Orlando: About 1 hr. 40 min.
Address: Ormond Beach, FL 32176
Where to park: Andy Romano Beachfront Park and Tom Renick Park offer parking spaces just off the beach. If you'd like to visit Tomoka State Park, you'll find a parking lot there as well.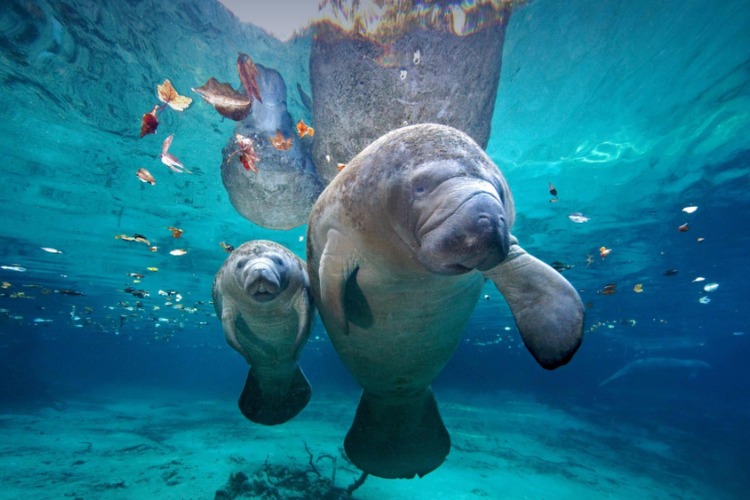 Flagler Beach
Situated almost halfway between the Daytona-Ormond Beach area and St. Augustine, Flagler Beach has a "retro" vibe, with dozens of quirky, locally owned hotels, restaurants, and stores lining its streets. It's also known for its fishing pier and for six miles of beaches beloved by surfers. Since Flagler Beach is farther away than some of the other destinations listed, you'll probably want to request a bus with free WiFi or flat-screen TVs to keep your group entertained on the way there.
Distance from Orlando: About 2 hrs.
Address: Flagler Beach, FL 32136
Where to park: Flagler Beach offers RV parking at the intersection of Moody Blvd. and S Flagler Ave.
St. Augustine Beach
St. Augustine Beach lies on scenic Anastasia Island and is known for its wide beaches with plenty of room for groups. If you want to catch a glimpse of endangered sea turtles, visit the picnic areas at Ocean Hammock Park. More into fishing? Choose your spot along the St. Johns County Ocean Pier. Many of the beaches in St. Augustine also boast whiter, softer sand than is typical for the Atlantic coast.
Distance from Orlando: About 2 hr. 10 min.
Address: St Augustine Beach, FL 32080
Where to park: St. Augustine offers more than a dozen public parking lots along the beach. If none have space for your bus, you can leave it at your hotel and walk or pay for a spot in one of the city's RV parks.
Gulf Coast Beaches
The beaches along the Gulf of Mexico are known for white sand and calmer, greener water than you'll find on the Atlantic Coast. The combination of peaceful water and soft sand makes the Gulf Coast immensely popular with families, school groups, and youth sports teams.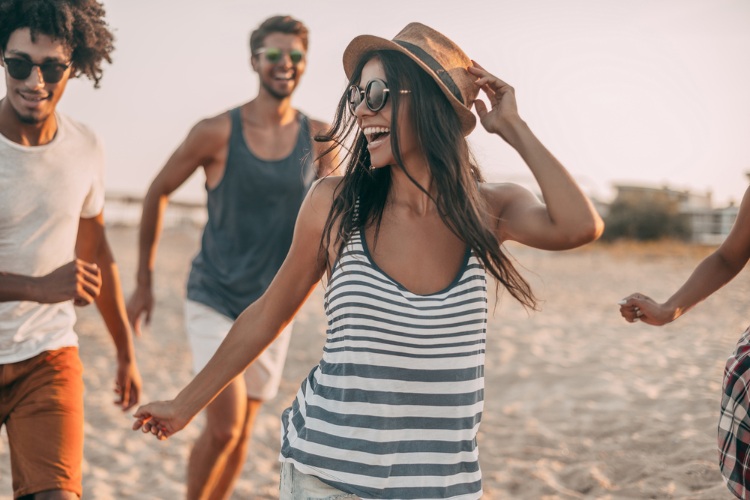 Because these beaches are so beloved, though, they can be crowded. And they will require a longer drive from Orlando than most Atlantic Coast ones, so make sure you have plenty of snacks and books stashed in the overhead space on your charter bus. You may also want to consider requesting power outlets so you can recharge your phone on the way there. Then, set off for these amazing beaches.
Clearwater Beach
Clearwater Beach earns its name with crystalline water and bright white sand that's soft to the touch. This beach is beloved by families with young children. After a day of swimming and sunbathing, go shopping, eat, or climb aboard rides at Pier 60 and visit the animals at the Clearwater Marine Aquarium. This aquarium is perhaps best known as the home of Winter, the star of the Dolphin Tale movies who swims with the help of a prosthetic fin.
Distance from Orlando: About 1 hr. 45 min.
Address: Clearwater, FL 33767
Where to park: Try to find parking north of the roundabout at the end of Memorial Causeway, where there are multiple metered or pay-to-park lots. A few other public lots can be found south of the roundabout, but they tend to fill up faster and probably won't have room for a bus.
Madeira Beach
Madeira Beach and St. Petersburg share a barrier island, but only Madeira is home to John's Pass Village & Boardwalk, a turn-of-the-century fishing village now filled with modern shops and restaurants. Although Madeira Beach has transformed into a popular resort destination, it hasn't forgotten its fishing past. More grouper is caught in John's Pass than anywhere else in Florida, and every October Madeira Beach hosts a Seafood Festival, which typically draws more than 100,000 people.
Distance from Orlando: About 2 hrs.
Address: Madeira Beach, FL 33708
Where to park: Madeira Beach has multiple metered lots near the beaches. You can pay using a credit card or an app that you download to your phone.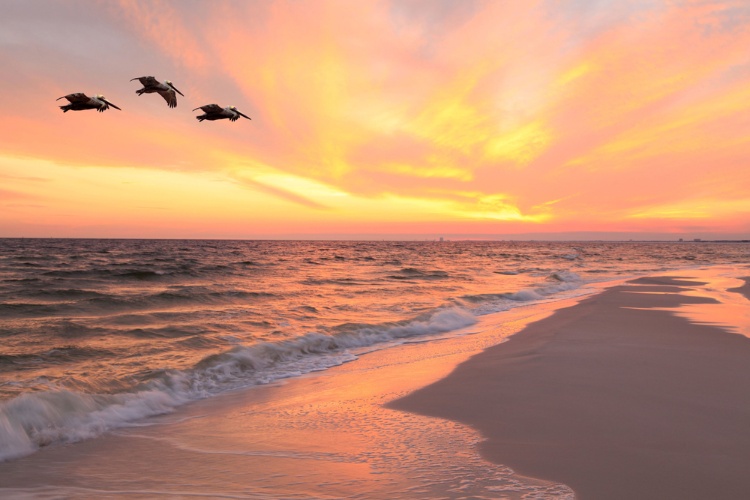 St. Pete Beach
This major resort destination lies on a barrier island, so you're never far from the sea. It also boasts long stretches of undeveloped beach where you can forget about stores and restaurants and focus on the green water and white sand. If you're into history, check out the Don CeSar hotel, built in 1928, or the Gulf Beaches Historical Museum, located inside a church that dates back to 1917.
Distance from Orlando: About 2 hrs.
Address: St Pete Beach, FL 33706
Where to park: The beach has two parking lots, the Upham Beach Park lot and the St. Pete Municipal Beach Access lot.
Plan Your Beach Trip from Orlando
Just because you're attending a conference or a marathon in central Florida doesn't mean you have to miss out on the beach. Reserve a motorcoach through Florida Charter Bus Company and drive to the Atlantic or Gulf Coast in roughly two hours. After a day of walking on the sand, surfing, swimming, and sunbathing, you can lean back in a reclining seat and let the bus's air-conditioning cool off your heated skin. Give us a call at 305-359-5975 to reserve your charter bus, and get ready to hit the beach!
Recent Posts
Do you need to rent a charter bus?