Our Favorite Wedding Venues in Miami
Miami has a long list of beautiful venues where you can plan the perfect wedding service, but narrowing down where to plan such a special occasion can be difficult. The beach sounds perfect but so does a tropical garden, or maybe a luxury hotel—oh, or perhaps a historic landmark? The possibilities are really endless. Whether you're a couple of Miami locals or you're planning a winter destination wedding, you're sure to find something to suit your taste in this vibrant city.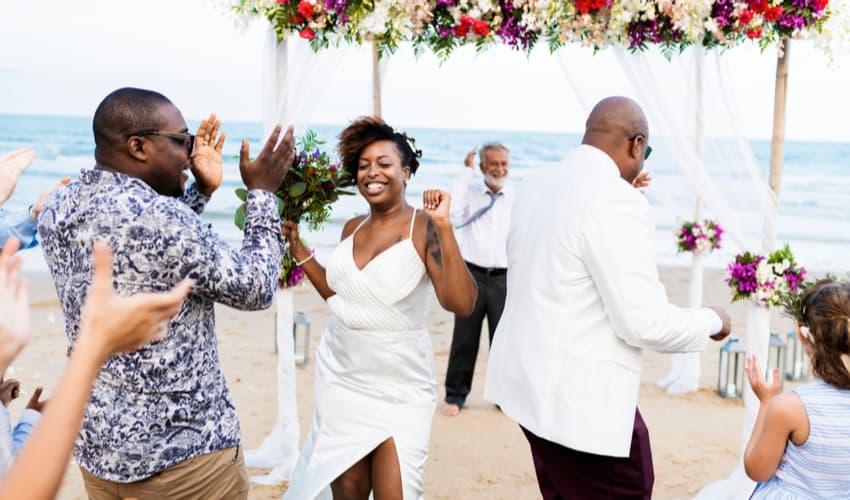 Miami Wedding Shuttle Transportation
As you probably know, finding a dream venue is only the tip of the wedding planning iceberg. You'll also have to book services like catering, floral arrangements, photography, and guest transportation! Small ceremonies and large, lavish events alike can benefit from renting a wedding shuttle service. Miami Charter Bus Company has handled transportation for weddings of all sizes throughout South Florida.
A shuttle bus service will keep your guests' arrival on track, ensuring they show up on time without the hassle of finding parking in packed areas like Coconut Grove and South Beach. Large weddings in need of several shuttles can count on Miami Charter Bus Company to build a fleet of full-sized coach buses, while smaller services can benefit from several models of minibuses. Each and every bus rental comes with a professional driver to handle the transportation for your guests. Let them ride in comfort with reclining seats, WiFi, and TVs while the pros handle all of their transportation needs on the way to your Miami dream wedding. Call (305) 742-0966 to learn more about our charter bus pricing in Miami and to inquire about a personalized quote!
Picking a venue is heavily dependent on your taste, wedding theme, and (of course) your budget. Check out a few of these local favorite venus sorted by budget and atmosphere:
Inexpensive and Moderately-Priced Venues

Newport Beachside Hotel & Resort
Great for: carefree beach weddings
Price range: $
Address: 16701 Collins Ave, North Miami Beach, FL 33160
Phone: (786) 565-4681
Capacity: up to 300
If you're looking to plan a beach wedding on a budget, the Newport Beachside Hotel is a wonderful option. Unlike the bustling area of South Beach, North Miami Beach is quieter and attracts far fewer tourists. The Newport offers 500 feet of private beach and 7 indoor/outdoor spaces for wedding services of all sizes. Its affordable wedding packages also include culturally diverse options for couples planning traditional Indian or Jewish services. Organize a beautiful waterfront ceremony, and then take the party inside to one of the hotel's spacious Tiffany ballrooms.
The Newport is also a popular location for visitors who have a tighter budget for a Miami destination wedding. Wedding guests can take advantage of room discounts for onsite accommodations (as well as waived lodging fees for the happy couple with certain packages). Groups of visitors flying into Miami or Fort Lauderdale should rent a private bus to shuttle everyone to the Newport. A private shuttle service will ensure nobody has to worry about renting cars or driving themselves around unfamiliar roads. Everyone will also have a designated ride farther south to visit Miami's biggest attractions.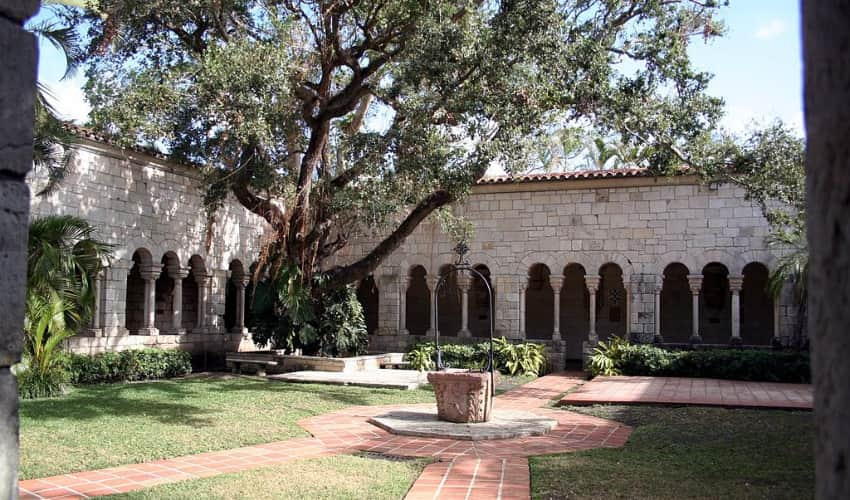 The Ancient Spanish Monastery at St. Bernard de Clairvaux Church
Great for: religious services (but not exclusively) and garden weddings
Price range: $$
Address: 16711 West Dixie Highway, North Miami Beach, FL  33160
Phone: (305) 945-1461
Capacity: up to 300 (depending on chosen space)
Couples who love history and architecture should take a peek at the Ancient Spanish Monastery. This breathtaking building offers more than 880 years of history as the backdrop for services small and large. Although this medieval monastery is affiliated with the Episcopal Diocese of Southeast Florida, guests of all backgrounds and faiths are welcome to plan their wedding here. The monastery offers wedding-only, reception-only, and packaged services across their spaces. Plan your ceremony in the chapel or vibrant gardens and host your reception in the loggia or cloisters.
The monastery has free parking to accommodate guests, but if you're planning a near-capacity reception, some guests may have difficulty finding parking. To keep guests from overflow parking on busy Dixie Highway, book a charter bus to shuttle guests to the monastery from your hotel.
The Mayfair at Coconut Grove
Great for: simple yet artsy weddings
Price range: $$
Address: 3000 Florida Ave, Miami, FL
Phone: (305) 779-5121
Capacity: up to 300
Coconut Grove is the oldest continuously-inhabited neighborhood in Miami-Dade County, and its historic, quaint bungalows and lush canopy of trees make it the perfect area for a wedding. The Mayfair is a 4-star Art Nouveau hotel located in the heart of this charming neighborhood and offers a simple yet artistic wedding venue. Choose from spaces like the sunny and open Palm Terrace for your ceremony and the Crystal Ballroom for your reception.
Planning a big event in Coconut Grove is a great idea until you have to consider guest parking. Most parking options in the grove are along the street, in garages, or in small privately-owned lots. To simplify transportation for your guests, reserve a charter bus or minibus to shuttle them to the Mayfair from parking sites throughout the grove.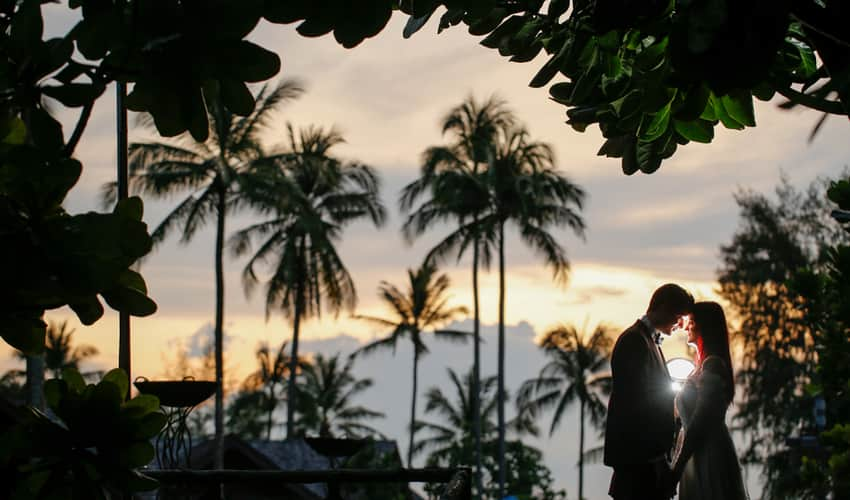 Secret Gardens Miami
Great for: garden weddings with a brush of magic
Price range: $$
Address: 14450 SW 248th St, Redland, FL
Phone: (305) 962-3871
Capacity: up to 200
Visitors may think of Miami as a beachfront tropical paradise and in a way, it is! But many visitors (and even locals) overlook the beauty of the Redlands, one of Dade country's far-south communities. This rural area offers acres upon acres of farming land and is the perfect place for couples who want a service tucked away from the hustle and bustle.
Secret Gardens Miami is a tropical oasis with a variety of towering palms and tropical plants to provide a gorgeous backdrop for your wedding. The gardens even have a man-made waterfall and lake where you can take memorable photos with loved ones. Don't worry–if you're planning a summer wedding or unfortunately see rain in your forecast, Secret Gardens has an indoor rental space as well.
The Redlands can be a long haul for some guests. The area can also be a bit difficult to navigate and gets very dark in the evening. To make your guests' trip easier, book a shuttle service to get everyone to and from Secret Gardens without the stress of getting lost in the Redlands.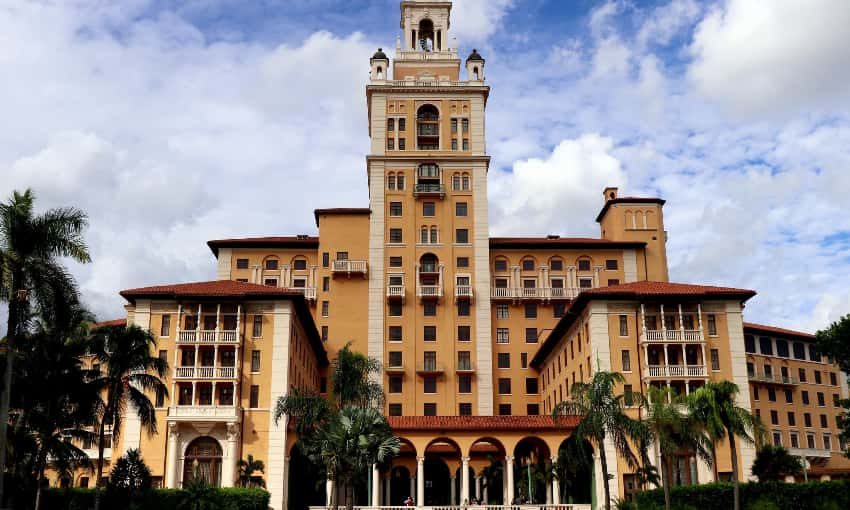 Biltmore Hotel Miami Coral Gables
Great for: luxurious weddings
Price range: $$$
Address: 1200 Anastasia Ave, Coral Gables, FL 33134
Phone: (305) 445-8066 ext. 4301
Capacity: 300+
Just a few miles away from Coconut Grove is the neighborhood of Coral Gables. This area is home to the University of Miami, luxury shopping centers, and some of the most architecturally breathtaking buildings in the city. The Miami Biltmore was built in 1926 and displays a combination of Mission Revival, Spanish Revival, and Italian Renaissance-style architecture. The stunning architecture and grounds make it the dream venue for many soon-to-be newlyweds. There are several elegant outdoor ceremony areas to choose from along with wonderfully-decorated ballrooms for receptions of all sizes. Host your wedding among high, hand-painted ceilings, cathedral arches, magical fountains, and lush greenery.
Although the Biltmore has a large parking lot, the hotel is exceptionally popular and you'll often find guests visiting it year-round. Keep your guests from circling the parking lot or looking for additional parking in Coral Gables by renting a wedding shuttle with Miami Charter Bus Company. Guests can be picked up at their nearby homes or other hotels before being whisked off to your memorable service at the Biltmore.
The Cooper Estate
Great for: an intimate, rustic wedding
Address: 14201 SW 248th Street, Redland, FL
Phone: (305) 904-9032
Capacity: up to 150
Price range: $$$
The Cooper Estate is actually just down the road from Secret Gardens Miami. This venue is a bit pricier but offers couples a much larger and more upscale indoor reception space than its neighbor. The century-old estate is surrounded by acres of perfectly-manicured gardens and even has an on-site nursery for organic floral arrangements and decor. Along with on-site florists, the Cooper Estate offers all-inclusive packages with a day-of coordinator, in-house catering services, a photographer, a DJ, and valet parking. Say "I do" in a garden shaded by rare palms and oak canopies, and then enjoy a lovely reception beneath the estate's vaulted wooden ceilings.
Guest parking at the estate is complimentary but may get tight for large services. Rent a compact yet comfortable fleet of minibuses to transport your guests down south. Everyone can relax on your wedding day knowing that transportation is taken care of.
Opulent Venues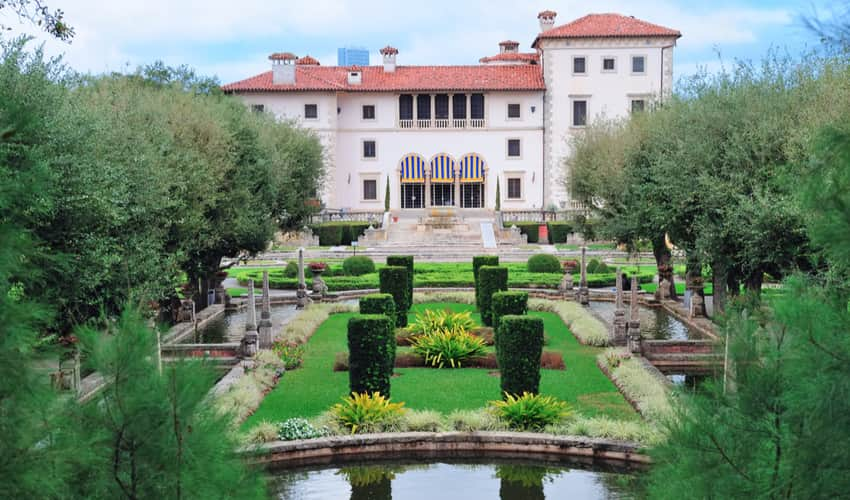 Vizcaya Museum & Gardens
Great for: elegant weddings by the water
Price range: $$$$
Address: 3251 South Miami Avenue, Miami, FL
Phone: (305) 250-9133
Capacity: up to 300
If you're looking for the crème de la crème of historic Miami venues, you can't get much better than Vizcaya. This Meditteranean villa is a major tourist attraction in Coconut Grove but also doubles as a popular event space. With its breathtaking architecture, waterfront views of Biscayne Bay, and pristine gardens, it's an amazing location for a large, fairytale wedding. Vizcaya's indoor spaces are best suited for up to 100 guests, while outdoor terraces overlooking the bay can accommodate up to 300 people.
Even if you aren't hosting your wedding at Vizcaya, the museum's gardens are a wonderful spot to plan photos. You'll have to make a reservation with the museum to take photographs during normal business hours.
Whether you're planning your wedding service or a photoshoot at Vizcaya, make sure to have your group transportation secured. Vizcaya has two parking lots that can easily get packed during the day for your photo op. Reserve a minibus with Miami Charter Bus Company to transport your photo group and equipment or to book shuttles for guests.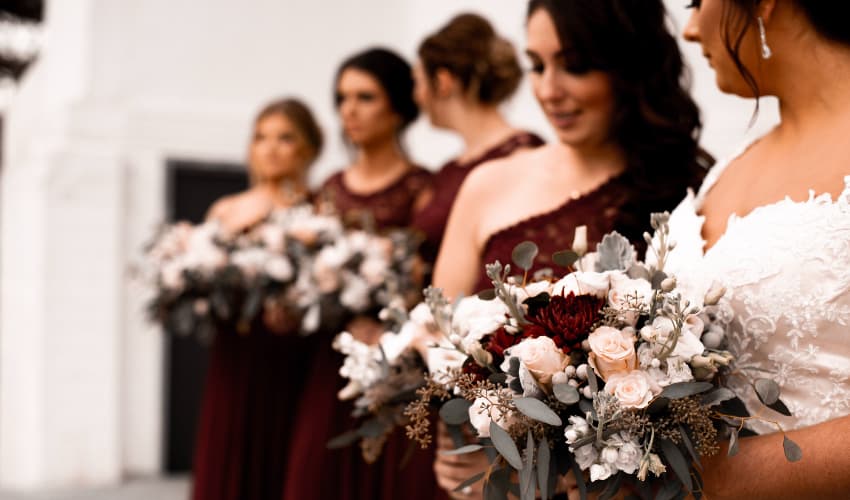 Fontainebleau Miami Beach
Great for: extravagant beach weddings
Price range: $$$$
Address: 4441 Collins Avenue, Miami Beach, FL 33140
Phone: (305) 535-3208
Capacity: up to 800
The Fontainebleau is a famous modern hotel known for its massive nightclub (LIV is one of the most-visited spots in Miami Beach), sprawling ballrooms, and luxury suites. It's a hotspot for bachelor and bachelorette parties, destination weddings, and top-of-the-line local services. Couples can choose from outdoor spaces like Fontainebleau's Glimmer Terrace, which overlooks the beach and provides stunning ocean views for ceremonies. The hotel also has more than 100,000 square feet of space for indoor ceremonies and large wedding receptions.
With 1,500 hotel rooms, a prime location, and thriving nightlife scene, the Fontainebleau sees a lot of traffic every day. Roads on Miami Beach are often crowded, and self-parking is always sparse during the busy travel season. Providing a wedding shuttle service for your guests will help cut down on gridlock around the hotel and allow them to quickly hop off the bus and run inside to your service.
Rent Your Miami Wedding Transportation Today
After you lock down your venue, secure your wedding shuttles with Miami Charter Bus Company. A rental expert will help you determine the best types of vehicles for your event and assist you in organizing your day-of transportation. Call (305) 742-0966 at any time to get your personalized shuttle service quote!
Recent Posts
Do you need to rent a charter bus?