Places Every Miami Sports Fan Group Should Know
Miami is a mix of cultures, and this is especially true when it comes to game-day. The city is home to five national-level professional teams and no shortage of state-of-the-art venues to showcase them all.
Whether you're visiting the city with a private group of sports fans or have time to kill between games with your little league team, Miami Charter Bus Company can make your game-day travels a breeze with a personalized bus rental. Call 305-742-0966 to reserve a ride with all the bells and whistles to keep your sports fan entertained while on the road—from free WiFi for streaming podcasts to reclining seats for catching a pre-game nap.
With a pro driver at the wheel and a spacious charter bus or efficient minibus at your disposal, all your fan group will have to do is relax and enjoy the ride to any of these Miami sports venues: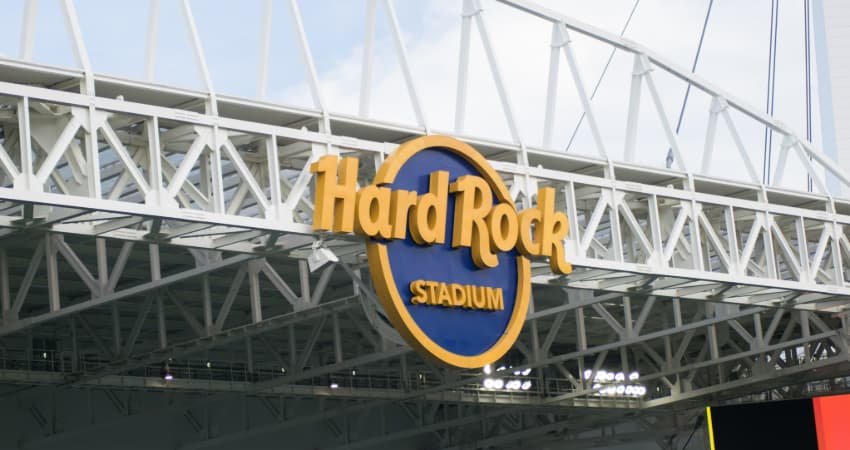 Hard Rock Stadium
Address: 347 Don Shula Dr, Miami Gardens, FL 33056
Who plays here: The Miami Dolphins, University of Miami Hurricanes, occasional college football teams during bowl season, some international soccer teams, and annual tennis tournament champions
Anyone who has spent time in Miami may have already been here—it is the city's largest venue, after all. So while this stadium is mostly known as the home of Miami's most popular sports team (the Miami Dolphins), this 65,000-seat venue has hosted concerts for the likes of Taylor Swift, Shakira, and Beyonce in the off-season.
And as one of the city's most-visited venues, Hard Rock Stadium doesn't hold back when it comes to dining options. Rather than the standard game-day fare of hotdogs and fountain drinks, this outdoor arena offers 5-star eateries ranging from local-favorite chains to sushi stands—yes, sushi in a ballpark. Your fans may want to try a poké bowl from RA Sushi or oxtail and jambalaya from Chef Creole, but if you are craving something more predictable, you can always stop by Shula Burger. It's owned by Don Shula (the longest-serving head coach for the Dolphins), and it serves standard burgers-and-fries fare.
Charter Bus Parking: The stadium's oversized vehicle parking will cost anywhere from $80 to $150, depending on the game day or the playoff schedule. Charter buses park on the west of the stadium, on the opposite side of NW 26th Avenue. Your driver will be directed to enter through Parking Gate 10 and should purchase Bus Parking Permits prior to game day.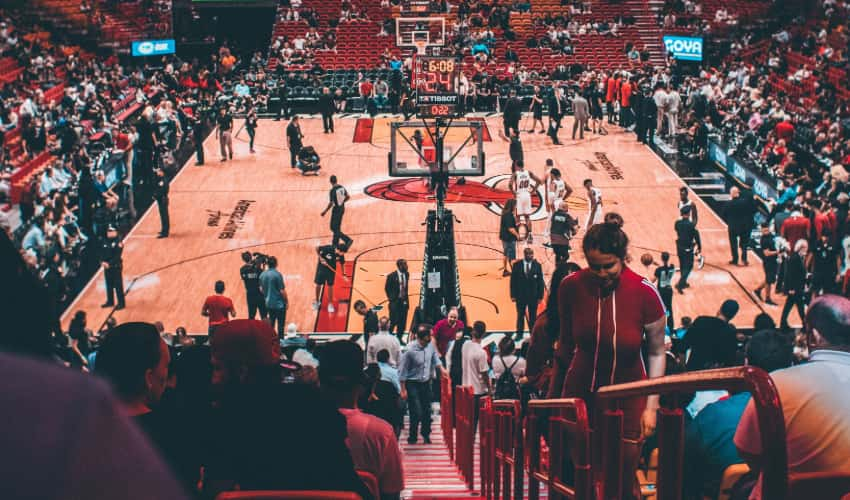 American Airlines Arena
Address: 601 Biscayne Blvd, Miami, FL 33132
Who plays here: The Miami Heat
A lot of basketball legends have called this arena their home turf— Lebron James, Shaq, and Dwayne Wade, just to name a few. And considering the Miami Heat's fanbase is over 15 million strong, it should come as no surprise that American Airlines Arena is one of the most popular sports destinations in the city. AAA does not offer private tours, but if you're here to catch a rivalry game against the Orlando Magic or a concert during the off-season, this 21,000-seat indoor stadium is sure to offer a comfortable experience for all.
Check out the stadium's in-house restaurant, 601, for a self-serve craft beer wall, floor-to-ceiling windows looking out over the waterfront, and upgraded versions of sports fan favorites (sandwiches, wings, nachos, and the like). If you'd prefer a quick bite instead, stop by Uptown/Downtown Dog for a chili cheese dog, Bodega for Mexican street tacos, or Miami Smokers for nationally acclaimed BBQ.
Charter Bus Parking: Bus-friendly lots are hard to come by in downtown Miami, which means street parking will be your best friend here. Luckily, your passengers won't need to be there to search for the perfect spot. Have your bus driver drop everyone off at AAA's Gate 3 (next to the northern box office windows on NE 8th Street), so you can find your seats and enjoy the game while the pros find a metered spot nearby.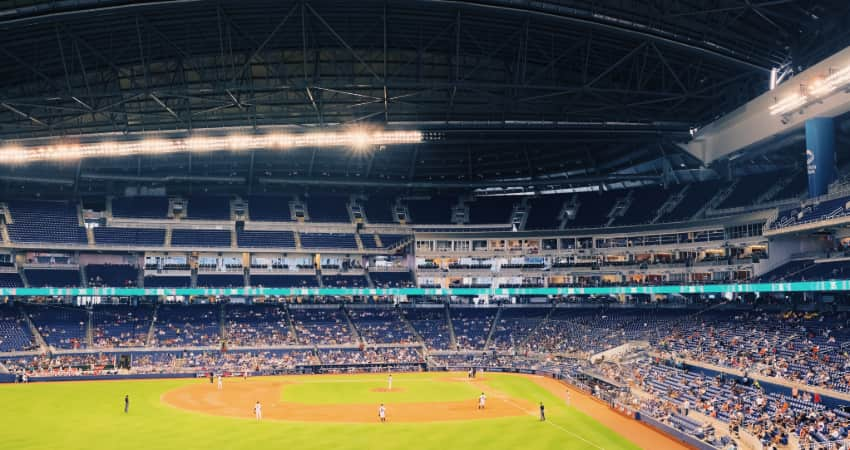 Marlins Park
Address: 501 Marlins Way, Miami, FL 33125
Who plays here: The Florida Marlins, sometimes local college football teams, and some international soccer teams in the off-season
This MLB ballpark is as tech-savvy as they come—and by that, we mean it features a retractable roof that's practically hurricane-proof. But more importantly (to the average fan, at least) the roof means this field is fully air-conditioned! Soak up that sweet AC and catch America's favorite pastime when the Marlins return to the diamond, and your baseball fans will be in for a treat.
When it comes to dining options, Marlins Park offers a variety of cuisine that reflects the Little Havana locale. Hit up Novecento, La Cocina, and PINCHO for bistro-inspired empanadas, Caribbean eats, and burgers with a Latin twist, respectively. (There's also plenty of standard ballpark fare if you're traveling with picky eaters.)
Private tours of the stadium are, at the time of publishing, on hiatus. But once they resume, your fan group can walk down onto the field and into the practice batting cages, take a peek into the VIP lounges, and learn more about the history of baseball in Miami—all for about $10 per person.
Charter Bus Parking: Bus rentals are instructed to park in the grassy field on the corner of NW 5th St and NW 16th Ave. It's right across the street from the field's west entrance, so it will likely be the best loading/unloading zone for your trip to Marlins Park as well.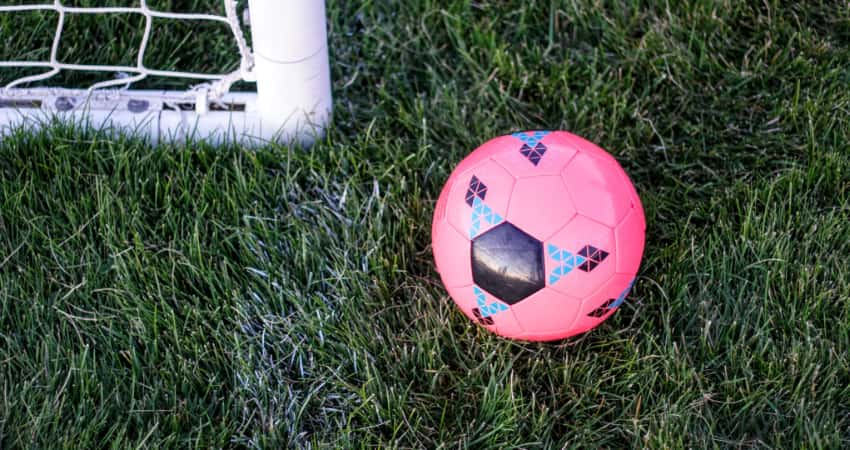 Inter Miami CF Stadium
Address: 1350 NW 55th St, Fort Lauderdale, FL 33309
Who plays here: Inter Miami CF, occasionally the USA men's national soccer team
Formerly known as the 1959 Lockhart Stadium, this stadium serves as the temporary home base for the newest professional sports team in town: Inter Miami CF. The team has yet to make their name in the MLS due to the pandemic delaying their debut, but they show promise (and a celebrity athlete investor in David Beckham). While the team constructs a new stadium to serve as its "forever home," fans can catch their future games on this Fort Lauderdale field against other MLS favorites like the LA Galaxy, Atlanta United, and more.
Charter Bus Parking: Much of the stadium complex is still being renovated or is under construction, so definitive bus parking zones have not been designated yet. Your driver may be able to drop your fans off near the rideshare lot on the corner of NW 12th and 52nd Streets.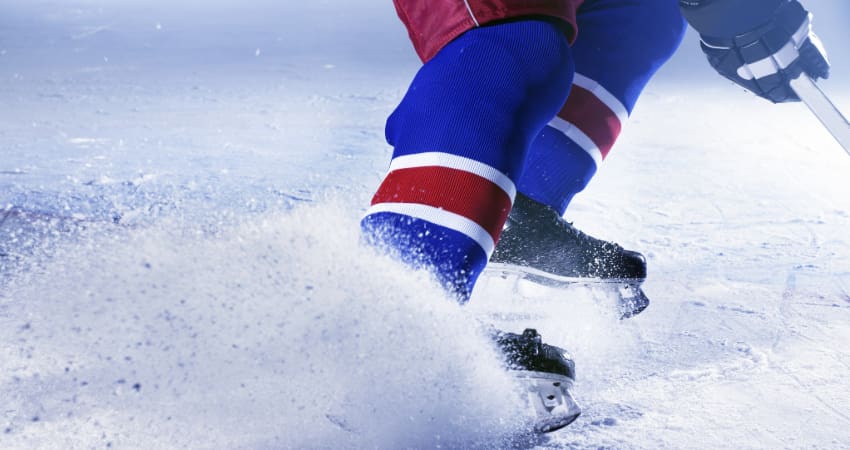 BB&T Center
Address: 1 Panther Pkwy, Sunrise, FL 33323
Who plays here: The Florida Panthers and annual Orange Bowl Basketball Classic college teams
Hockey? In south Florida? You can watch it here! While the Florida Panthers haven't had a shot at the Stanley Cup since 1996, nearly 12,000 fans show up to every home game to cheer on the state's hockey team at this indoor arena.
BB&T Center is a 45-minute drive from downtown Miami when the traffic is light (it usually isn't). So if you're staying in the city center with out-of-towners, finding a reliable and efficient ride to the rink can be a hassle. Let Miami Charter Bus Company secure a game-day shuttle for your hockey fans, and no one will have to stress over navigation and parking! Instead, a professional driver will take care of all your travel logistics, so you can sit back, enjoy onboard amenities like WiFi, TVs, and reclining seats, and relax before the puck drops!
Once here, fans will find three dining options: Chick It Out (chicken sandwiches), Taco 'Bout It (meat and veggie tacos), and Break Away Burger (off-the-wall burger combos). Funky Buddha Tap Room is open one hour prior to the start of home games and during select events at BB&T Center.
Charter Bus Parking: Your bus rental can enter the complex through Gate 1 or 7 and should park in lot D2. Keep in mind that parking fees will vary depending on the event, but bus parking fees are always twice cars' parking fees. In other words, larger groups can save money by reserving a private gameday shuttle, rather than filing into a carpool caravan of three or more cars.
Ease Your Game Day with a Miami Bus Rental
Catching your favorite team live has never been easier than with Miami Charter Bus Company! Our representatives are standing by 24/7 to help your fan group get to their favorite sports venues. Give us a call at 305-742-0966 once you have a headcount and an idea of where you want your bus to take you, and we'll offer a free and personalized quote for your Miami charter bus or minibus—all with no obligation to book.
Recent Posts
Do you need to rent a charter bus?