The Ultimate Guide to Planning a Florida College Tour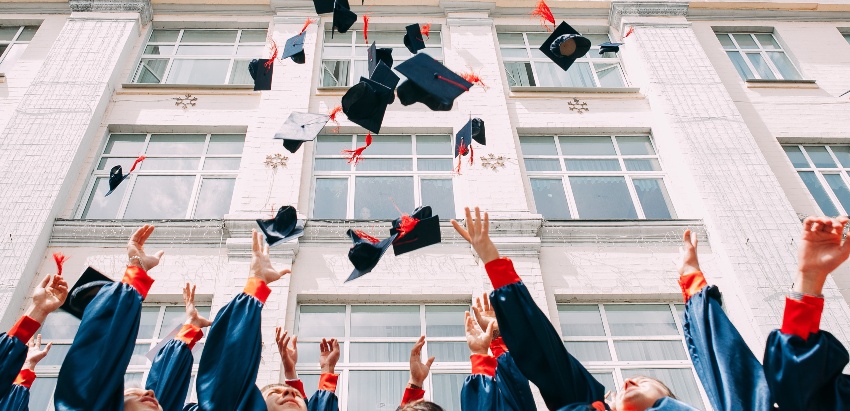 Planning trips in Florida takes a lot of things. Time, gas, and most importantly, a great deal of patience. Florida is one of the few places in the US where you can hit the road for 8 straight hours and still find yourself in the same state.
This makes organizing college tours a multi-day endeavor. And if you're traveling with a private group rather than a tour company, you'll need all the help you can get with planning the best route. That's why we're here! Florida Charter Bus Company has your transportation covered, but we're also here to give you some helpful pointers.
Privately organizing your own college tour will give your group the opportunity to spend as much time as they desire at each college campus, rather than sticking to a strict schedule. Whether you're traveling with high schoolers, a community organization, or a group of continuing education students, you'll need spacious transportation to accommodate everyone.
Reserving a charter bus is the most efficient way to safely shuttle everyone between campuses throughout the state. We'll just need a headcount and an itinerary to find you a suitable motorcoach for your campus travels. We can even make sure you get a bus equipped with WiFi, power outlets, and TVs to make the long drives pass by in a snap.
Don't have an itinerary? Let's hop right into building a tour route. We've split this 6-campus tour into 3 days, but if you'd like more time to take in the sights in each city, go for it.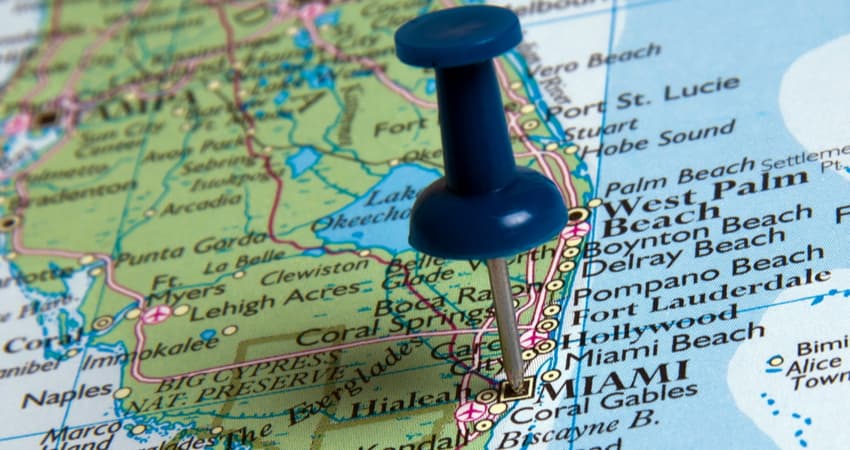 For all intents and purposes, we're going to start the college tour route in Miami. As the state's most populous metro area, it's a likely place for Floridians to begin their journey. If your group is departing from another major city, you'll have to adjust your route accordingly.
Day 1
South Florida
Let's kick this tour off in sunny South Florida. Florida International University (FIU) and the University of Miami (UM) are the largest four-year universities in Miami. FIU is the largest public university in the city, while UM is the biggest private institution.
The UM and FIU main campuses are only about 8 miles apart, which makes touring both schools in one day an easy task.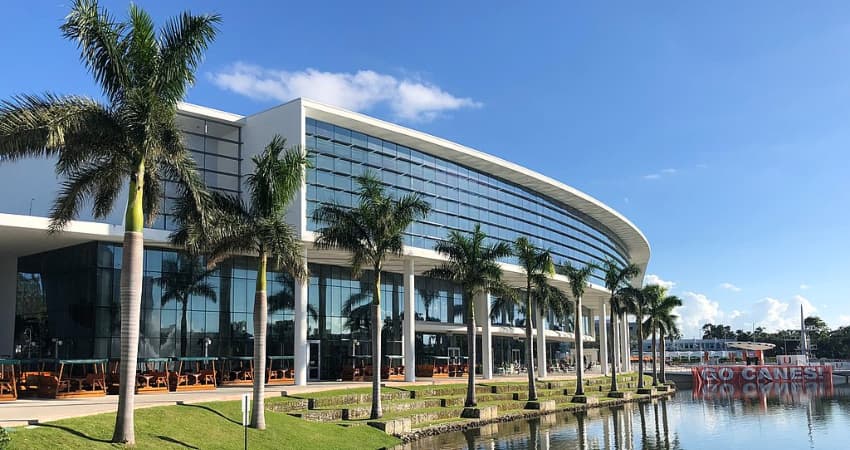 Image Source: Wikimedia Commons
University of Miami
With its world-class medical and engineering programs, The U is a point of pride for Miami natives. Hit the Coral Gables main campus and see what it's like to be a 'Cane.
UM offers private guided tours for groups of 15 to 60 people of high school-age or older. Tours are only available Monday through Friday at 10:30am, excluding holidays, university-wide events, and other campus closures. Tours must be requested at least 10 days in advance through the school's Special Tour Request Form.
The 1.5 hour walking tour begins at the Whitten University Center. Your bus driver will drop your group off in MIller Circle or Stanford Circle in the center of campus, just a short walk from the Whitten University Center. After dropping everyone off, your bus can park at Lot 42 in the Alex Rodriguez Ballpark.
On the tour, you'll have a student ambassador show you all the campus highlights, including the modern Shalala Student Center, the beautiful Cobb Fountain in Lake Osceola, and the Lowe Art Museum.
After your group tour is completed, head west to FIU in the University Park neighborhood of Miami.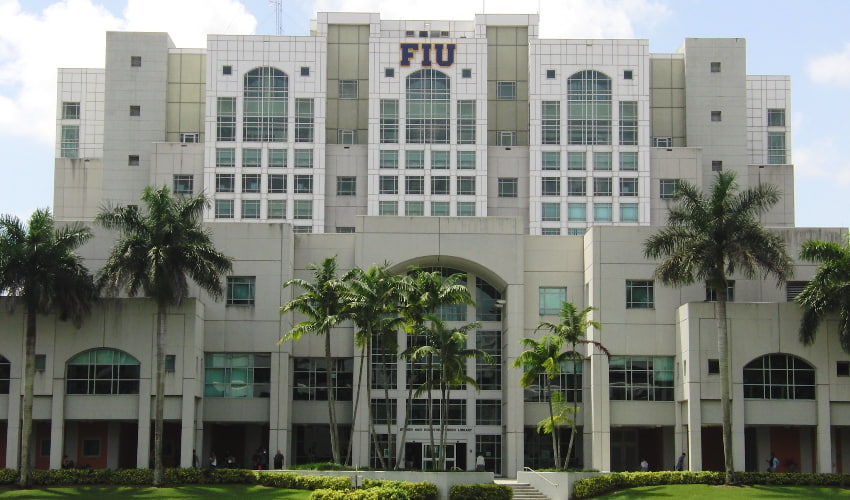 Image Source: Flickr
Florida International University
Live like a Panther for an afternoon at FIU's Modesto A. Maidique Campus! Well-known for its law, nursing, and international business programs, FIU is a popular choice among Miami locals desiring a high-quality education that won't break the bank.
The Modesto Campus (MMC) in University Park is the school's main campus, housing the majority of its programs. Students interested in marine biology, hospitality and tourism, communication and journalism, or health administration should plan to visit the Biscayne Bay Campus (BBC) in North Miami.
Undergraduate tours of MMC are available weekly through the school's website and are generally offered from 10am to 12pm or 2pm to 4pm. We'd recommend scheduling an afternoon session to give your group time to grab lunch between the UM and FIU tours.
Each group tour session can accommodate 8 to 40 guests, with at least one chaperone per 10 students. Groups of more than 40 should contact the Office of Admissions by phone at 305-348-719 before attempting to request a tour.
Your group tour will begin at the Office of Admissions in the SASC Building. Every tour includes an information session with an admissions advisor and a walking tour of campus. You'll see all the highlights of the school's palm-tree-lined 342-acre main campus, including the beautiful Graham Center and Panther Stadium.
After your FIU campus tour, we'd recommend your group takes a rest for the evening before getting on the road to Tampa. Keep in mind, you'll need to set off very early to make morning tour sessions at Central Florida schools. If your group isn't filled with morning people, consider driving to Tampa in the evening immediately following your FIU campus tour. Regardless of what time you choose to travel to Tampa, students can catch up on some snoozing while on the bus.
Distance: ~270 miles
Drive Time: 4 hours
The easiest and most efficient way to reach Tampa is to take the Florida Turnpike N to I-75 N. This route does include tolls, so be sure to alert your driver and provide them with the necessary fees. I-75 N will take your group all the way to Tampa, where you'll take Exit 265 for UCF. If your group wants to travel a different route, just ask your charter bus driver the best options to get your group between Miami and Tampa.
Day 2
Central Florida
When Central Florida comes to mind, your thoughts may go straight to Orlando, home of Disney World and Universal Studios. Orlando and its theme parks are great and all, but it often overshadows Tampa on Florida's west coast. Tampa is famous for a lot of things, namely pristine beaches and…more theme parks. But Central Florida isn't only theme parks; the region is home to two of the largest universities (by enrollment) in the country!
Let's travel to Tampa to visit the University of South Florida (USF) and then hop on over to Orlando to explore the University of Central Florida (UCF).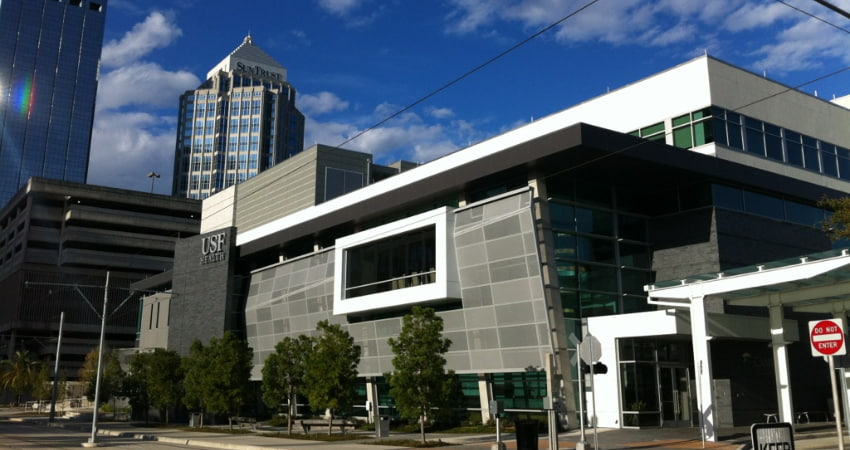 Image Source: Wikimedia Commons
University of South Florida
Here we are: Bulls Country. USF has quality undergraduate and graduate programs that are nationally recognized for being a great value. Students get an excellent education without exorbitant tuition, all in a beautiful waterfront city. Sounds like a win-win to us.
The University of South Florida offers private guided tours to groups to 15 or more with at least 45 days notice. Guided tours are only open to high school students and transfer-level students, while younger visitors are permitted to take a self-guided tour option.
The 2-hour guided walking campus tour is available Monday through Friday at 9am, 11:30am, and 1pm. We'd recommend choosing the 9am tour to give everyone enough time to recharge before hitting the road to UCF.
Student-led tours embark from the Office of Admissions and take guests through several campus points of interest. Along with seeing the school's academic facilities, you'll tour a residence hall, dining options, and recreation centers. Each tour also includes an information session with an admissions staff member to give students insight on admission requirements, financial aid, and more.
Once your morning tour is completed, have lunch at one of USF's dining halls or grab some grub on the go. It's time to hit the road again and make your way to Orlando.
Distance: ~100 miles
Drive Time: 1.5 hours
The drive from Orlando to Tampa is relatively quick and painless. You'll just need to take I-4 E for most of your trip, then transfer over to FL-417 N or FL-408 E. Both FL-408 and FL-417 include tolls in certain areas, so plan accordingly.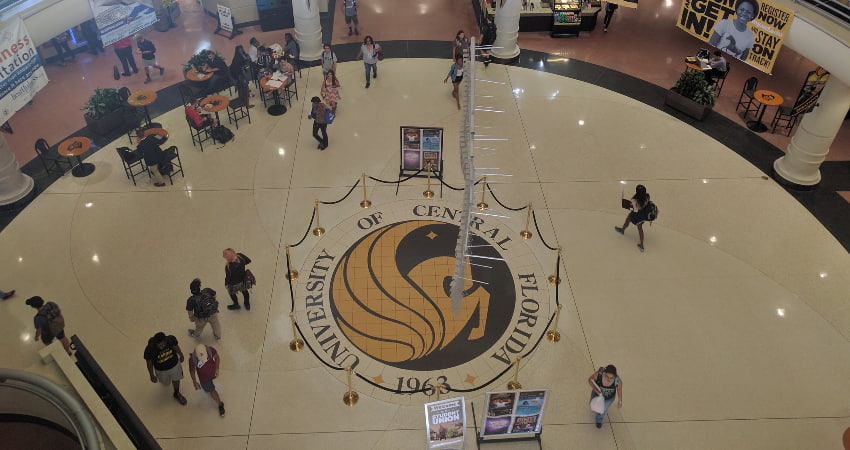 Image Source: Flickr
University of Central Florida
With more than 68,000 students enrolled in 2018, UCF is the largest university by enrollment in the country. Want to see what it's like to attend such a big school? Live like a UCF Knight for a day with a student-led campus tour.
Check in to the Duke Energy Welcome Center for an afternoon tour. Most afternoon tours are scheduled around 2pm and should be requested in advance due to the school's high volume of visitors. The 2-hour tour includes an information session at the welcome center, followed by a walking tour of the sprawling campus.
Your 10-stop tour will include the beloved Memory Mall greenspace, the Student Union, and more. Unfortunately, standard tours don't include visiting a residence hall. If your group has additional time in your day, be sure to schedule a separate housing tour at 4pm. A residence hall tour will begin in the Recreation and Wellness Center lobby, taking your group through 2 of the school's student communities.
UCF sees an overwhelming number of students on campus every day, which means finding parking may be tough. When you first arrive on campus, have your charter bus driver drop everyone off at the Duke Energy Welcome Center while they find parking. Parking at the welcome center can be limited, but additional oversized vehicle parking can be found across Gemini Blvd South in Lot B7.
At the conclusion of your UCF exploration, wind down and enjoy some of the sights that Orlando has to offer. Grab a bite to eat at a local group-friendly restaurant or spend the evening like true tourists and visit Disney Springs or Universal CityWalk.
Be sure to get plenty of rest though. You'll have a long day ahead of you exploring North Florida schools. Get ready to hop back on your bus and travel to Gainesville and Tallahassee.
Distance: ~125 miles
Drive Time: 2 hours
If you're looking for the quickest way to Gainesville, you'll want to get on FL-408 W to the Florida Turnpike N, then merge onto I-75 N. Again, you'll have a few tolls on FL-408 and the Turnpike, but once you're on I-75, you'll have a free and easy ride to Gainesville off Exit 384.
Day 3
North Florida
We're in the final stretch! You're finally in North Florida, home to the University of Florida (UF) and Florida State University (FSU). You'll get a firsthand experience with what it's like to be a Florida Gator and a Florida State Seminole. Stomp around The Swamp for a couple hours before traveling up to Nole Nation. You'll also hopefully get a little taste of one of the state's biggest athletic rivalries along the way.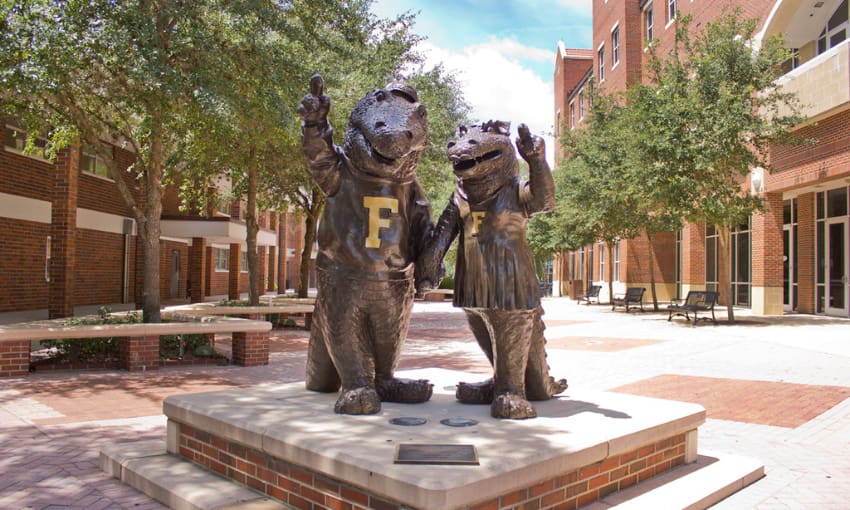 Image Source: Flickr
University of Florida
In terms of overall academic rankings, UF is the best public university in the state and among the best in the nation. Hailed for its business, engineering, law, and medical programs, the university is a top choice for many Florida students.
UF offers group tours Monday through Friday at 9am, 11am, 1pm, and 2pm. Booking the earliest tour option will give you the opportunity to explore campus a little more before continuing your journey to Tallahassee.
Tours are available for groups middle school-age and older and can accommodate up to 80 students, not including chaperones. Your day will start with a 30-minute information session at The UF Welcome Center and will be followed by a 1.5-hour, student-led tour of campus.
Admire the beautiful campus greenspaces like Plaza of the Americas, and marvel at the more than 88,000-seat Ben Hill Griffin Stadium, also known as "The Swamp."
Visitor parking is available for smaller vehicles such as minibuses and personal cars in the Welcome Center and University Bookstore Parking Garage. Larger vehicles like charter buses will be directed to park in surface lots after dropping off passengers at The UF Welcome Center.
Grab a quick lunch to take on your bus and start the final leg of the college tour journey to FSU in Tallahassee.
Distance: ~145 miles
Drive Time: 2.5 hours
I-75 is really your best friend when traveling around the Sunshine State. You'll want to drive north on I-75 before taking Exit 435 to I-10 W. Follow I-10 W across the Big Bend region of Florida, and take Exit 203 for Tallahassee.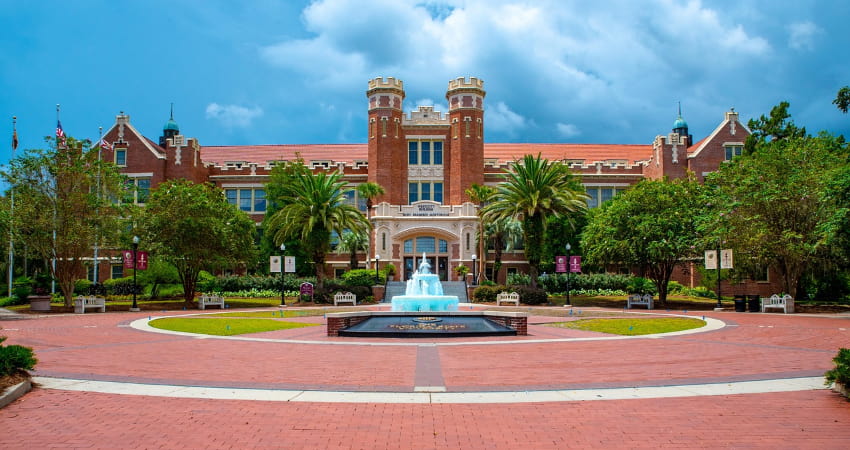 Florida State University
Can you hear the FSU Warchant in the distance? You've made it to your final stop, Seminole Nation! Established in 1851, FSU is the oldest public university in the state and is ranked among the top public schools in the country. With dedicated sports fans and unique features like an on-campus circus, FSU attracts thousands of applicants from across the country.
One-hour group campus tours are available weekdays May through February during normal school hours and should be requested in advance. Guided tours are open to visitors high school-age and older, with one chaperone per 25 students being required for groups of minors. Tour groups are limited to 75 people per session. You may also add a 30-minute admission information session to the beginning of your tour.
Campus tours are available at 9:45am and 2:45pm, with the afternoon session being the most suitable for groups coming into town on the same day. You'll begin your garnet and gold journey at the Florida State University Visitor Center in Doak Campbell Stadium. Your group can be dropped off directly in front of the Visitor Center and parking options will be available for your charter bus at the stadium's expansive surface lots.
Tours will take you through locations like Legacy Walk and Landis Green, Doak Campbell Stadium and Bobby Bowden Field, the breathtaking Westcott Hall with its iconic fountain, and much more.
Ready to Explore Florida's Universities?
Hopefully the answer is yes, because we'd love to get you there! Start your college tour trip with a charter bus rental from Florida Charter Bus Company. We're here to make the hundreds of miles on the road your last concern. Sit back, relax, and enjoy a taste of collegiate life. Call us at 305-359-5975 for a personalized quote.
Recent Posts
Do you need to rent a charter bus?