Daytona International Speedway Shuttle
One of Florida's most popular attractions, The Daytona International Speedway is home to some of the biggest NASCAR and motorsport events in the nation. Thousands of fans from across the country come to Daytona every year to witness the Daytona 500, the Coke Zero 400, the Daytona Supercross, and a number of other competitions.
To maximize attendees' experiences, Florida Charter Bus Company has developed a charter bus and minibus shuttle service designed specifically for patrons seeking a NASCAR bus service to the Daytona International Speedway. Whether you're seeking a shuttle from Orlando, Tampa, or anywhere beyond, all you have to do is call us; we'll send a driver to take you from your specified pickup location to the speedway in no time at all.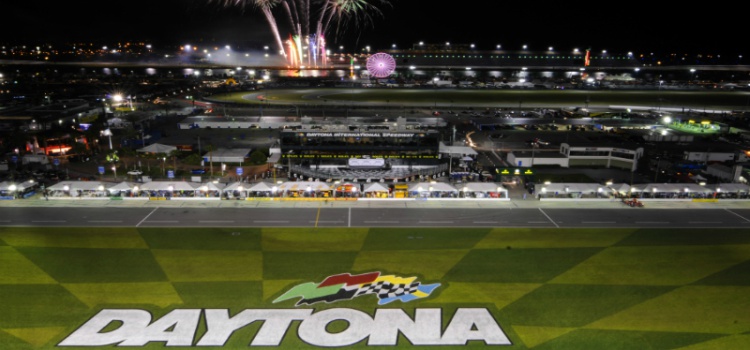 Why Should I Book a Shuttle to the Daytona International Speedway?
Although many fans drive their own cars to get to the speedway, taking a charter bus or minibus provides a number of benefits for larger groups, including:
Larger Accommodations
Charter buses and minibuses can seat anywhere from 18 to 56 passengers–substantially more than a traditional car or an RV, which only seat up to 10 people. We keep an array of buses of different sizes in our network, so you're able to request one that matches your needs.
Premium Amenities
Private coaches may be equipped with premium amenities, such as WiFi, flat screen TVs, DVD players, reclining seats, lavatories, and more. These features enable groups traveling longer distances to have a more comfortable, enjoyable ride.
Added Storage Space
A private charter bus is fitted with massive luggage bays, giving passengers tons of added space to transport your tailgating equipment, food, beverages, and camping gear. Maximize your time at the speedway by packing all of your essentials and bringing them with you.
Enhanced Riding Experience
Having your own personal driver reduces the mental and emotional stresses of transporting your group. Your driver takes on the responsibility of getting you to the destination, while you're free to rest, relax, and take in the sights as they pass. Depending on your location, you may even be able to consume alcoholic beverages while you ride to the speedway.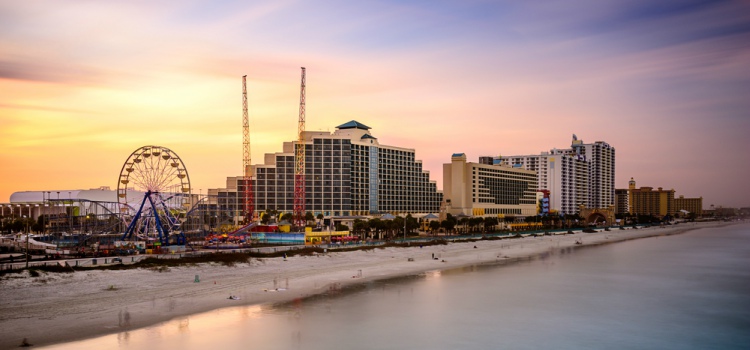 There's More to Experience
Although Florida Charter Bus Company's services primarily revolve around getting passengers to and from the Daytona International Speedway, our transportation solutions give passengers access to a number of other activities, such as:
Camping Out
While most events at the Daytona International Speedway go on for only a few hours, the speedway gives visitors the freedom to camp out for up to 10 days at a time. When you book with us, you won't need to worry about renting an RV. Simply pack a tent and all of your supplies, book your private charter, and let us handle the rest. Once you've arrived, you can set up camp as you please, without the added hassle of finding a parking spot for your RV.
Tailgating
The Daytona 500 just isn't the same if you aren't tailgating. Private coaches come equipped with oversized luggage bays and overhead storage bins, giving you extra space to pack your tailgating essentials. Pack your grills, coolers, food, drinks, and anything else you need, and head to the center of the speedway to start the festivities.
Exploring the City
You may be interested in taking in the sights and sounds of Daytona that are separate from the race. With a private coach, you aren't limited to the infield of the speedway. Ask your driver to take you on a tour of the city so you can check the local restaurants and experience Daytona nightlife. Don't spend any time worrying about how you're going to navigate your RV up and down the streets of Daytona; we've got you covered.
Daytona International Speedway Events Serviced by Florida Charter Bus Company
●     USAC.25
Race to the Speedway, Today
Florida Charter Bus Company is available around the clock, every day of the week to service our customers. If you're attending one of the upcoming events at the Daytona International Speedway, allow us to handle the transportation for you with our premier shuttle services. Call us today at 305-359-5975 to book your private coach, and view our pricing guide here.
Recent Posts
Do you need to rent a charter bus?