6 Fall and Winter Festivals in Florida to Add to Your Calendar
Is heaven a place on earth? If you've ever been to Florida during the fall or winter, you're a believer. While the rest of the country braces itself for colder months ahead, Floridians dig out their light jackets and head to the beach.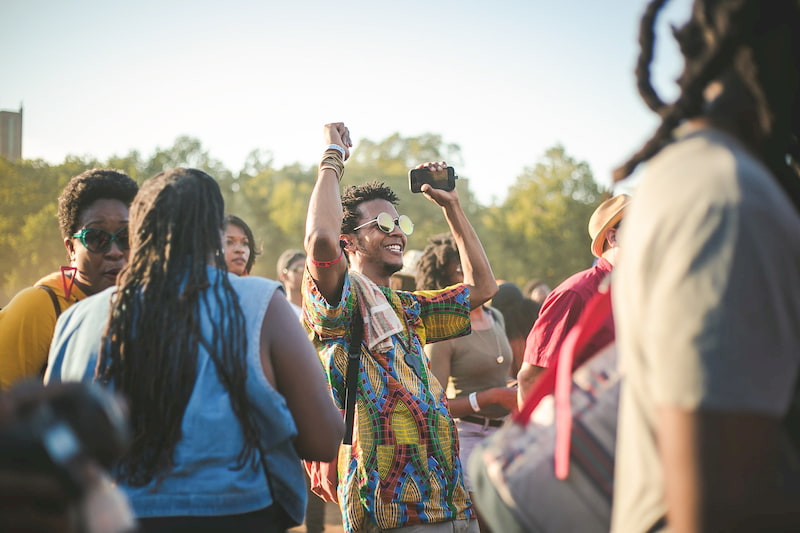 And with such beautiful weather year-round, it's not surprising that the Sunshine State hosts countless festivals in the fall and winter. No matter your interests— whether it's music, art, or frog legs— Florida has a festival for every enthusiast.
To give you an idea of the events you can look forward to this year, we've outlined the festivals our staff says you can't miss in Florida. Because we're obsessed with group travel and transportation, we've included some tips along the way to make your festival road trips run smoothly.
Oktoberfest in Lantana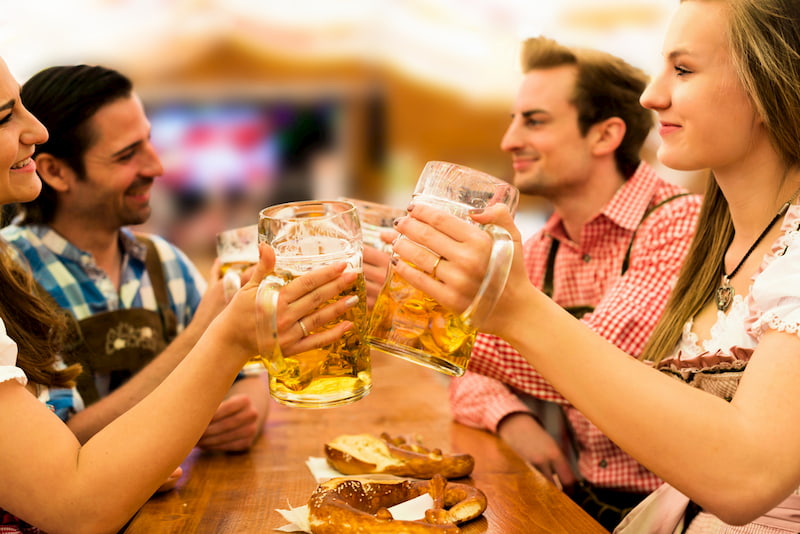 What: Annual celebration with German food, live music, dancing, and other entertainment.
Where: Lantana, Florida — 20 minutes south of West Palm Beach by charter bus
When: October
Price: $8 for adults; kids under 12 free with paying adult
Don your best dirndl or lederhosen, and get ready for some of the best bratwurst this side of the Atlantic. The American German Club of The Palm Beaches' annual Oktoberfest takes place over two weekends and features authentic German bands, food, beer, dancing, and so much more. The Club's Oktoberfest has delighted the community for more than 46 years, with no plans of stopping any time soon.
Bus Tip: Get this Bavarian party started early, thanks to your charter bus rental! Be sure to let your reservation specialist know ahead of time if you plan to bring the Biergarten along for the ride so they can pair you with a bus that allows alcohol on board.
Florida Seafood Festival in Apalachicola
What: a two-day festival featuring seafood, music, races, arts and crafts, and more
Where: Apalachicola, Florida — an hour and 35 minutes south of Tallahassee by charter bus
When: November
Price: $5 admission fee
You'd be doing yourself a disservice if you left Florida without filling up on fresh, local seafood. And what better way to enjoy the best oysters, crabs, mullet in the Southeast than the Florida Seafood Festival? In addition to eating delicious surf and turf dishes, you'll find maritime exhibits, oyster shucking and eating contests, a parade, a blue crab race, and more.
Bus Tip: Long ride to Apalachicola from your starting point? Request a charter bus with a bathroom on board to limit the rest stops your group has to make. Bonus tip: you won't have to wait in long restroom lines with your own private bus bathroom.
Electric Daisy Carnival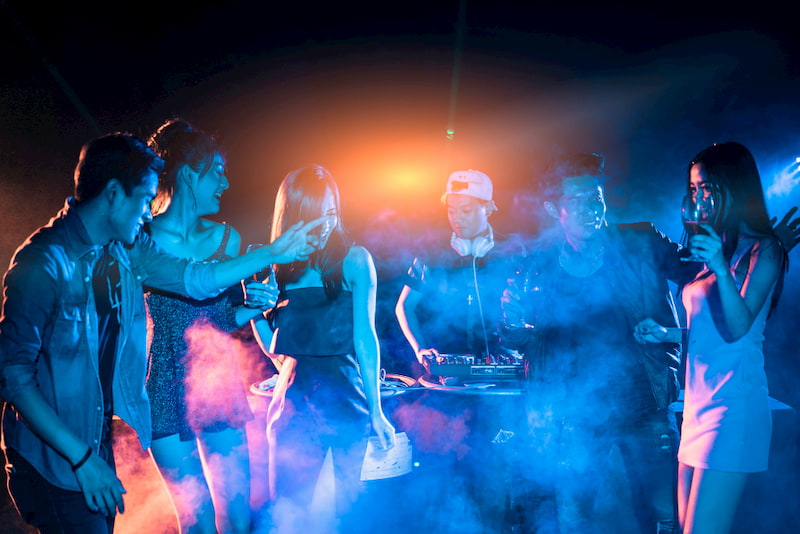 What: an electronic dance music festival
Where: Orlando, Florida
When: November
Price: General admission tickets start at $189
Pack your bags (and fill them with your most colorful clothing) for this year's EDM extravaganza. Electric Daisy Carnival, which originated in Las Vegas, brings the glitz and the glam to Orlando each year with LED lights, glow-in-the-dark exhibits, and some of the top names in electronic dance music. Get ready to listen to your favorite artists, dance with friends, and experience wild art installations at EDC Orlando.
Bus Tip: Ask your bus rental specialist about your bus's sound system if you plan to jam out to your favorite artists along the way (impromptu dance sessions are encouraged).
Art Basel
What: an international modern art festival
Where: Miami Beach, Florida
When: December
Price: $50 pre-ordered day tickets; $60 on-site tickets (discounts available for students and seniors)
Join the country's top art curators, collectors, and enthusiasts at Art Basal Miami Beach for a wild mix of modern and contemporary art. The festival is a collection in and of itself, with a smattering of fairs, events, parties, galleries, and more to peruse each December. See the latest innovations and creations in photography, sculptures, paintings, films, installations, and other forms of creativity from established and emerging artists.
Bus Tip: Since students receive a discount on admission at Art Basal, book a charter bus to keep your class together. Because most full-sized charter buses include television monitors above the seats, you can show an educational art documentary on the ride over to the fairs and galleries.
Fellsmere Frog Leg Festival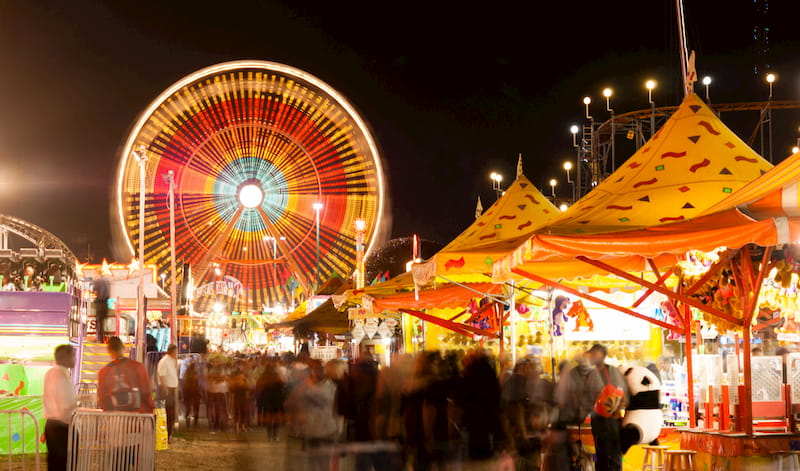 What: a festival dedicated to music, rides, and mouth-watering Southern food
Where: Fellsmere, Florida — an hour and 40 minutes south of Daytona Beach
When: January
Price: Free admission; food options range from $3-15; rides range from $3.75-5 (unlimited ride passes available for $20-25)
Every year, the city of Fellsmere hosts a fundraiser with a menu that turns heads: frog leg and gator tail dinners. Come for the down-home cuisine, and stay for the music, carnival rides, booths with unique gifts, and more. With free admission and delicious food you won't find at most restaurants, there's no excuse not to check out this year's Fellsmere Frog Leg Festival!
Bus Tip: Keep your personal belongings in your bus's storage bays for safekeeping while you browse the selection of food, games, and gifts. Buy a bunch of handmade goods for later? Stow them on the bus so you can enjoy the festival hands-free!
Getting to Festivals as a Group by Charter Bus
Festivals are best experienced as a group, but planning group travel can add hassle to an otherwise carefree event. Take the stress out of the equation by trusting your group transportation plans Florida Charter Bus Company. We'll make sure you have the right minibus or full-sized bus, an experienced driver, and all of the amenities you need for a memorable trip.
Need entertainment along the way? There's a bus for that. Want a little extra comfort? There's a bus for that, too. We can pair you with a charter bus rental that comes with modern amenities, such as TV monitors, DVD players, air conditioning, reclining seats, WiFi, ADA-accessibility, and anything else your group may need.
Get a quote now when you call us at 305-359-5975, and our reservation specialists will guide you through our simple booking process. We're looking forward to helping you make the most of your Florida festival experience!
Recent Posts
Do you need to rent a charter bus?