Charter a Minibus to Florida's Most Unique Nightlife Spots
What comes to mind when you think of Florida?
Family vacations to theme parks in Orlando?
Waterfront destination weddings in Miami?
Beach hopping with friends around Tampa?
All of these types of trips make Florida one of the best and busiest vacation destinations in the country. Florida Charter Bus Company services groups with motorcoach transportation for each of these trips, but we aren't limited to wedding shuttles and family vacations!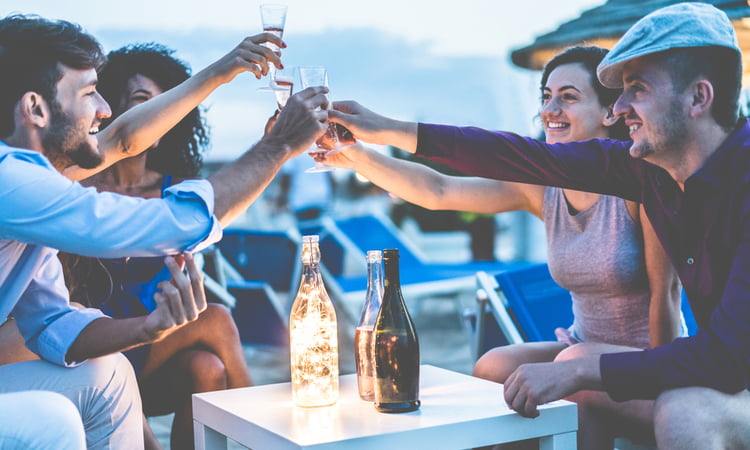 The Sunshine State isn't only made of pristine beaches and a long roster of theme parks. Florida is also well known for its bustling nightlife scene in cities like Miami Beach, Key West, Orlando, and many more.
Are you a group of local Floridians looking for unique spots to celebrate a friend's birthday?
Or are you coming from out of state to celebrate a bachelor or bachelorette party?
Whatever brings you to explore Florida's nightlife, be sure to book reliable and efficient group transportation for your evening. Don't worry about hailing multiple rideshare services and figuring out a way to effectively split the transit bill between a dozen or more people. With a private minibus, you can easily fit up to 25 passengers on board for your night out on the town. What's better than having a personal minibus all night? Having a minibus operated for a professional driver. That's right, you'll have a built-in designated driver to man your charter bus all night!
Keep the good times rolling with a private charter bus from Florida Charter Bus Company. Visit offbeat bars in one of Florida's major cities or even make a dedicated trip to seeking out the state's strangest hotspots.
South Florida (Miami, Miami Beach, The Keys)
South Florida is home to colorful culture, a melting pot of a population, beautiful beaches, and of course some of the best nightlife in the southeast. Home to iconic spots like South Beach, Brickell, and Wynwood, Miami has plenty of nightlife including its fair share of unique bars and lounges.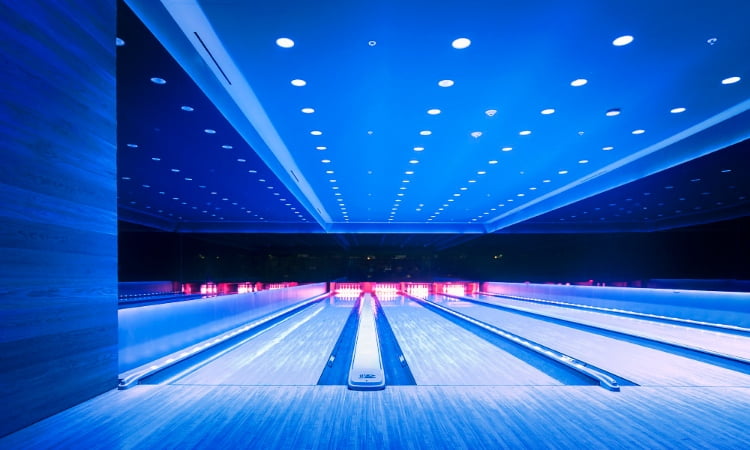 Basement Miami
Address: 2901 Collins Avenue, Miami Beach, FL 33140
Phone: (786) 257-4500
Ice-skating on the beach? Count us in. Although you're not skating on the beach, Basement Miami gets you pretty close. This Miami Beach club is located in The Miami Beach EDITION hotel and boasts some pretty cool features. The club itself is relatively small compared to sprawling spaces like LIV, but it includes entertainment options like an indoor bowling alley and ice-skating arena.
1-800-Lucky
Address: 143 NW 23rd St, Miami, FL 33127
Phone: (305) 768-9826
This is a hard one to pin down. 1-800-Lucky is primarily an Asian food hall sprawling across 10,000 square feet…but it's much more than just a food hall. The space has seven eateries, two full bars, a karaoke room, an expansive patio, and an attached record store/bodega. This unique Wynwood space is great for groups of all ages, but particularly for patrons 21 and up on busy weekend evenings. Shuttle a big group of friends to Wynwood in your private charter bus, catch live music and local DJs on the patio or reserve the karaoke room for your own private party.
Drunken Dragon and Foxhole
Address: 1424 Alton Rd, Miami Beach, FL 33139
Phone: (305) 397-8556
Drunken Dragon and Foxhole are technically separate establishments on South Beach, but they're owned by the same purveyors. Drunken Dragon offers an upscale Korean BBQ-inspired dining experience along with a full bar of craft cocktails.
After dining on delicious Asian fare, head over to the back alley off Alton Road and do your best to find Foxhole. This speakeasy-style bar is notoriously difficult to find but if you successfully track it down, you'll be rewarded with a decorative two-floor bar.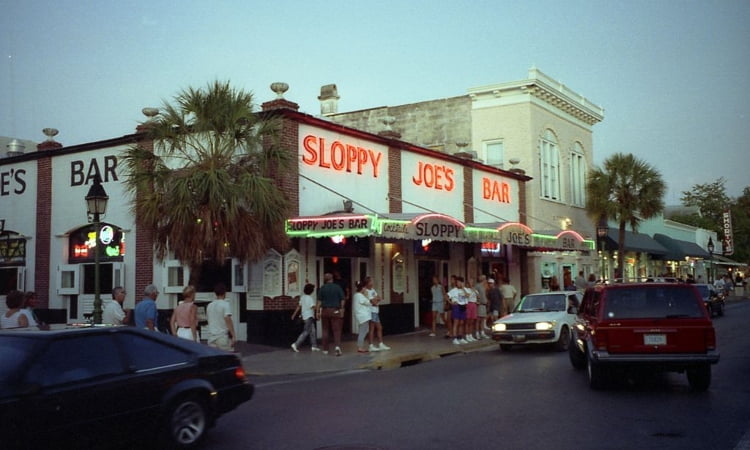 Sloppy Joe's Bar circa 1993 (Image Credit)
Sloppy Joe's Bar
Address: 201 Duval St, Key West, FL 33040
Phone: (305) 296-2388
You can't talk about Florida nightlife without giving a solid nod to The Conch Republic. Miami may seem like party central but during peak travel season, Key West is hot on the Magic City's tail. Sloppy Joe's has been a Duval Street staple since December 5, 1933, the day Prohibition ended. Originally named the Blind Pig, Sloppy Joe's was given its modern name by none other than Ernest Hemingway, a regular patron at the time.
Back in the day, Sloppy Joe's stood as a reaction to the end of Prohibition. Today, it still stands as one of the most frequented bars in Key West, welcoming millions of patrons since 1933. Sloppy Joe's is also one of few drinking establishments on the National Register of Historic Places.
Central Florida (Orlando, Tampa Bay)
Central Florida isn't just for families taking their annual trip to Disney, Busch Gardens, or Universal in Orlando. This region of the state has plenty to offer in the nightlife department. Even if you're heading to the region with a bunch of kiddos in tow, adults can plan their own time at one of these unique watering holes.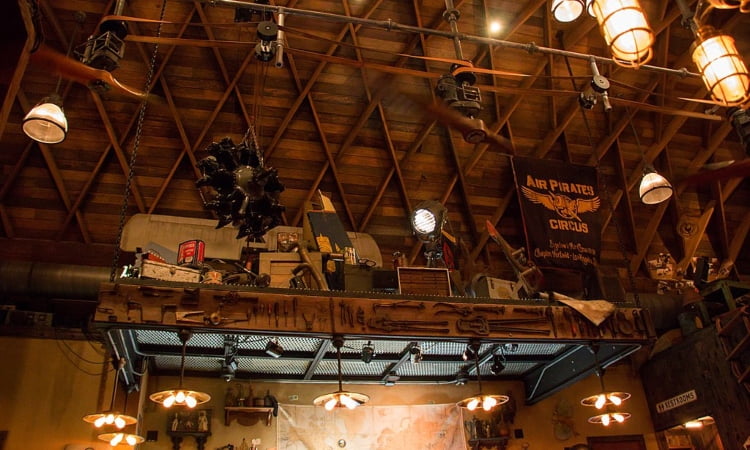 Jock Lindsey's Hangar Bar
Address: Disney Springs, Pleasure Island Boat Dock, Lake Buena Vista, FL 32830
Phone: (407) 939-6244
Alright, adding Jock Lindsey's Hangar Bar to this list may be cheating a little. Everything constructed by Disney has a unique flair and the budget to make it all happen. Jock Lindsey's is situated in a makeshift airplane hangar and is themed after the popular Indiana Jones series. The decor takes plenty of notes from 1940s aviation with props ranging from model airplanes to industrial-style fixtures. The Disney establishment offers a full bar, bites to eat, and is one of the few places in Disney Springs that offers a decent happy hour special.
Gaspar's Grotto
Address: 1805 E 7th Ave, Tampa, FL 33605
Phone: (813) 248-5900
If you're a Florida-native, you've probably already heard of Jose Gaspar and Gasparilla Season in Tampa Bay. For those who aren't familiar, Jose Gaspar was a Spanish pirate and local legend with a basecamp setup in the Tampa Bay area. Nobody really knows if Jose Gaspar actually existed or if he's just an urban legend. Either way, Gaspar's Grotto in Ybor City pages homage to its forefather with pirate decor, boozy brunch, fun-filled parties, and Latin-influenced cuisine.
The bar and restaurant are great options for large groups traveling in Tampa. It's also a "must-see" location if you're in town for any part of Gasparilla Season. Have your charter bus driver drop everyone off for a great pirate-themed time.
ICEBAR Orlando
Address: 8967 International Dr, Orlando, FL 32819
Phone: (407) 426-7555
Central Florida might be the last place you'd expect to find a below-freezing bar. ICEBAR Orlando welcomes individuals ages 8 and up to experience the igloo-themed establishment between 5 pm and 9 pm. After 9 pm, ICEBAR is exclusively for groups 21 and up. The bar itself is made up of, well, ice. That one was hard to guess.
ICEBAR isn't completely an arctic wasteland though. The adjoining Fire Lounge offers cocktails in a much more temperate club atmosphere with DJs spinning the best party music. ICEBAR is also a popular yet unique venue for corporate events. Reserve sleek business transportation with Florida Charter Bus Company for your next company holiday party, conference reception, or banquet.
North Florida (Jacksonville, Tallahassee)
North Florida may not have the glitz and glamor of South Florida or the adrenaline rush associated with Central Florida, but there's something about the region that's so authentically Floridian. Not only is North Florida home to big party schools like UF in Gainesville and FSU in Tallahassee, but it also includes Jacksonville, the largest city by land mass in the continental US.
Planning a trip throughout the width of North Florida can be a hassle, especially with a large group. Travel comfortably across North Florida and through The Panhandle in a private charter bus from Florida Charter Bus Company.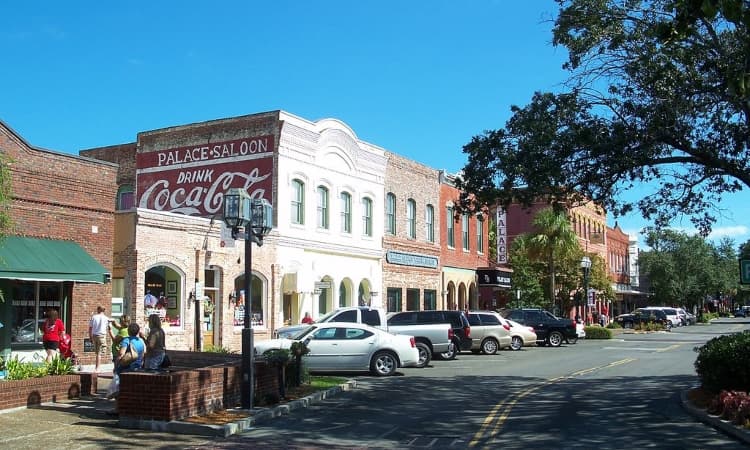 The Palace Saloon
Address: 117 Centre St, Fernandina Beach, FL 32034
Phone: (844) 441-2444
Fernandina Beach sits just north of Jacksonville along the picturesque coastline and is home to many pieces of Florida history, including this historic bar. The Palace Saloon holds the proud title of "Florida's Oldest Bar" after being converted from a haberdashery to a bar in 1903. The saloon was the first hard-liquor-serving establishment to serve Coca-Cola in the country beginning in 1905. It was also the last bar in the country to close during the Prohibition era.
Americans traveled from neighboring states down to Fernandina Beach to collect their fill of alcohol before the bar temporarily closed its doors. Local legend says that Palace Saloon's owner stocked up on alcohol before the start of Prohibition. He stayed open until midnight before Prohibition began, selling out is stock and making a $60,000 profit in one night. Today, Palace offers visitors a rustic atmosphere and a great time.
Flora-Bama Lounge, Package & Oyster Bar
Address: 17401 Perdido Key Dr, Pensacola, FL 32507
Phone: (850) 492-0611
Where else can you have drinks and a memorable time with loved ones while simultaneously having a foot in two different states? Flora-Bama is exactly as the name suggests, a beachfront lounge and oyster bar right on the Florida and Alabama border. The multi-level bar is a North Florida staple for locals and tourists alike, especially spring breakers. Flora-Bama is a legendary space for its multiple bars, waterfront views, top-quality oysters, live music across five stages, and its massive annual parties.
Don't Sweat the Transportation with Florida Charter Bus Company
Make the most of your Florida trip with private transportation. Whether you're planning a bachelor party bar crawl in Miami, or you're enjoying a group spring break vacation in Tampa, you'll always have a designated driver with Florida Charter Bus Company. Our rental experts will pair you with a modern charter bus or minibus equipped with top-notch amenities and best of all, a professional driver. Call us today at 305-359-5975 to get a free quote. We're here 24/7!
Recent Posts
Do you need to rent a charter bus?