A Tampa Arts and Culture Guide for Groups
Tampa is one of Florida's premier vacation spots and the cultural hub of the state's west coast. So given the city's history and community—which is as vibrant as it is diverse—it should come as no surprise that the Tampa Bay art scene has a lot to offer for locals and visitors alike.
Want to explore this beautiful city's art and culture with a group? Whether it's a day trip with your senior community, an outing with your art class, or a night out with your best friends, Florida Charter Bus Company is here for you. Our team can pair your group with the perfect bus rental to reach every museum, gallery, or music venue in town and beyond. Just give us a call at 813-381-5064 for a free and personalized quote for your Tampa arts excursion!
Museums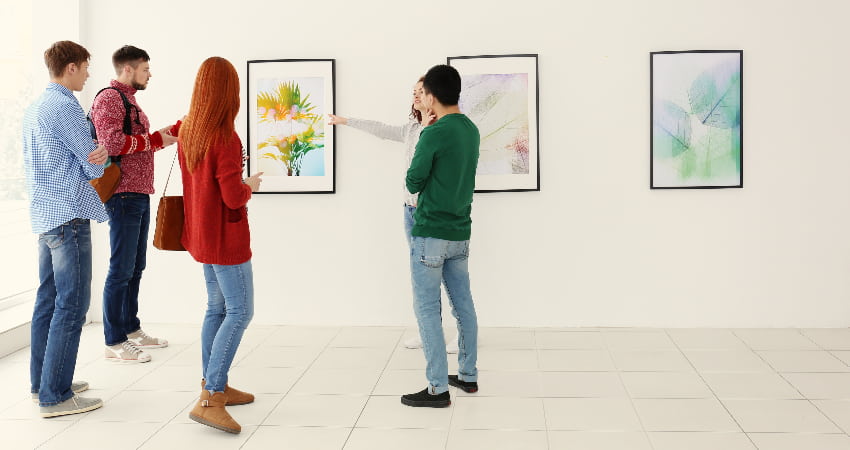 Tampa Museum of Fine Art
Address: 120 W Gasparilla Plaza, Tampa, FL 33602
If you're visiting Tampa with art lovers, there are few spaces as holistic in town as the Tampa Museum of Fine Art. This award-winning facility is located on the Tampa Riverwalk, with views overlooking the Hillsborough River. Exhibits here cater to a variety of niches—so whether you're interested in seeing glass evolve from Ancient Egypt to modern abstract art or a photography gallery filled with pieces captured by women, this place delivers.
Visiting this museum with a group will not give you discounted admission, but groups of 10 or more are prioritized when it comes to scheduling docent-led tours. These curated and custom walks through the galleries are offered Monday through Friday starting at 10 a.m. and must be booked at least two weeks in advance.
Charter Bus Parking: Parking a bus in downtown Tampa can be tricky. If you're not staying at a nearby hotel that accommodates charter buses in its parking lot, consider having your driver wait for you at the free bus spaces in Historic Ybor City (along 12th Avenue between 15th Street and 17th Street).
USF Contemporary Art Museum
Address: 3821 USF Holly Drive, Tampa, FL 33620
Hop over to the University of South Florida for a fresh take on modern art and sculptures. This facility not only showcases contemporary pieces—it helps make them as well. The on-site maker space, Graphicstudio, provides community artists, students, and visionaries a venue to make their own masterpieces; copies of which are exhibited throughout the museum. The university-run exhibition space here also features 5,000+ works of art on display, from the annual master's students' thesis pieces to its several small teaching collections of African and Pre-Colombian Meso-American artifacts.
As of this writing (May 2021), the USFCAM galleries are closed to everyone but campus staff, faculty, and students. Once normal admission resumes, though, organizations and class groups can see the exhibitions by scheduling a tour at least two weeks in advance. One chaperone is required for every 10 students on a tour, so plan accordingly!
Charter Bus Parking: The USFCAM asks buses to unload groups directly in front of the museum before parking at the University Mall parking lot, located 2 miles away.
Florida Museum of Photographic Arts
Address: 400 North Ashley Drive Cube 200, Tampa, FL 33602
Fun fact about this museum: its exterior is arguably just as interesting as the exhibits themselves. The FMoPA occupied the second and third floors of a building in Rivergate Plaza lovingly referred to as the Cube. It's, well, a cube with multi-story windows and a minimalist style that has earned the building nationwide architectural accolades.
After you admire the sleek white lines and warm glow from the museum's exterior windows, your photography enthusiasts can explore the permanent collection and rotating exhibits. With advance notice, your group can tour galleries full of architectural still shots, celebrity portraits, and experimental landscape photography with a guide or at your leisure. Keep in mind that if you do request a docent-led tour, your patrons will need to pay a 50% upfront deposit to reserve your tour time slot.
Charter Bus Parking: Like the Museum of Fine Arts, this photography museum is located along the Tampa Riverwalk. In other words, your parking situation will be much the same—that is to say, scarce. Check to see if the Historic Ybor District's designated bus parking is available before planning your visit.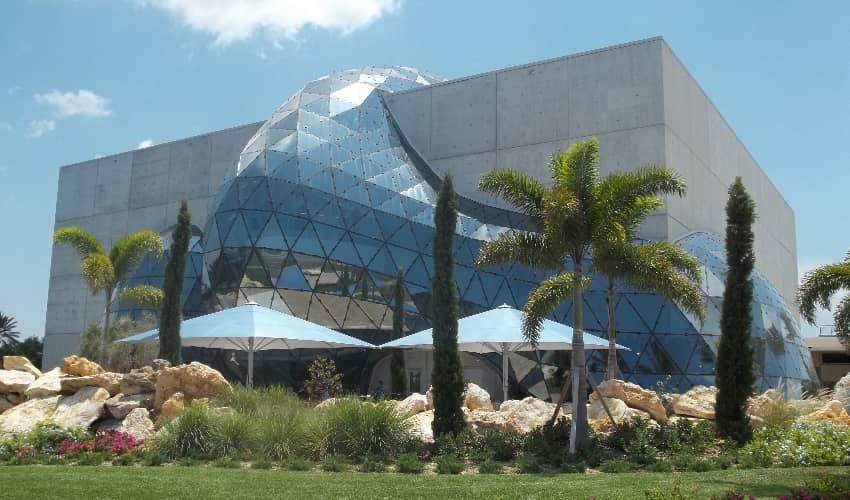 Salvador Dali Museum
Address: 1 Dali Blvd, St. Petersburg, FL 33701
This St. Petersburg museum is one of the more niche museums in the area, but it's definitely worth adding to your itinerary—especially if you're traveling with Surrealism fans. Inside this mind-bending concrete and glass bubble structure, you'll find one of the largest collections of art by the famous artist (second only to Dali's personally curated exhibits in Spain) and extensive archives related to the Surrealist art movement.
With at least 72 hours advance notice, your group can explore the 96 oil paintings, 100+ watercolors and sketches, and thousands of graphics, photographs, sculptures, and objects with a docent as your guide. Groups of 10 or more may receive discounted admission, once social distancing protocols have been lifted for the Tampa Bay area.
Charter Bus Parking: The Dalí Museum's on-site parking lot has two oversized parking spaces located in the northwest corner of the parking lot. These spots are available on a first-come, first-serve basis, so consider calling the museum ahead of your arrival to ensure they are clear for your bus rental.
Performing Arts Venues
Straz Center for Performing Arts
Address: 1010 N Macinnes Pl, Tampa, FL 33602
Since the late 80s, the Straz Center has served as the city's primary hub when it comes to theatre productions, concerts, and live performances. The center's Broadway Genesis Project premieres productions that might move on to the big leagues in NYC, and the multiple performance halls are home to the city's largest highbrow performance troupes, such as Opera Tampa and local ballet companies. So whether you're treating your theatre nerds to seeing a Broadway hopeful or catching a choral concert with your church group, your patrons are sure to find a show that piques their interest.
Major venues in the center's complex include:
Carol Morsani Hall — Seating over 2,600, this grand hall is the center's largest and features a traditional horse-shoe shape for optimal acoustics. It's usually reserved for Broadway musicals, presentations by Opera Tampa, ballets, and big-name concert series.
Ferguson Hall — Best suited for plays, pop concerts, and dance events, this 1,042-seat hall features comfortable orchestra seating and two tiers of curving balconies, making for a spacious yet intimate space.
Jaeb Theater — With 292 configurable seats, this theater is a popular venue for cabaret shows, as well as recording sessions, TV productions, seminars, and business meetings.
TECO Energy Foundation Theater — Usually used as a rehearsal space, this 3,500-square-foot venue with two walls of glass windows can also double as a performance hall, thanks to the floor-to-ceiling blackout curtains and flexible furnishings.
Shimberg Playhouse — This intimate black-box theater only has 130 seats, which makes it a favorite for local artists, poets, dancers, and comedians. It's also the home base for local theater company Jobsite Theater.
Charter Bus Parking: With the purchase of a group ticket bundle to any show, the Straz offers free bus parking. A center representative will be able to direct you and your driver to the right spaces when you call 813-222-1016 or email groups@strazcenter.org to book your tickets.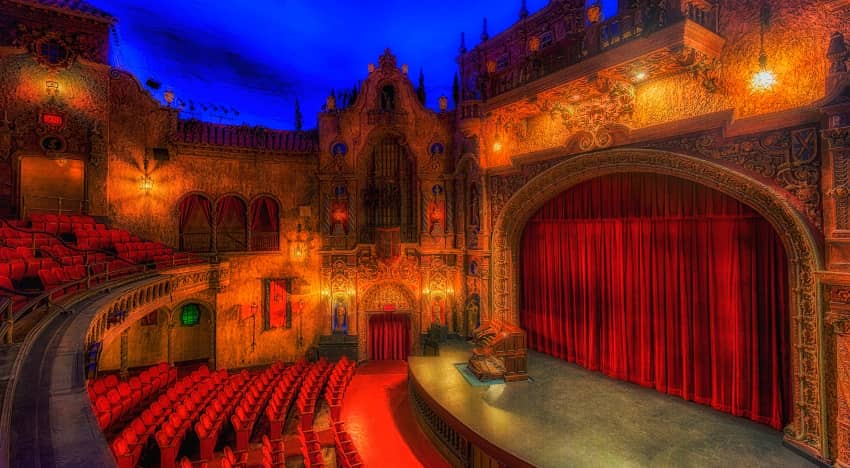 Tampa Theatre
Address: 711 N Franklin St, Tampa, FL 33602
Traveling with history buffs? They won't want to miss seeing this historically and culturally significant theatre in person. Between the day it opened in 1926 and the mid-1960s, the Tampa Theatre was the downtown area's only movie theatre, and it was the first commercial building in town with air-conditioning. Much of the theatre's original construction and ornate decor remains—including the Wurlitzer pipe organ, which volunteers play before screenings.
Nowadays, this nearly century-old theatre regularly screens digital versions of classic films and new releases for local film clubs. If you're visiting with a theatre class or after-school dance crew, be sure to catch a live production by community theatre troupes, touring musical acts, or dance groups from across the state.
Groups can tour this historic venue by registering for one of the theatre's monthly Balcony to Backstage Tours, which highlights the building's architecture, potentially haunted sites, and more. While the tour tickets are available upon entry to the theatre, they often sell out quickly—it's highly recommended that groups of 10 or more reserve their spots well in advance.
Charter Bus Parking: Like with all venues in Downtown Tampa, finding parking near the Tampa Theatre can be tedious (especially for a motorcoach). Free bus parking is available in Historic Ybor if all else fails.
Public Art
The Cenotaph and Ceremonial Space
Address: 601 Water St, Tampa, FL 33602
Indigenous history is a big part of Tampa Bay culture, and if your group would like to honor that and learn more about it, this sculpture is a good place to start.
This cenotaph (translated as "remains buried elsewhere") marks the site of a thriving city center for ancient Native tribes and a refugee camp for Alabama and Georgia tribes displaced by the U.S. government in the early 1800s. Today, visitors can come and admire the sculpture built here to honor and remember the Natives who died due to the colonization: a canopy of stainless steel, a foundation of multicolored bricks, and a sacred fire mound at its center.
Charter Bus Parking: The green space where this sculpture is located is adjacent to the Tampa Bay History Center, which has a large paid parking lot your bus driver can park in.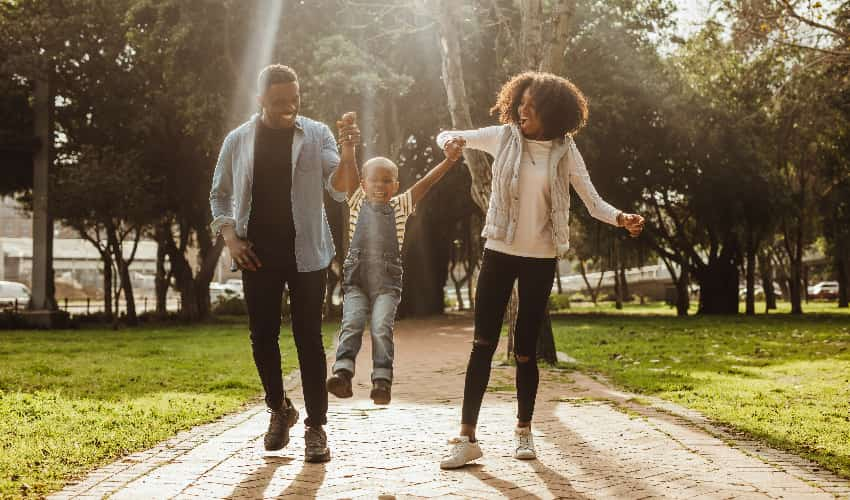 Julian B. Lane Park
Address: 1001 N Blvd, Tampa, FL 33606
Located right on the river, this 25-acre West Tampa park offers a place for groups to spread out and picnic next to locally crafted public art. From the 34-foot high ripple gates that greet visitors at each entrance to the mosaics, murals, and colorful photo ops sprinkled throughout this award-winning park, there's plenty to catch your eye while you stroll along the riverfront.
Charter Bus Parking: If your Tampa bus rental won't be able to find adequate spaces in the green space's parking lot, your bus driver might have better luck at the University of Tampa's sports complex, which is a half-mile south of the park.
Perry Harvey, Sr. Park
Address: 1000 E Harrison St, Tampa, FL 33602
Explore the city's diverse history and community through this park's four artwork series, all dedicated to telling the story of The Scrub—Tampa's oldest and largest African American neighborhood. With sculptures or larger-than-life musicians, an informative mosaic series, and plenty of interpretive signage, your nonprofit organization, afterschool group, or friends and family are sure to learn a thing or two about Black contributions to the city's legacy.
Charter Bus Parking: Street parking is available around the park's perimeter on a first-come, first-serve basis.
Check Out Tampa's Culture and Art Scene
No matter where your artsy travels take you, Florida Charter Bus Company can help your group stay together and comfortable. Our bus rental plans are completely customizable, so your art enthusiasts can explore your favorite Tampa art venues on your own time and at your own pace. Plus, after a long day of perusing the galleries and checking out public sculptures, your driver will arrive right when and where you need them, ready with a comfy reclining seat and crisp AC to make your ride between stops even more enjoyable.
Call 813-381-5064 today to learn how easy it can be to rent a bus in Tampa. Our 24/7 reservation team is standing by to offer you a free, no-obligation quote!
Recent Posts
Do you need to rent a charter bus?